This stock is an all-star and a major winner already, even after its heavy volume hit on Tuesday. Many people will think the gains have already been made but the smart investor knows that if this companies' products are for real, this would be just the start. Its products include in-home nursing services and personal custodial care for recuperating and disabled patients--a service that should only increase as the public ages and hurts itself.
Almost Family Inc. (NASDAQ:AFAM) has been on a tear recently, making it too risky as a long up in the stratosphere. However, eventually this stock has to pull back and that is where I would be looking to get long. First, before we discuss when we should buy the stock, let's go over why the stock should continue to be a great stock well into the future.
Right now, EPS growth the past eight quarters has been 150%, 63%, 83%, 106%, 75%, 42%, 36%, and 43%. Sales growth has been even more impressive with growth of 23%, 35%, 55%, 51%, 41%, 38%, 23%, and 50%. This current growth also comes with YOY EPS estimates for 2008 and 2009 for gains of 34% and 19% respectively. And those estimates have recently been raised. This growth gives it a five-year 49% EPS growth rate which is quite large.
To go along with this amazing growth, the company only has 47% debt to shareholder equity and that along with a 25% return on equity and $1.56 cash flow helps making sure this cash earning machine continues to make money.
This is why mutual fund ownership is now 10% of the stock as it has grown from 9 funds owning it four quarters ago to 11 in December and March 2008 to a nice strong 18 now.
Some say it is expensive with a P/E ratio near the five-year range high of 9 to 27 by coming in at a 25. But like I said I am looking for a better entry which entails a major low volume pullback towards the 50 day moving average. This has started off on higher volume but if volume quiets up, it will be a nice pickup off the 50 day moving average.
IBD loves the stock too giving it a 95 EPS rating, a 99 RS rating, a 95 group RS rating (other leaders on price action in this group in HGR AMED GTIV USPH LHCG), an A for the SMR rating, an A+ for the Acc/Dis rating, a 99 for a composite rating, and a A for a timeliness rating. Too bad the funds involved are a lowly D for sponsorship rating but you can't have the stock totally perfect.
The stock is too pricy now in its current situation and will need to pullback to the 50 day moving average on very low volume. If the stock can pullback in a very calm manner and bounce right off the 50 day moving average or a bounce off of support near the most the 50 day moving average, I would love to get long this stock.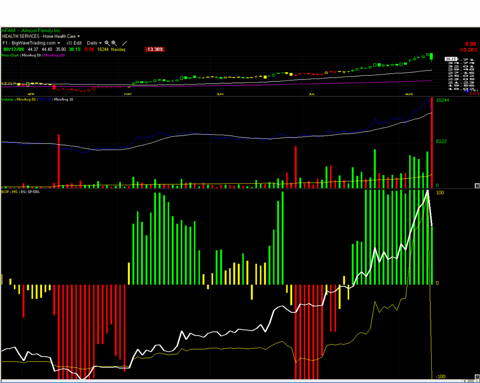 Disclosure: At the time of publication, the author did not have a position in AFAM.