When last we saw our intrepid hero, Research In Motion (RIMM) had begun posting accounting losses but announced it was on track to release a completely revised new BlackBerry 10 operating system and device family by year-end. Management seemed confident that a well-funded attack by Microsoft's (NASDAQ:MSFT) current vendors -- followed by a reinforcing wave of Windows Phone 8 device manufacturers including the likes of Dell (NASDAQ:DELL), HTC (OTC:HTCXF), and Samsung -- would not prevent the company from selling its new product in China or other major markets. Particularly in the hugely populated emerging-markets regions, poor network connectivity seemed to give BlackBerry products an edge over the decidedly network-heavy alternatives sold by Apple (NASDAQ:AAPL).
Betting on the revolution, billionaire Prem Watsa raised his stake in RIMM. Although Microsoft paid developers to make applications for its tiny mobile platform, its chief lackey Nokia (NYSE:NOK) had already abandoned its own operating system in favor of whatever Microsoft would license it, and further cemented its lack of commitment to differentiation by selling significant intellectual property (its Qt development framework and hundreds of patents to raise cash) to keep the doors open while it sold hardware at a growing loss. The newcomers didn't look as frightening as they might have seemed.
The big question appeared to be whether or not, by the time BlackBerry 10 launched, it would still have a market.
The Interim
RIMM's BlackBerry 10 hardware/software launch slipped from the first quarter of 2012 to the first half of 2012, then mid-August 2012 and then to the first month of 2013 (so far). BlackBerry 10 will miss Christmas in 2012. The company has graduated from posting a (then) rare accounting loss (driven by inventory write-downs) to posting a flat-out operating loss.
Is this just a temporary setback while RIMM gathers its forces for battle? Apple's chart has looked bad sometimes, too; is RIMM priced cheaply now after all? As discussed in the prior link, value (as opposed to mere price) must be measured not only by history but by opportunity. Opportunity in this market segment can be created and protected by things like ecosystem attraction, long-term service contracts, and premium pricing power.
What Is RIMM's Opportunity?
Recently, shares were up because the company announced a gain in subscriptions. Subscribers' subscription payments have been a longtime source of revenue for RIMM and create stable income. Subscribers like world-record sprinter Usain Bolt -- whose on-camera mention he had BBMed a few people was a nice ray of free-press sunshine, a free endorsement of RIMM's messaging system -- provide RIMM income from an installed base that other manufacturers can't tap for money until they can sell upgraded hardware. Good news, right?
A careful read of the news is not entirely positive. RIMM has lost North American share and is no longer a top-ranked mobile phone vendor: The medals in that race belong to Samsung (it has no U.S. ticker), LG (it has no U.S. ticker), and Apple. RIMM's share of U.S. smartphone sales by platform has continued to fall into the single digits, placing it third behind Google's (NASDAQ:GOOG) Android and Apple's iOS -- various versions of which hold nearly 87% of the U.S. market by platform. So if RIMM's subscriber gains weren't in the high-margin U.S. market, where were those gains won? Not in Europe: There, Microsoft knocked RIMM from the No. 3 slot by growing Windows Phone a few percent while BlackBerry's share fell further into the single digits.
RIMM's subscriber uptick was among emerging-markets consumers. These price-conscious buyers sought lower-margin devices than RIMM once sold in North America. Emerging markets consumers value BlackBerry Messenger, but they aren't high-margin customers and don't buy servers or other high-value back-end infrastructure. RIMM has been losing enterprise customers to competitors as businesses adopt Bring-Your-Own-Device programs that favor phones running iOS or Android.
The shrinking share of high-margin customers means that developers must think hard about committing resources to the platform. For existing applications on existing operating systems, this is less of a concern -- the upfront work has been done. But the BlackBerry's new platform requires developers to rewrite their software if they are to take advantage of new features. Native software with native performance and the most modern-looking user interface is clearly the hope of RIMM's management, which offered developers a $10,000 revenue guarantee. This is not new; Microsoft has single-digit smartphone share, and has paid developers to create native apps for its phone platforms as well. The fact that either company must pay developers to write software for their platforms raises sustainability questions about the platforms. When Apple announced the App Store, the iFund (managed by venture capitalists, not Apple's marketing department) offered investment in developers, not bounties for applications -- and like any venture capitalist, it took a stake in the developer as a condition of funding. It wasn't easy (when this article was written, it had funded 14 of 6,000 applications) and it wasn't free -- and it wasn't evidence of desperation. The iFund reflected the exact opposite of what Microsoft and RIMM offer: The iFund evidenced tangible third-party confidence in a platform as a market success.
How have U.S.-traded hardware makers succeeded? Palm and Motorola have been bought off the market, so the failures in their metrics aren't easy to see. But those whose numbers are available show a dismal picture in the current environment: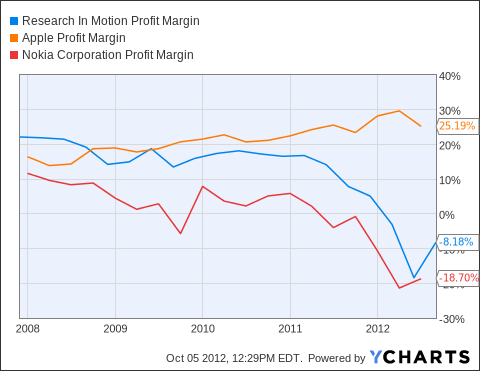 If you aren't one of the three profitable handset makers -- Apple, Samsung, and HTC -- it looks like a hard place to scratch out a living.
The Future
In "Research In Motion Over The Long Run," the company was depicted as offering great future technologies while suffering current competition it had no potential to beat with present products. This remains true. The question is: Does Research In Motion have future opportunity that makes one eager to tolerate the company's presently uncompetitive predicament? (By "presently uncompetitive predicament" the author means "consecutive quarterly losses," not a failure in future product development or in marketing to emerging markets customers.)
It's widely believed that the future will bring an even more connected planet, making our world smaller and faster-paced. As connectivity improves, it will be harder to perceive the competitive advantage in a low-bandwidth messaging service. The global growth of Android should worry any entrant: It's free from licensing and can be made (in one version or another; it's open-source) to run on virtually any hardware a manufacturer should choose to invest in developing. On top of that, Microsoft is paying Nokia to lose money to gain share. The future of Research In Motion looks to remain fraught with failure.
Increases in consumer BBM customers is hardly a replacement for wholesale defections of high-margin enterprise customers from BlackBerry back-end systems and their associated subscriptions. Does management's plan to recapture business customers make sense? The move to lower ASP in emerging markets is hard to see reversing, while Microsoft is willing to pay partners to sell units at a loss: Where will RIMM find a high-margin niche in which to profit on available share?
Management at RIMM meets with other companies' leaders to discuss partnerships, but what partnership has RIMM executed? And what could move the needle for RIMM? Selling the enterprise division to IBM (NYSE:IBM) might boost IBM's customer base a bit, but why would RIMM benefit from sharing a scarce source of high-margin licensing fees? And if RIMM doesn't sell it, how long can it keep enterprise customers after repeated bouts of service outages?
With service revenues potentially offset by enterprise migration from BlackBerry servers and services, and growth in predominantly low-margin markets, Research In Motion appears ill-prepared for the margins smackdown threatened by the entry of numerous Windows 8 mobile device manufacturers fighting for share with the support of Microsoft subsidies. Apple will continue to exert pressure at every price point as Samsung sells a slew of smartphones. Where will RIMM find a niche that affords it the margins it needs to survive? And how long must it be willing to wait before it can compete for that niche without suffering Microsoft's subsidies, and funding developer-attractive application bounties?
Conclusion
Research In Motion may have an excellent product pipeline and wonderful technology, and with great patience the company may discover the niche in which its products properly compete. Neither the emerging market growth nor the claims of returning to business appear to paint a plausible picture of impending profit. The company may not be destroyed, but investors don't seek non-destruction; they seek market-beating risk-adjusted returns. Research In Motion can no longer point to a steady track record of profit, its recent subscriber growth did nothing to halt a quarter of operating losses, and it is heading (late) into a market that threatens to be flooded with new competition from competitors with even deeper pockets than its own.
Research In Motion may be up on the subscriber numbers (despite per-subscriber revenue being down) and its new software may be exciting (though delayed until next year), but the business poses serious risks that easily overshadow nebulous notions of future success and are difficult to accept in a real-money portfolio.
Disclosure: I am long AAPL. My long/short in AAPL/RIMM had the short leg closed due to options exercise as described here. I wrote this article myself, and it expresses my own opinions. I am not receiving compensation for it (other than from Seeking Alpha). I have no business relationship with any company whose stock is mentioned in this article.