By Paul Carton
Since November 2007, our ChangeWave consumer surveys have tracked a continuing slowdown in U.S. restaurant spending. To find out if the outlook for restaurants is showing any signs of improvement, we surveyed Alliance members on their dining habits during the weeks of June 25-July 2 (n = 4,525) and July 7-14 (n = 1,276).
Here's what we found:
Tough Times for the Next 90 Days
The surveys found that U.S. consumer restaurant spending is still weakening, with nearly two-in-five (38%) respondents saying they'll spend Less Money on restaurants over the next 90 days and only 10% saying they'll spend More Money.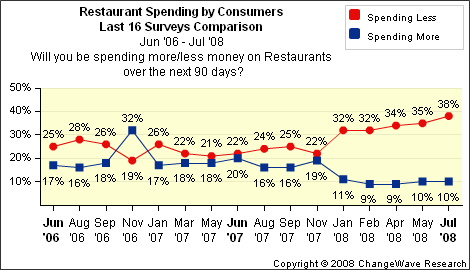 Latest Restaurant Trends
Dining at Less Expensive Restaurants. In a sign consumers remain tight with their wallets, only 5% of respondents say they'll dine at More Expensive restaurants over the next 90 days – down 4-pts since April. Nearly nine times that amount (43%) say they'll dine at Less Expensive restaurants.
Dining Out Less Often. In a further sign of tight times, only 13% say they'll dine out More Frequently at restaurants over the next 90 days, down 8-points. More than half (56%) say they'll dine out Less Frequently.
Among that group, better than two-in-five (42%) cited Inflation/Increased Cost of Living as the primary reason for dining out less frequently. Another 27% pointed to Higher Energy Costs.
Which Types of Restaurants Have Been Hardest Hit?
Upscale Dining Restaurants ($25 or more average per person) are still being hit hardest – with only 3% of respondents saying they'll dine at them More Often, and 38% Less Often (Net Difference Score = -35).
Moderately Expensive Restaurants ($15-25 average per person) also are taking a big hit – with just 7% of respondents saying they'll dine at them More Often, while 27% said Less Often (-20).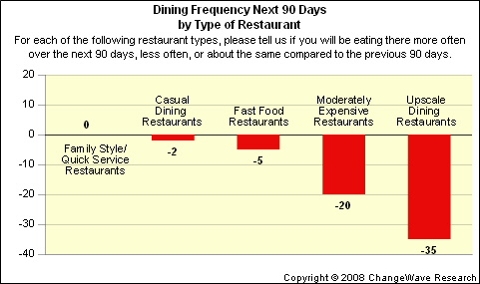 In contrast, Family Style/Quick Service Restaurants (12% More Often; 12% Less Often) and Casual Dining Restaurants (14% More Often; 16% Less Often) appear relatively steady.
We note that Fast Food Restaurants (11% More Often; 16% Less Often), while not yet in positive territory, are still doing 2-pts better than in our April survey.
Chain Reaction
The survey also asked respondents about the individual restaurant chains where they'll be spending more money over the next 90 days.
Note that we'll present a complete set of findings on individual restaurant chains after our next restaurant survey in September. That said, here are some key momentum leaders for the next 90 days:
Top Restaurants for More Spending Next 90 Days: McDonald's (22%), Subway (20%) and Olive Garden (20%).
Top Overall Favorite Restaurants: Olive Garden (8%), Outback Steakhouse (8%) and Red Lobster (7%).
The current results look relatively strong for Darden Restaurants Inc. (NYSE:DRI), owner of Red Lobster and Olive Garden. They also echo the results from our April survey, which showed a positive outlook for Darden once consumer restaurant spending starts to improve. According to our April 2008 survey, Red Lobster, Olive Garden and Outback Steakhouse will benefit most when consumers begin spending again.
But remember, the bottom line is that consumers are still reining in their spending on restaurants – much to the dismay of the restaurant industry – and until we see that behavior beginning to change, restaurant stocks will remain a risky bet.
Jim Woods co-wrote this article.
---------------------------------
This article summarizes the results of a recent ChangeWave Alliance survey. The Alliance is a research network of 15,000 business, technology and medical professionals who spend their everyday lives working on the front line of technological change. For more info on ChangeWave, or to sign up for real-time alerts email on the hottest technologies and companies, click here.