El Paso Pipeline Partners (NYSE:EPB) has soared 18%, along with a 1.5% dividend bump, since we first highlighted it on June 25, 2012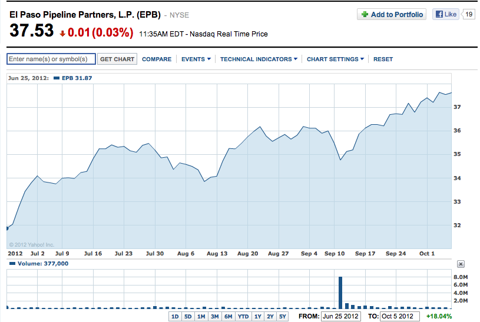 Click to enlarge
El Paso should continue to perform well through the final quarter of 2012, bolstered by a high dividend yielding almost 6%. We recommend you hold the stock at least until the next ex-dividend date on October 27, 2012. The dividend payment date of around 1.5% is November 14, 2012. Following the stock's solid run, a number of Wall Street analysts have shifted EPD from a 'Buy' to 'Hold'. Here's a summary of the analyst recommendations:

Click to enlarge
While this is may not justify selling El Paso, it is worth noting since EPB price targets were originally pegged at a medium target of $38.92 and a high target of $42.00. Stocks on Wall Street pegged El Paso at $42.00, predicting a total yield of 30% over a 12-month period. So, the return of 18.03% over the past 3 months is impressive, even though the growth rate may drop over the next few months.
El Paso traded at $37.53 on October 5th, 2012 and is approaching its medium price target. We believe this may be the major factor in many of the analysts' recent recommendation shifts. Here's a break down of El Paso's Price Target Summary:

El Paso expansion into the 42,000-mile North American natural gas pipeline system is expected to continue as the U.S. segues from foreign-produced oil to domestically abundant natural gas. EPB's net income has grown 7.2% per annum of the past several years. Natural gas has yet to experience the boom many have anticipated; nevertheless, it will become a stronger performer in the energy market over the next five years. El Paso's margins are strong versus competitors who must incur costs to transport/store natural gas. This pricing power makes EPD an attractive investment opportunity. Over the past 12 months, El Paso's gross margin and operating margin both rose 10%+.
EPB has a very stable pipeline business and their exploration unit has interested many investors as they continue to discover new lucrative territories to explore. El Paso's very lucrative exploratory prospects, coupled with a stable cash flow, make the stock attractive long-term. EPB sells at a trailing earnings multiple of 19.16, a forward earnings multiple of 17.31, a book value multiple of 1.95 and a sales multiple of 5.5. All of these are huge discounts compared to industry peers.
With earnings coming up on October 17, 2012, this bodes well for El Paso to deliver higher multiples. Expect the stock to beat analyst expectations and receive a nice bump. We are raising our 12-month forecast from $42 to $44, which would add another 17.65% to its current price and deliver a total yield of 35% on top of its 6% dividend. Stocks on Wall Street believes EPB will be a great stock pick and a strong winner for investors.
Stay tuned for more about El Paso as we re-analyze our position after earnings and the ex-dividend date. However, current shareholders should hold tight. We expect EPB's share price to continue to rise, based on strong earnings and its competitive dividend rate. Prospective investors should buy El Paso on any dip. El Paso has been another big winner for Stocks on Wall Street and proof that energy stocks still have something left in the tank.
Disclosure: I am long EPB. I wrote this article myself, and it expresses my own opinions. I am not receiving compensation for it (other than from Seeking Alpha). I have no business relationship with any company whose stock is mentioned in this article.