General Mills (NYSE:GIS) is a leading global manufacturer and marketer of branded consumer foods, including Cheerios, Betty Crocker, Pillsbury, Häagen-Dazs, and Yoplait. With over 150 years of history, GIS continued to expand, making several major acquisitions in 2012. In February, GIS acquired Food Should Taste Good, which was followed by the purchase of 51% interest in Yoplait S.A.S. and 50% interest in Yoplait Marques S.A.S. in May. GIS had also just completed the acquisition of Yoki Alimentos SA in August.
GIS's fundamentals are very solid with 16.0% operating margin, ttm, and 10.2% net margin, ttm, as compared to the industry average of 8.4% and 5.4%. The three-year average revenue growth of 4.3 is also very strong as compared to the industry average of -11.2. The ROE of 26.0 is also much higher than the industry average of 13.7. Despite the higher than long-term average of the commodity prices and intense competitive pressure, GIS is well positioned with its portfolio of market-leading brands and vast distribution network and should remain less impacted even if the global economy goes into recession. GIS would also be a stable holding for the declining economy due to its consumer defensive nature.
Furthermore, the Company had been consistently generating strong positive cash flow and had been distributing dividend since July 6, 1987. The dividend distribution had been increasing steadily. In the last five years, the quarterly dividend had been increasing from $0.195 in 2007 to the recent $0.33 as of July 6, 2012, which yields 3.27% annual return based on Thursday's closing of $40.32. Tomorrow, October 5, 2012, is the ex-dividend date for GIS and that is the major reason why we are seeing a huge increase of the call volume for GIS with 4409, 18453, and 31559 contracts traded for the Oct 20, 2012 call with the strike price of $37, $38, and $39. In contrast, put only had a small volume of 407 and 169 contracts exchanged for $39 and $40 strike price, as seen in the chart below.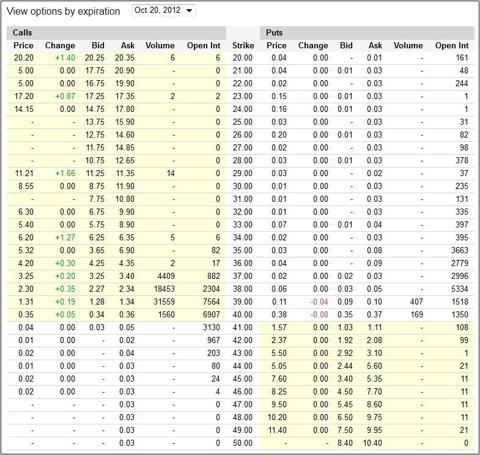 Source: Google Finance
This time, we will not research further into the put/call ratio difference as we don't see any other factors causing the big jump in call volume. However, based on GIS's strong fundamentals and most importantly to position defensively for the post-US presidential election changes, we believe it is time to consider shifting more focus into the consumer defensive sector to weather through the potential upcoming storms. On Friday, the Dow Jones Industrial Average (NYSEARCA:DIA) hit a 52-week high of 13,661.87 (at the time of writing) without real economic improvements and with the upcoming "fiscal cliff" at the end of 2012, when the terms of the Budget Control Act of 2011 are scheduled to go into effect, our concerns continue to grow while investors are still in the party mode after QE3. Hence, we are suggesting investors to think twice, remain cautious, and be aware of the potential threats.
By utilizing options, traders and investors are gaining additional margin of safety. Here, for more conservative option traders with bullish view, a credit spread of Jan, 2013 put option play can be reviewed and considered by shorting $38 strike put and buying $35 strike put, for the credit of $0.35 based on Thursday's closing price. The maximum risk and margin requirement is $2.65, which translates into 13.21% return for the 3.5 months investing period. By doing it 3 times a year, the annual yield would be close to 39.63%. This option strategy will also benefit for long term GIS stock investors who want to add more positions at further discounted price.
Disclosure: I have no positions in any stocks mentioned, but may initiate a long position in GIS over the next 72 hours. I wrote this article myself, and it expresses my own opinions. I am not receiving compensation for it (other than from Seeking Alpha). I have no business relationship with any company whose stock is mentioned in this article.