Mergers and acquisitions are not new in the Telecommunications Industry and currently a wave of mergers and acquisitions in the industry is prominent. The most recent one can be identified as the potential T-Mobile USA and MetroPCS Communications Inc. (PCS) merger, where the combined entity would operate under the T-Mobile brand. In the Telecom Industry, telecom operators merge horizontally instead of vertically, as they are operating in the same industry and merging their operations in that fashion helps them in a number of ways. Benefits that are most widely known are expense reduction or synergies, larger market share, network advantages (more spectrum), and of course expansion in product portfolio held by the combined enterprise. There are disadvantages as well, mainly monopolization in the already-concentrated industry, price hikes and even unemployment. Whatever the motivations behind mergers and acquisitions are, in the end it is up to the regulators and government officials to either approve them, or turn them down for the reasons cited above.
As mentioned previously, the latest news of consolidation came when the German-based telecom carrier Deutsche Telekom (OTCQX:DTEGY) announced that it was going to merge its U.S. operations under the T-Mobile USA brand with the local operator PCS. In a deal that is likely to win regulator's approval, Deutsche Telekom will pay $1.5 billion to the shareholders of PCS to obtain 76% ownership in the combined entity. This move has largely been welcomed by the broad market, as it would strengthen the position of smaller telecom operators as compared to the bigger rivals, AT&T (NYSE:T) and Verizon (NYSE:VZ). Even though top officials of the Justice Department and the FCC have declined to comment on the fate of the merger, it is highly likely that it wouldn't get as much resistance from the Justice Department and the FCC, as it did when AT&T made a $39 billion bid for T-Mobile last year, which would have further monopolized the company's position. However, with the possible T-Mobile and PCS merger, the combined entity will still not be able to beat the third largest telecom carrier, Sprint (NYSE:S), in terms of number of customers, so concentration of power will not be much of an issue in this deal.
MetroPCS' shares have had a stellar run since the start of the year, gaining over 45%, and they have continued on the trend since the recent merger news with T-Mobile (up 10%). The main factor at play is of course the market enthusiasm around the fourth largest telecom operator combining with the fifth largest. But most of the strength can be attributed to the company's own performance as well. The company largely caters to the low income and cost conscious consumers, and because its 9.3 million customers are prepaid customers not requiring contracts, the company also reports higher churn than most other telecom operators. But what is impressive to note is that regardless of the "pay as you go" nature of its business model, it has not only kept its churn under control, but also recently started to drop. The company has lost customers recently, but that can be largely attributed to its focus on generating EBITDA growth and cutting back on promotional efforts. In the quarter recently concluded, the company reported churn of 3.4%, which is a significant improvement from the second quarter of the previous year when the monthly churn was 3.9%. Prepaid carriers usually suffer from softening sales during the second and third quarters, as traditional retail selling periods fall in the first and fourth quarters, which is the main reason for PCS reporting a lower churn in the holiday season. Going forward, one can expect the company to report an even better figure. The prepaid market has been the major growth engine for the company, and it has grown rapidly over a number of years, as economic conditions remain tough in the region. This bodes especially well for companies like PCS that cater to the fastest growing prepaid segment of the market.
As far as network capability is concerned, even though PCS doesn't have the market coverage that its bigger rivals do, it has done well to expand its faster LTE network, leading to declines in customer losses. According to the latest filed results, 8% of its customers are using its faster 4G LTE service, and with time it will show further improvement, as the company expands its LTE network. As far as affordable and cheap voice and data plans are concerned, PCS has done well to compete with others. It has recently launched a 4G data plan, which is going to cost customers $55 with no annual contract requirements, no limitations on data, and of course all taxes and regulatory fees included. This compares very well to Verizon's plan, which would cost at least $140, come with a two year contract, and data caps. Such plans can be expected to bring customer growth as well as increased data usage, which eventually reflects in the revenue growth. In fact, if we look at the historical trend in the metric average revenue per user, a consistent upward trend can be seen.
PCS has shown impressive growth in its revenues and earnings over the years, and has reflected positively in its share price since the start of the year. Consolidated revenues have grown at a 4-year CAGR of over 20%, with an even higher growth (30%) in its bottom line over the said period.
Even though the merger between the two companies has been approved by the respective boards, there are still regulatory hurdles to cross for both companies, but if the merger does go through as the companies are planning, it would certainly increase the market share of the post-merger entity. Currently, PCS is serving 9.29 million customers, which combined with T-Mobile's 33.2 million customers, would represent a market share of approximately 12% in the Wireless Industry. Even though that is not enough to overtake Verizon and AT&T, it would certainly give Sprint a tough time in terms of customer subscriptions, as well as lead to healthy competition in an otherwise concentrated industry. The slight negative for the post-merger entity is that their networks are not compatible, but it seems like the two would not struggle by trying to integrate the two networks; rather, they will aggressively move towards the next generation LTE technology. One of the major reasons why T-Mobile is losing customers is that it is still one of the few carriers to not be offering Apple (NASDAQ:AAPL)'s iPhone. Even though it allows customers to bring their iPhones on its network, and it has approximately 1 million iPhones on its network, its network is not currently compatible with the iPhone frequency bands. However, it is aggressively working on its network overhaul, which will align its HSPA+ network with the iPhone frequency bands. And when the network incompatibility issues are resolved, which are expected sometime next year, one can expect T-Mobile to start selling iPhones as well, which would certainly boost the company's revenue stream. The recent hint came from T-Mobile CEO John Legere during an interview with CNBC, when he mentioned that they are in negotiations with vendors, including Apple, and there is a possibility that they might start selling the iPhone soon.
Even though the latest news of the merger initially hit Sprint's stock, it has since recovered. Many believe that Sprint will be left alone after the recent consolidation effort. According to a news report by Reuters, Sprint might make an offer of its own to buy PCS. However, whether that is going to happen before the merger takes place between T-Mobile and PCS or after remains to be seen. Sprint had previously also intended to takeover PCS; however, the deal couldn't be approved by its shareholders. The ideal situation for Sprint would have been to acquire PCS, as that would have made it a much stronger competitor to AT&T and Verizon. Moreover, both operators have CDMA technology, so network integration wouldn't be an issue. However, despite losing PCS as a takeover target, we are bullish on Sprint, as it has worked aggressively towards its network vision program, which is well on track to be completed by the end of next year. The network vision program, which includes a major overhaul of its network, as well as the shut down of the Nextel platform, is expected to provide the company with substantial operational synergies as well as financial benefits. The company has posted losses for a number of years, largely due to its Nextel platform, which has bled subscribers consistently, but with the Nextel shutdown nearing completion, the core Sprint platform will likely return to customer growth, which the company is missing. With the core Sprint platform, a majority of key business metrics like average churn and revenue per user are on the rise, largely due to its recent move to start selling smartphones like the iPhone.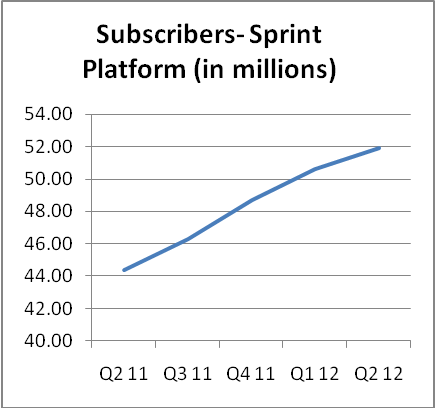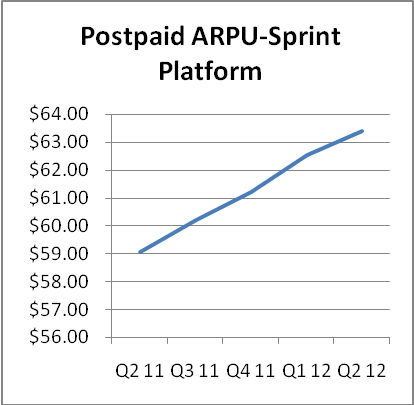 Moreover, Sprint is the only company to be offering unlimited data to its subscribers, which will certainly help expand its customer base further, and what sets it apart from other carriers is that it is the only carrier to be offering unlimited data plans on the new iPhone 5. Attraction of this unlimited plan to data-hungry iPhone customers will certainly create a competitive advantage for the company, and lead to increased ARPU and service revenue growth.
The graphs below shows the performance of both S and PCS on a YTD basis, outperforming Verizon and AT&T.
Both S and PCS are trading at cheap valuations compared to Verizon and AT&T.
| | | | | |
| --- | --- | --- | --- | --- |
| | S | PCS | T | VZ |
| P/E(ttm) | - | 14X | 50X | 47X |
| Forward P/E | - | 17X | 15X | 17X |
| P/S | 0.4X | 0.9X | 1.7X | 1.15X |
| EV/EBITDA | 6X | 5X | 8X | 6X |
In our previous reports on both S and PCS, we were bullish on both companies based on their growth prospects, and we reiterate our previous stance. Both stocks have performed well on a YTD basis, and have further upside potentials. The merger between PCS and T-Mobile would lead to sufficient operational and financial synergies ($6 to $7 billion according to the press release), which includes the savings from reduced network capital expenditures. Even though the potential merger between T-Mobile and PCS is seen as a negative for Sprint, we believe Sprint's success depends more on the ability to upgrade its network, according to its network vision program, which is expected to bring significant synergies for the company and help in customer growth.
Disclosure: I have no positions in any stocks mentioned, and no plans to initiate any positions within the next 72 hours.
Business relationship disclosure: The article has been written by Qineqt's Telecom Analyst. Qineqt is not receiving compensation for it (other than from Seeking Alpha). Qineqt has no business relationship with any company whose stock is mentioned in this article.