The exchange traded fund market is continually growing, keeping competition stiff, both domestically and abroad. The equity market has managed to remain in positive territory in 2012, with the United States accounting for about 70% of the $1.86 trillion in total ETF assets.
"The positive returns from equity ETFs were broad-based. Among the larger-cap equity ETFs classified as having more a domestic stock emphasis, 233 were in positive territory (about 97% of the domestic equity ETFs with a market cap of more than $50 million), along with 159 equity ETFs (about 92%) that had more of an international or global emphasis," S&P Capital IQ wrote in a note.
Overall, the group of ETFs that have remained solid performers year-to-date have not been favorably ranked by S&P Capital. The three ETFs with an Overall Ranking of "Overweight" are iShares MSCI Turkey Investable Market Index Fund (NYSEARCA:TUR), PowerShares KBW Bank Portfolio (NASDAQ:KBWB) and the iShares S&P Developed Ex-US Property Index Fund (NYSEARCA:WPS).
TUR has gained 9.3% over the past 6 months, KBWB has gained 6% over the past 6 months, and WPS is up 14% over the same time period.
Larger equity ETFs have managed to stay out of the red, despite the recent flock to fixed income and other safe haven assets. The S&P 500 is up around 16.4% year-to-date, and many equity ETFs with over $50 million in assets have posted decent performances. The inability of some foreign markets to regain traction has dragged on equities in general. This is the main reason that overseas equities have seen less desirable performances relative to the S&P 500.
iShares MSCI Turkey Investable Market Index Fund
(click image to enlarge)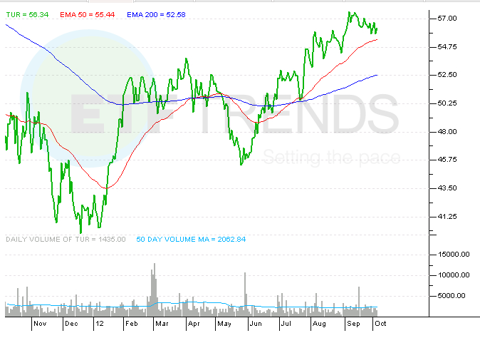 Tisha Guerrero contributed to this article.
Disclosure: I have no positions in any stocks mentioned, and no plans to initiate any positions within the next 72 hours. I wrote this article myself, and it expresses my own opinions. I am not receiving compensation for it. I have no business relationship with any company whose stock is mentioned in this article.