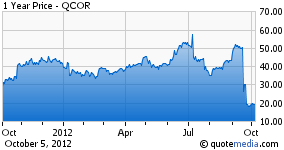 The struggle between bulls and bears for directional control of Questcor (QCOR) stock is getting more complicated by the day. To get a specific recap on what happened since the Aetna (NYSE:AET) policy update in September, you can read my last article on the stock. I'll also provide a "nutshell" description of QCOR's situation.
It all started with the ~40% drop on September 19. Literally the day after Oppenheimer upgraded QCOR and raised it price target. The reasoning was based on a policy update from the health insurance company Aetna, which took away reimbursement for Questcor's flagship product H.P. Acthar gel (but not for the treatment of infantile spasms, or West Syndrome). Since West Syndrome is a smaller chunk of Acthar's sales, the market slammed QCOR in anticipation of terrible future earnings with the assumption that other healthcare providers would follow suit.
Questcor fought back with the statement that only 5% of Acthar's sales revenue was at risk from Aetna's move. This caused a small counter-rally in QCOR. This was stopped in its tracks by an sudden crash news of a government probe that was evaluating Questcor's marketing of Acthar gel. Analysts started blasting the stock with downgrades after this, and short interest got very heavy.
QCOR gradually slid, until September 28th where the company announced a $.20 quarterly dividend. They also decided to increase their share repurchase program by 7 million shares, and I argued that this was going to put major pressure on the bears (shorts have to pay dividends since they are borrowing the shares).
Questcor has been quite tame since then, trading up and around $19/share. One one hand, you had the bears that were expecting Acthar to do worse on healthcare reimbursement changes. The bulls used Questcor's financial data, which implies that QCOR is unbelievably cheap. The dividend and share repurchase strategy helped immensely, and tipped QCOR in favor of the bulls. Still, there are a few new developments that have helped the case for the shorts.
Just today (October 5), we saw minor revisions to Acthar gel approval timeframes by United Health, which can be found here. The initial approval period for us of Acthar gel for infantile spasms was cut from 3 to 1 months. Also, the initial approval period for use in Multiple Sclerosis was reduced from 3 months to 3 weeks, and refined to usage in acute exacerbations.
This change will have a small impact on Acthar's sales revenue, but provides ammunition for those that are expecting more deterioration of Acthar's overall prospects. Questcor briefly dropped below $18/share on the news, but staged a quick recovery rally. At this point, QCOR looks confused while everyone makes bets on Acthar gel and its prospects.
Disclosure: I have no positions in any stocks mentioned, and no plans to initiate any positions within the next 72 hours. I wrote this article myself, and it expresses my own opinions. I am not receiving compensation for it (other than from Seeking Alpha). I have no business relationship with any company whose stock is mentioned in this article.