Utilities provide an opportunity for a good dividend yield while simultaneously enjoying steady price appreciation. The Vanguard Utilities ETF (NYSEARCA:VPU) gives investors a basket of utility companies and pays a dividend of 3.59%. The fund is comprised of 54.8% electric utilities, 32% multi-utilities, 7.2% gas utilities, 3.7% independent power producers & energy traders, and 2.3% water utilities.
One of the great features of Vanguard funds is low expenses as compared to its peers. VPU has an expense ratio of only 0.19%. This is 85% lower than the average expense ratio of funds with similar holdings. This difference in expenses adds to the investor's bottom line over time.
The reason to own an ETF over an individual utility is that it provides the investor protection from individual stock price risk. Risk is spread over a total of 79 utility companies. So, if one company experienced an Enron-type situation, the majority of the investor's money would still be preserved. An example of a less-extreme situation is the individual risk associated with the source of energy generated by an individual utility company. For example, Exelon's (NYSE:EXC) stock has been in a downward trend for the past few years because the majority of its energy is produced from nuclear. The low price of natural gas has given the utilities who generate electricity from natural gas the cost advantage, while Exelon experienced negative earnings growth. By owning VPU, investors have their money spread among a variety of utilities which provides less overall commodity price risk as energy is generated from a variety of sources and companies.
As of 8/31/2012, VPU's top five holdings were:
Company

Price to

Book

Profit

Margin

Operating Cash Flow

5-Yr. Annual Expected

Earnings Growth

Duke Energy Corp. (NYSE:DUK)

1.3

10.52%

$3.96 B

2.39%

The Southern Company (NYSE:SO)

2.22

12.82%

$5.27 B

5.38%

Exelon Corp.

1.4

8.42%

$6.57 B

-11.6%

Dominion Resources (NYSE:D)

2.57

9.87%

$4.09 B

5.5%

NextEra Energy (NYSE:NEE)

1.9

14.02%

$4.01 B

5.23%
Now, granted, the utilities are not high-flying growth stocks, but they are solid, steady growers over time that pay dividends. This combination allows for cash payouts for dividend reinvestment purposes or for income while the share prices climb steadily higher.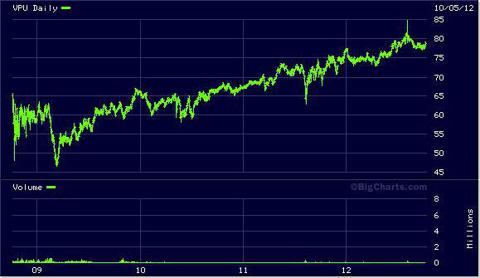 Many of the larger utility companies grow through acquisition. Otherwise they don't generate much growth as their customer base remains relatively stable. The acquisitions allow for new revenue and earnings sources which lead to rising stock prices.
VPU provides investors with a total of 79 utility companies under one ticker. With dividends, steady price appreciation, and a low expense ratio, this Vanguard ETF has an important place in the investing world.
Disclosure: I have no positions in any stocks mentioned, and no plans to initiate any positions within the next 72 hours. I wrote this article myself, and it expresses my own opinions. I am not receiving compensation for it (other than from Seeking Alpha). I have no business relationship with any company whose stock is mentioned in this article.