I've been tracking Sequenom (NASDAQ:SQNM) for about a month now as the stock trades between $19-$23; following quite possibly one of the biggest runs I've seen post NASDAQ bubble days. In May this was a $7 stock.

This is a speculative play because there are no earnings and this is not a 2008 play, nor a 2009 play, most likely a 2010 or 2011 play. But this is one unique company and I wanted to start my position today; I have no idea what "fair value" is at this point but the potential in this company is enormous IF things go according to plan. Here is a company description

Sequenom Inc., a genetics and molecular diagnostic company, provides genetic analysis products that translate genomic science into solutions for biomedical research, molecular medicine, noninvasive prenatal testing, and livestock and agricultural applications.

In early June came a major breakthrough
Sequenom, Inc. (News), a leading provider of genetic-analysis solutions, announced positive results from screening studies using the Company's noninvasive circulating cell-free fetal (ccff) nucleic acid SEQureDx™ Technology, which enables the detection of fetal

aneuploidy, including Down syndrome from maternal blood

.
The Company reported that in blind studies performed at Sequenom involving approximately 200 clinical samples collected both prospectively and retrospectively, its proprietary test for Down syndrome correctly identified 100% of all Down syndrome samples (i.e. sensitivity or detection rate), without any false-positive outcomes (i.e. specificity). The studies conducted both prospectively and retrospectively, involved approximately 200 samples in both normal and high-risk patients. The blinded-prospective study involved 180 samples comprising 130 low-risk and 50 high-risk samples. The test correctly identified three Down syndrome samples without any false-positive outcomes.

Of the 21 blinded samples analyzed retrospectively, the test correctly identified seven Down syndrome samples while also indicating no false-positive results

.
With

currently available serum-testing options having detection rates between 70% to 90% and false-positive rates as high as 5%

, SEQureDx Technology shows promise for significant performance advantages over the current paradigms for prenatal screening.
"We are very pleased to be reporting substantial progress toward commercializing an important test to screen for Down syndrome that can be administered as early as late in the first trimester through a simple blood draw from the mother," said Harry Stylli, Ph.D., Sequenom's President and Chief Executive Officer. "Data from our blinded screening study for the detection of fetal aneuploidy indicate that the current version of our test has identified all Down syndrome samples without any false-positive outcomes. Also our coverage has improved to at least 93% of the U.S. population. Although these results require further validation in larger studies, such results using SEQureDxTM Technology can potentially transform current clinical practice for Down syndrome-risk assessment."
So in a word, this "could" be huge. Essentially a much more accurate Down Syndrome's test - which can be administered in a non invasive way (blood test) versus current methods. The stock went from $7 to $13 within days of the announcement, took a little rest before going from $13 to $23. It just pulled back to $19 but I was hoping for a further pullback - instead its reversed on a dime and has jumped to $21 where I'm starting a minor stake (0.8% of portfolio) around $21. If it breaks to new highs we'll add more north of that level, or we'll add on pullbacks.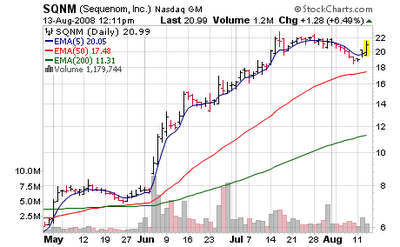 As for the Down's test; this is a relatively small sampling size and a larger test group is in process of which we'll get more data later this year and into 2009 (there is a huge 10K sampling to be done in 09). If all goes well, this could start generating serious revenue in 12-18 months. There is an analyst day on 9/23 which should also be a time to reveal more data.
That's not all. The company is also involved in 2 other tests - a fetus gender and a Rhesus disease diagnostic test. The company recently reported earnings; but frankly it's all irrelevant right now to the future of these tests.
"Smart money" is piling in....
Ridgeback Capital Management now owns 10.2M shares with recent purchases right around this price. That's over 1/5th of all shares. They literally have been buying almost every day the past 2 weeks - based on their holdings they look to be a $500M hedge fund that specializes in biotech - with only about 20 positions.
RA Capital Biotech Fund now owns 5.2M shares as of mid July, along with what appears to be call options as well.
RA Capital Management, LLC is an investment advisor based in Boston specializing in the life-sciences and drug development sectors. Our team has been investing since 2002 and is comprised of professionals with training in biology, chemistry, and medicine and also has industry and business development experience at the executive and board levels. We invest in companies with promising technologies and products.
Further the CEO has been buying shares at recent prices. I consider insider buying to be a lot more important indicator than insider selling as the latter is the whole purpose of the greater transfer of wealth in America from the many to the few - so its status quo. Buying? Much more rare.
Again, fair value is unknowable - this will trade on news and promise; outside our normal fare for the fund. But this is not an "FDA approval" type of "drug" story - I like these sort of diagnostic companies but by the time they are profitable they usually are worth a lot more than at this stage. Risks are 2 institutions now control 15.5M out of 47M shares - or this could be reward if they don't sell. Further risks are any negative testing results in the future. I would consider this a highly speculative position but one that could potentially be a very big winner if things progress.
Special regards to Zach for making my life easier, and providing some institutional research reports on this name, so I can pretend to be halfway smart money as well.
Disclosure: Long Sequenom in fund and personal account