Hard assets and commodity prices are rising as loose monetary policies threaten to devalue currencies and heat up inflation. With Goldman Sachs projecting an 18% rally in commodities over the next year, investors could take a look at commodity exchange traded funds to follow the "vampire squid's" bullish view.
Recently, analysts at Goldman Sachs projected an 18.2% return for the broad basket of commodities as reflected by the S&P GSCI Enhanced Commodity Index over the next 12 months, and estimated the index to gain 9% over the fourth quarter, reports Claudia Assis for MarketWatch.
In comparison, Goldman calculated a 9% increase in equities, a 2% rise for five-year corporate bonds and a 3% drop in 10-year Treasuries over the next 12 months.
Closely watched Goldman highlighted energy and industrial metals as the top performers for the next 12 months, with a 26.5% rise in energy prices, a 10% increase in industrial metals and a 6% gain for precious metals.
"Apart from being attractive in its own right, we also continue to see an overweight in commodities as a hedge against the risk of the impact of sharply higher commodity prices on economic growth and other asset classes, if oil supplies were to disappoint against a backdrop of very limited spare capacity," the analysts wrote in a note to clients.
According to Zacks, there are a number of broad commodity ETFs and exchange traded notes available to play Goldman's predictions.
GS Connect S&P GSCI Enhanced Commodity ETN
(click image to enlarge)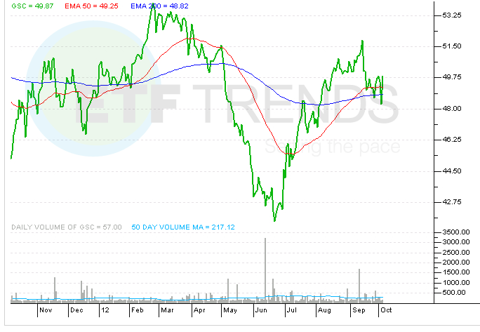 Click to enlarge
Max Chen contributed to this article.
Disclosure: I have no positions in any stocks mentioned, and no plans to initiate any positions within the next 72 hours. I wrote this article myself, and it expresses my own opinions. I am not receiving compensation for it. I have no business relationship with any company whose stock is mentioned in this article.