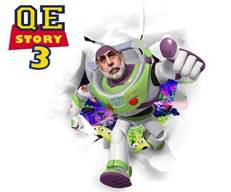 Bernanke's decision to not only continue Operation Twist at its current level, but also to throw an additional $40 billion a month of yet to be printed dollars at mortgage bonds, is a lot of new liquidity and will likely delay the major selloff that investors have been waiting for until sometime next year. Combined, these programs total over $85 billion per MONTH until the labor market improves substantially. Considering that it's going to be many years before the unemployment rate drops to 5.5%, the level I presume they are targeting, QE Buzz Lightyear will be driving this economy to infinity and beyond.
Naturally, this will have debilitating effects on our economy sometime in the future. After all, as I lay out in Facing Goliath - How to Triumph in the Dangerous Market ahead, the answer to too much debt is NOT more debt. All of this money will have to be paid back. The balance sheet of the Federal Reserve is now at a mind-numbing $1.9 trillion with a cool new half trillion dollars added every year until we reach whatever is deemed an acceptable unemployment rate, in a time of an already extraordinary US indebtedness and stubbornly high unemployment.
After the election, when our unsustainable spending must be reigned in, the economy will be hard pressed to grow as cuts eat away at spending. Of course, the alternative of no cuts would be worse as the bond market would freak out and start jacking up our borrowing rates. That would cause a depression like it did in Greece. But that is long term in market years, more than six whole months, and therefore just crazy talk. For now the market likes free money and so far September is on track to be the 8th best since 1949 for the S&P and the 5th best for the Russell 2000 since 1978.
Investors Strategy
For the immediate future, there is simply no reason to "fight the Fed", meaning investors should not bet against the Federal Reserve. If the Fed is tightening, be cautious as The Fed is removing the punch bowl from the party, and investors will get a hangover. However if the Fed keeps refilling the punch bowl, the party goes on, albeit with a worse hangover later on. Of course even trees don't grow to the sky, so be sure you are in the right investments for you. This is what we refer to as "Invest for need, not for greed," which is essentially getting the best returns with the least risk possible for our clients.
With rates so low, we all have to find alternatives to CDs and QE3 will have a positive effect on stocks through the rest of the year and with the enormous liquidity in the markets. Commodities will do well as word banks print more money, and aggressive should buy commodity and metal stocks such as Goldcorp. (NYSE:GG), Barrick Gold Corp (NYSE:ABX), SPDR Gold Shares (NYSEARCA:GLD), Power Shares Double Gold (NYSEARCA:DGP), Market Vectors Gold Miners ETF (NYSEARCA:GDX), Newmont Mining Corp. (NYSE:NEM), Freeport-McMoRan Copper & Gold Inc. (NYSE:FCX), plus Silver Wheaton Corp. (NYSE:SLW), ProShares Ultra Silver (NYSEARCA:AGQ) and Fortuna Silver Mines (NYSE:FSM).
Stock buyers should stick with what's working like Apple (NASDAQ:AAPL), which is getting hit right now but setting up as the buy of the year and other innovative technology companies which are leading the way an destroy the competition such as Google (NASDAQ:GOOG), Intel Corporation (NASDAQ:INTC), Qualcomm (NASDAQ:QCOM), Microsoft (NASDAQ:MSFT), Cisco Systems (NASDAQ:CSCO), Dell (NASDAQ:DELL), Caterpillar (NYSE:CAT), General Electric (NYSE:GE) and Yahoo (NASDAQ:YHOO), Red Hat Inc. (NYSE:RHT), Schlumberger (NYSE:SLB), VMware Inc. (NYSE:VMW). For more broader exposure, fall on ETFs like the SPDR S&P 500 (NYSEARCA:SPY), SPDR Select Sector Fund - Financial (NYSEARCA:XLF), iShares MSCI Emerging Index Fund (NYSEARCA:EEM), Emerging Markets Consumer ETF (NYSEARCA:ECON), Brazil (NYSEARCA:EWZ), PowerShares QQQ Trust, Series 1 (NASDAQ:QQQ), iShares Russell 2000 (NYSEARCA:IWM) and iShares FTSE China 25 Index Fund (NYSEARCA:FXI).
Lower risk investors and savers must stick with income and dividends like MLP Terra Nitrogen (NYSE:TNH), Legacy Reserves (NASDAQ:LGCY), Vanguard Natural Resources (NYSE:VNR) and BrietBurn Energy (BBEP) and healthcare REITs related to the aging baby boomers such as Healthcare Properties (NYSE:HCP), Senior Housing (NYSE:SNH) and IShares Healthcare (NYSEARCA:IYH).
Disclosure: I have no positions in any stocks mentioned, and no plans to initiate any positions within the next 72 hours. I wrote this article myself, and it expresses my own opinions. I am not receiving compensation for it. I have no business relationship with any company whose stock is mentioned in this article.