On Friday Oct. 5, Cell Therapeutics, Inc. (NASDAQ:CTIC) announced that it will be offering for sale 60,000 shares of preferred stock at $1,000 per share that will raise $60 million before expenses.
The offering, if totally subscribed, will increase the total outstanding number of shares by 42.9 million. Total current shares outstanding are 42.5 million, therefore shareholders will be diluted by about 50%. The market didn't take the news so well and the stock plunged by 25% on Friday.
The company has no revenue at all and like so many other bio-tech companies, survives selling stock once in a while. This time however, the offering will double the amount of outstanding shares.
This is not the first time Cell Therapeutics shareholders have been diluted to death. As evidence, please note the company did a 4-1 reverse split on April 15, 2007, a 10-1 reverse split on September 2, 2008, a 6-1 reverse split on May 15, 2011 and a 5-1 reverse split just last month ago on September 4, 2012.
If you curious as to what all this means in the long term chart, adjusted for all reverse splits, here it is: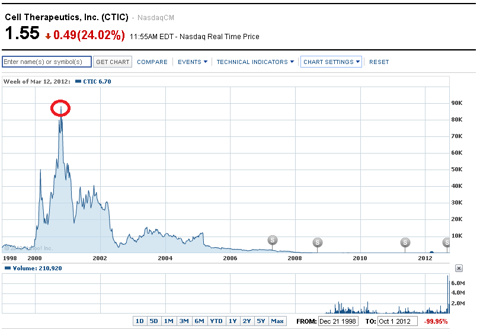 Believe it or not, this stock on Oct. 20, 2000 closed at $88,200. This is the result of stock offering after stock offering which dilutes shareholders to death and reverse split after reverse split to meet NASDAQ's minimum $1 a share price requirements.
In the long term, no matter how good a company might be, if it just keeps issuing stock to survive, the dilution will kill any chance shareholders have of getting any appreciation.
Cell Therapeutics plans to use the net proceeds from this offering to support the launch of Pixuvri™ (pixantrone) in Europe and to commence phase III trials of pacritinib as well as for general corporate purposes.
Pixuvri was granted conditional marketing authorization by the European Commission in May 2012 and is the first medicinal product licensed in the E.U. to treat adult patients with multiply relapsed or refractory aggressive B-cell non-Hodgkin Lymphoma ("NHL"). There are about 37,000 new cases of the disease every year and according to research cited by the company, it can treat 8,000 European patients per year. The company anticipates peak annual sales for the drug to reach at least $240 million.
The question however is, should shareholders wait around to find out if this drug will finally bring sales and profits to the company, or should they not hold their breath and sell now, so as to not be diluted to death by any future offerings the company might do in order to stay alive?
Well if we look at the company's latest balance sheet (June 29,2012), we see that the company had about $22 million in current assets. Down substantially from September 29, 2011, when it had about $50 million in current assets. However, when we look at the income statement of June 29, 2012, we see that the company had 50 million in reported losses. Also, that there was a non recurring item of $29.1 million.
I am assuming that the company's cash position is much less than what it was back in June and I am also assuming that we will probably see many more non recurring items over the next several months, as the company begins marketing Pixuvri in Europe.
However, even after taking into account the current offering and the $55 million that the company will net (at a great cost to current shareholders let me repeat), it might not be enough for the company to stay solvent before it runs out of cash one more time, and thus result to raising cash (one more time) at a great cost to current shareholders.
In other words, even if Pixuvri is eventually profitable, it might take another round of financing in order for the company to stay afloat.
Bottom line: Taking into account the company's history and the fact that shareholders have been diluted again and again and have suffered nothing but losses all these years, I will side with the market and Friday's price action on this call. Sell now and ask questions later.
Disclosure: I have no positions in any stocks mentioned, and no plans to initiate any positions within the next 72 hours. I wrote this article myself, and it expresses my own opinions. I am not receiving compensation for it (other than from Seeking Alpha). I have no business relationship with any company whose stock is mentioned in this article.