While it is quite a surprise that the unemployment rate in the U.S. could possibly drop from 8.2% to 7.8% even as job growth slowed, politics aside, jobs are still a side show to the predominant influence in these markets: central bank policies. The U.S. stock market and the EURUSD are once again higher on the month because of ECB boss Draghi's overall game plan and Fed Chairman Bernanke's widely anticipated QE 3. Day-to-day economic news, even if it is a sharply lower durable goods number or a flat non-farm payroll figure, just doesn't hold sway like it used to.
Stocks and the euro also benefited from short covering on behalf of smarter-than-the-devil Wall Street hedge fund traders who were caught underfunded in U.S. stocks and downright short the euro heading out of the last quarter. The one thing that does remain constant, however, is that the market will always tell us what is important. In the words of the prominent energy analyst Cynthia Kase, "The chart tells us everything the market knows about itself." (I'm a big fan of Kase.)
While U.S. stocks and the euro have been immune to all the bad news on the economic doorstep lately, AUDUSD has not. Following the increase in bearish momentum from the RBA rate cut and the jump in the aussie trade deficit last week, AUD pairs have been getting routed, taking away one of the few bright spots for yield seeking institutions and sovereigns. We adjusted our near-term downside target to just below 1.00 last week. Once below 0.9950 or so, it really isn't that far to the 2012 low just below 0.9600 (see Figure 1). The aussie no doubt will continue to be a great trading vehicle because it is an asset class market, and should always be remembered as a possible "buy when there is blood in the streets" in the event of a proper market panic.
Click to enlarge images.
Figure 1: AUSUSD Daily Chart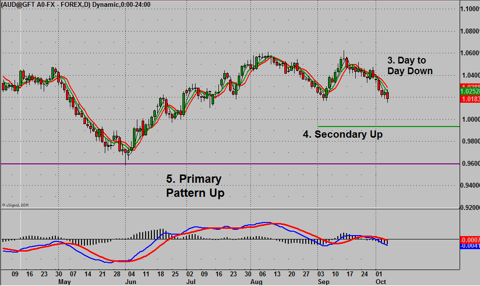 Click to enlarge
Along with being a poster child for the influence of central banker policies, the euro is proof that we can see large, sustained price movement for no other reason than the majority of influential traders got it dead wrong the quarter before. The euro also serves as a reminder of the relative nature of currencies and investment markets. If there is obvious downside risk in one currency, this becomes upside opportunity in other currencies. In other words, what's bad for the aussie is good for the euro and pound. While I still can't quite figure it out, I do know that the whole design of the U.S. Dollar Index is brilliant. Because the euro comprises 60% of the Dollar Index, they both can't go down at the same time! Now that was good thinking.
Near term, we think the euro eclipses the September highs at 1.3170 and tops out somewhere closer to 1.33 (see Figure 2). However, once hedge funds finally do pull the plug on euro shorts, or more likely when the margin man pulls the plug for them, this market will be hard pressed to find buyers this side of 2013. While it will be easy for economic numbers going forward to look good in comparison to recent numbers, that likely won't be enough to sustain the current upside momentum. Until we see a break in that momentum, however, the euro is a short-term bull.
Figure 2: EURUSD Daily Chart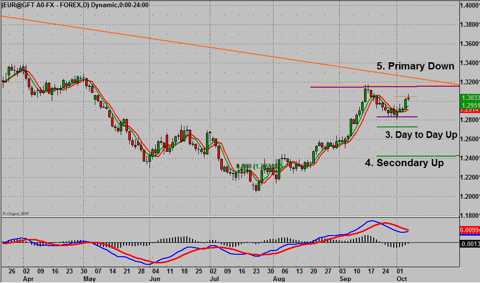 Click to enlarge
Disclosure: I have no positions in any stocks mentioned, and no plans to initiate any positions within the next 72 hours. I wrote this article myself, and it expresses my own opinions. I am not receiving compensation for it. I have no business relationship with any company whose stock is mentioned in this article.