During the past five years, shares of Domino's Pizza (NYSE:DPZ) have returned about 120%, which compares favorably to the S&P 500 return of -6% over the same period. Even compared to other pizza, fast food, and casual dining restaurants, Domino's stock is outperforming. For example, Papa John's (NASDAQ:PZZA), Yum! (NYSE:YUM), McDonald's (NYSE:MCD), and Darden Restaurants (NYSE:DRI) returned 95%+, 90%+, 60%+, and 25%+, respectively, during the past five years (see graph below). Chipotle Mexican Grill (NYSE:CMG) is the only company whose stock return is similar to that of Domino's. Investors should not look in the rearview mirror (although it helps) but try to forecast where Domino's common stock is going from here. This article will discuss Domino's fundamentals and valuation, the company's growth strategy, and competitive position and reach a conclusion if Domino's stock outperformance is sustainable.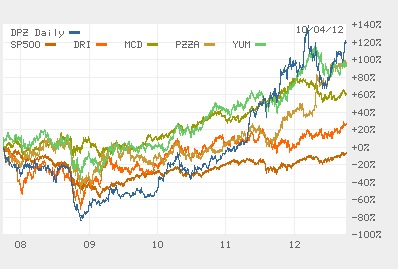 Fundamentals and Valuation
During its latest quarter ended June 17, 2012, Domino's reported strong results. It opened 114 new net stores (111 international and 3 domestic) and registered international and domestic same store sales growth of 5.7% and 1.7%, respectively. This marked the 74th consecutive quarter of international same store sales growth. While the company has a significant amount of debt on its balance sheet ($1.6 billion), it is able to meet interest obligations as it had $50 million in free cash flow during the first two quarters of the current fiscal year. Also, the company is able to improve its margins as its operating margin for the first half of the year was 17.4%, a 100 basis points higher than the operating margin in the comparable period last year. For comparison, Papa John's, Yum!, McDonald's, and Darden achieved operating margins during their latest reported quarters of 8.3%, 17.6%, 45%, and 7.7%, respectively. In terms of profitability, Domino's seems to be worse than the major fast food chains such as Yum! and McDonald's but relatively better compared to Papa John's and Darden.
Based on price to estimated current fiscal year earnings (P/E) ratio, Domino's (19.8 P/E) common stock is valued similar to Papa John's (20.7 P/E) and Yum! (20.4 P/E) but overpriced compared to McDonald's P/E ratio of 16.8. According to Thomson Reuters, Domino's P/E to growth (NYSE:PEG) ratio, which takes into account anticipated growth is at 1.37, among the lowest in the sample group. Papa John's, Yum!, McDonald's, and Darden have PEG ratios of 1.54, 1.39, 1.69, and 1.14.
Finally, in terms of returning cash to shareholders Domino's has one of the best records. The company paid a $3.00 special dividend per share in April 2012 as part of a recapitalization. Also, it has $200 million authorized for repurchase as of July 20, 2012 or about 10% of its current market capitalization. In addition, 15% of Domino's shares are held by company insiders, compared to 25%, 1%, 0%, and 1% for Papa John's, Yum!, McDonald's, and Darden. A high level of insider stock ownership (but less than majority control) indicates that management's and shareholders' interests are aligned.
Growth Opportunities and Competitive Environment
Domino's is actively growing in terms of products and geographic regions. For example during the 2007 -- 2011 period, the company's number of international net units increased by 1,612 compared to an increase of 530 and 994 for Papa John's and Pizza Hut (Yum!) over the same period. Recently, the company opened its 10,000th store in Istanbul, Turkey and its first ever store in Nigeria, Africa.
In terms of product growth, Domino's continues to offer new products. Year-to-date in 2012, the company launched handmade pan pizza, gluten free pizza crust, and parmesan bread bites. The gluten free crust was criticized by some experts as not being completely gluten free and Domino's recommends it only to people with mild gluten sensitivity. Nevertheless, Domino's is the only national chain to offer a pizza crust to those people sensitive to gluten.
Due to Domino's larger size, the company is able to offer a standalone smartphone application (available on different operating platforms) for ordering pizza (30%+ of sales are currently done through this channel) and a product bundle aimed at the Hispanic consumer. Its growth and competitive position are also helped and by meeting USDA nutrition guidelines. This has allowed the company to grow its lunch offerings at public schools. Domino's now serves over 3,000 schools in 37 states, up from 1,100 schools in the beginning of 2011.
In many parts of the world, the pizza delivery business is still underdeveloped, and Domino's is the leader in filling this unmet demand. This is proven by the number of stores it has opened internationally and continues to open, as well as, by its leading position in pizza delivery in many international markets. Domestically and internationally, Domino's has a strong brand and is relatively less affected in the recent negative media reports (inhumane treatment of animals, using fillers in meat and french fries, causing obesity) about fast-food restaurants such as Taco Bell, McDonald's, Burger King, and Dunkin Donuts. Also, the company has more pricing power since it is difficult to compare the price of pizza due to the differences in its size and thickness.
Conclusion
Strong growth and profit margins and a relatively good competitive position make Domino's Pizza a tasty investment choice. Its shares are not cheap, but they still offer a good value and an opportunity to participate in Domino's profitable growth. The company has 22% of the domestic market for pizza delivery, 52%+ of its revenues coming from overseas, a well accepted brand, efficient supply chain distribution, and new product offerings. All this should help Domino's Pizza weather any inflationary or economic headwinds relatively well. I recommend investors to consider buying Domino's shares. In support of their investment, to celebrate Columbus Day, or just to satisfy their appetite for pizza, investors should also download Domino's app to their smartphones and try one (or more) of Domino's pies.
Disclosure: I have no positions in any stocks mentioned, and no plans to initiate any positions within the next 72 hours. I wrote this article myself, and it expresses my own opinions. I am not receiving compensation for it (other than from Seeking Alpha). I have no business relationship with any company whose stock is mentioned in this article.