After Morgan Stanley downgraded Skullcandy (NASDAQ:SKUL), I quickly wrote that I thought the sell-off was way overdone and marked a buying opportunity. From comments and other posts I have seen, it seems this was a common opinion amongst folks following this company. The following day, SKUL gapped up (giving me little time to buy) and has yet to look back. On Friday, October 5th, the stock reached as high as $14.58 before pulling back to $14.15. SKUL not only recovered all its losses from the Morgan Stanley downgrade, but it got "close enough" to Morgan Stanley's price target of $15 - all in less than a month. The charts below show that SKUL is now stalled at its 50 and 200-day moving averages (DMAs) and show the complete stock action since the IPO.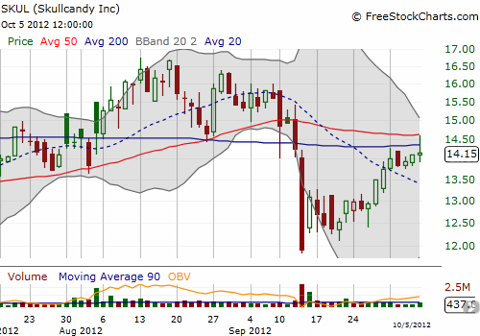 Skullcandy recovers its Morgan Stanley losses and now awaits a new catalyst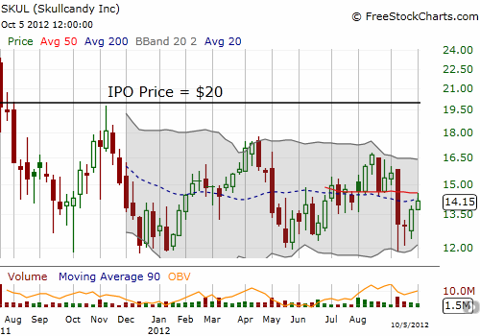 While maintaining support around $12, Skullcandy is printing a series of lower highs
Source: FreeStockCharts.com
Note also that SKUL still has printed a series of lower highs while maintaining lows around $12. So, now comes the tough part for SKUL. It will likely need a new, positive catalyst to generate significant gains from here. Like a buoy, the stock has merely snapped back to equilibrium after getting dunked by a crushing wave. SKUL will not report earnings until November 1st, so between now and then, the stock will likely get buffeted by general market movements (absent any earnings pre-announcements). The general market is not likely to make much progress over the next month, so given this assumption, I decided to close out my position for now.
It is not yet clear whether short-covering will serve as a positive catalyst for shares. Based on settlement dates, shares short dropped from 11,247,107 to 10,995,099 from August 31 to September 14 (now a jaw-dropping 68% of the float). Thus, we only have information on trades before the Morgan Stanley downgrade. This drop is part of a very slow reduction in shares short that started from the all-time peaks in June and July. Until the downgrade, SKUL slowly meandered upward as shorts covered, so it is certainly possible short-covering was pushing the shares up. However, the overall drop of 744,372 shares (6% of the peak) is less than two days of trading volume in SKUL. Moreover, most of the drop occurred in one month from mid-August to mid-September. I am guessing the next update on shares short will be closely watched along with the next earnings report.
The path forward for SKUL will likely remain rough (for example, watch out for a Morgan Stanley reiteration?). However, barring any negative surprises November 1st, I remain a buyer on dips.
Be careful out there!
Disclosure: I have no positions in any stocks mentioned, but may initiate a long position in SKUL over the next 72 hours. I wrote this article myself, and it expresses my own opinions. I am not receiving compensation for it (other than from Seeking Alpha). I have no business relationship with any company whose stock is mentioned in this article.