A once per year trading system triggered by yield, called the "Dogs of the Index" gives investors the tactical advantage of obtaining all the wisdom and knowledge of well-paid wizards of investment and publishing for free, merely by choosing an existing collection of equities built by those experts.
This Dogs of the Index strategy, popularized by Michael B. O'Higgins in the book "Beating The Dow" (HarperCollins, 1991), revealed how low yielding stocks whose prices increase (and whose dividend yields therefore decrease) could be sold off once each year to sweep gains and reinvest the seed money into higher yielding stocks in the same index. Charts below display a snapshot of the Dow Index as of October 3, 2012 to 2013.
Modified Dogs of the Index Metrics Selected Ten Top Net Gain Dow Industrial Stocks
CME Group, publisher of the index, stated, "The Dow Jones Industrial Average (DJIA) is a price-weighted index of 30 blue-chip U.S. companies representing nine economic sectors including financial service, technology, retail, entertainment and consumer goods. The leadership position of the component stocks in the DJIA tends to result in an extremely high correlation of the DJIA to broader U.S. indexes, such as the S&P 500 Index providing additional opportunities."
These equities were ranked using the two key dog performance metrics: (1) annual projected dividend; (2) stock price. Dividing the annual dividend by the price declared the percentage yield by which each dividend dog stock was primarily ranked. Then, (3) one year mean target price estimates by analysts supplemented 24 equities that showed significantly higher prices for 2013.
A hypothetical $1000 investment in each equity was divided by the current share price to find a number of shares purchased. The number of shares was then multiplied by a projected annual per share dividend amount to find a dividend return dollar amount. Thereafter one year mean target prices multiplied by the number of shares supplemented the dividend amount minus a flat $20 broker fee to determine a net gain amount for the 24 stocks showing upside price gains into 2013.
Top Net Gain Dow-Jones Dividend Dogs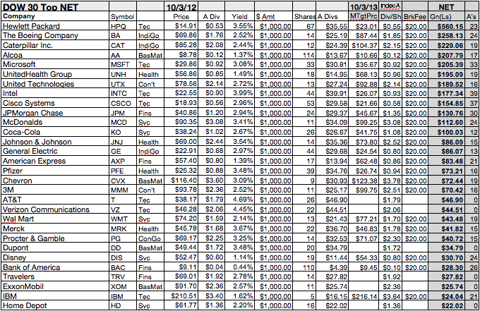 Click to enlarge
The top ten Dow stocks ranked by 2013 net gains encompass six of nine sectors. Top dog, Hewlett Packard (NYSE:HPQ) in technology, is followed by the two industrial goods representatives, The Boeing Company (NYSE:BA), and Caterpillar Inc. (NYSE:CAT).
Alcoa, Inc. (NYSE:AA) is the lone basic materials firm in the top ten. The newest addition to the Dow 30, UnitedHealth Group (NYSE:UNH), is the lone healthcare sector representative. Similarly, United Technologies (NYSE:UTX) is the lone Conglomerate represented.
Three more technology firms show up: Microsoft (NASDAQ:MSFT); Intel Corporation (NASDAQ:INTC); Cisco Systems (NASDAQ:CSCO). The lone financial sector representative, JPMorgan Chase (NYSE:JPM) completes the Dow top ten targeted net gain dogs. Give them all a good tummy rub!
Dividend vs. Price Results
Below relative strengths of the top ten Dow-Jones dividend dogs by net gain as of market close 10/3/2012. Historic projected annual dividend history from $1000 invested in each of the ten highest yielding stocks and the total single share prices of those ten stocks created the data points shown in green for price and blue for dividends.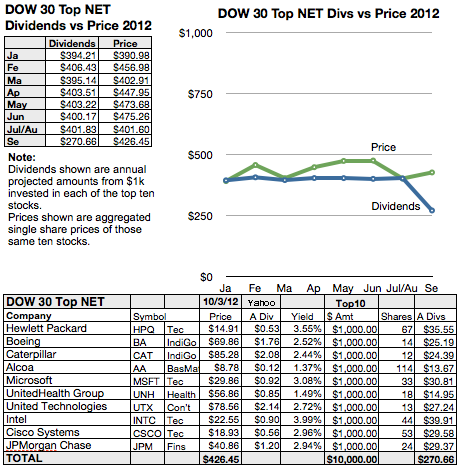 Conclusion: Dow-Jones Net Gain Dogs Still Bullish
The post-September collection of Dow Jones Industrial equities filtered for maximum net gains continued a bullish trend that began in January but was interrupted by convergence twice, once in March, and again in June/July, as measured by dividend vs. price performance. Aggregate single share price for the top ten is up 6.2% since August, and 9.1% since January. Meanwhile projected dividends from those top ten invested at $1k each decreased 32.6% between August and September and 31.3% since January.
Dow net gainers continue to show the overbought divergence exhibited by the whole index as aggregate total single share price rose 6.2% while dividends from $1k invested in the top ten fell 32.6% to move beyond the 18.76% overbought divergence shown in June to 57.6% in September.
Conclusion Too:
2013 Expects over 23% Net Gain from These 10 dogs
Top ten Dow-Jones net gainer dogs were graphed below to show relative strengths by dividend and price as of October 3, 2012 and those projected by analyst mean price target estimates to the same date in 2013.
Historic prices and actual dividends paid from $1000 invested in the ten highest yielding stocks and the aggregate single share prices of those ten stocks created the data points for 2012. Projections based on estimated increases in dividend amounts from $1000 invested in the ten highest yielding stocks and aggregate one year analyst mean target prices as reported by Yahoo Finance created the 2013 data points green for price and blue for dividends. Note: one year target estimated prices at or below current price were not included in the tally.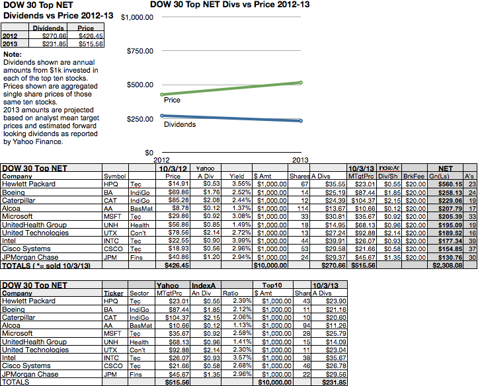 Click to enlarge
For the coming year Yahoo Finance projected a 14.34% lower dividend from $1k invested in each stock within this top net Dow-Jones group while aggregate single share price for the ten was projected by analysts to increase 21%. All ten made probable profit generating trades as revealed by Yahoo Finance for 2013.
Ten probable profit generating Dow dog trades projected one year hence by analysts as reported by Yahoo Finance were:
Hewlett Packard netting $560.15 based of mean target pricing set by 23 analysts;
Boeing netting $258.13 based of mean target pricing set by 24 analysts;
Caterpillar netting $229.06 based on mean target pricing set by 19 analysts;
Alcoa netting $207.79 based of mean target pricing set by 17 analysts;
Microsoft netting $ $205.39 based of mean target pricing set by 33 analysts;
UnitedHealth Group netting $195.09 based on mean target pricing set by 19 analysts;
United Technologies netting $189.52 based on mean target pricing set by 16 analysts;
Intel netting $177.34 based on mean target pricing set by 39 analysts;
Cisco Systems netting $154.85 based on mean target pricing set by 37 analysts;
JPMorgan Chase netting $130.76 as of next July based on a mean target price set by 30 analysts.
This portfolio of Dow-Jones dividend paying stocks based on analyst one year mean price target estimates revealed a configuration of equities estimated to net a return 23.08% versus a 2.7% return from dividends alone. This result is calculated to be 83% more rewarding than that detailed in the "Dogs of the Index" strategy described in a separate article titled: "Dogs of the Dow Delight after September."
You are invited to check it out.
Disclaimer: This article is for informational and educational purposes only and should not be construed to constitute investment advice. Nothing contained herein shall constitute a solicitation, recommendation or endorsement to buy or sell any security. Prices and returns on equities in this article except as noted are listed without consideration of fees, commissions, taxes, penalties, or interest payable due to purchasing, holding, or selling same.
Disclosure: I am long T, VZ, INTC, JNJ, CVX. I wrote this article myself, and it expresses my own opinions. I am not receiving compensation for it (other than from Seeking Alpha). I have no business relationship with any company whose stock is mentioned in this article.