Cisco Systems (NASDAQ:CSCO) saw a very nice rise in its share price after its last quarterly report. While revenues and earnings did beat estimates slightly, investors were more focused on the dividend. Cisco announced a 75% raise in its quarterly dividend, from $0.08 to $0.14. That sent shares up 9.6% the following day, and last Friday, they closed just 2 cents below where they closed post-earnings. Now that we are a bit more than a month away from Cisco's next report (expected November 13th), investors are looking at what to do with Cisco. Let's see if now is the time to buy.
Cisco provides a decent blend of growth and value at this point. Fiscal year revenues (for the period ending July 2013) are expected to rise by about 6.2%, with another 5.9% growth expected in the following fiscal year. Earnings per share are expected to rise by a similar amount over the two-year period. Additionally, with the increased dividend, Cisco is now yielding 2.97% annually based on Friday's close. Cisco is also buying back billions in shares. The company bought back $4.4 billion in the 2012 fiscal year, and has $5.9 billion remaining on the current plan. That represents nearly 6% of the current market cap, which stands just under $100 billion at this point.
In terms of guidance, Cisco guided to fiscal Q1 revenue growth of 2%-4% over last year's period, and non-GAAP earnings per share of $0.45 to $0.47, compared with $0.43 from a year ago. Currently, analysts are expecting 5% revenue growth and earnings per share of $0.46. In my opinion, Cisco shouldn't have any problem beating on the bottom line. They've beaten analyst estimates in the past four quarters. It will be interesting to see how the revenues shake out however. With analysts a bit above the midpoint of Cisco's given guidance, this does leave some room for a miss, especially if the analyst average rises into earnings. Cisco does expect Europe to be very challenging for the time being, and federal government spending is soft. However, the company has noted that state government activity, along with emerging markets, and small and medium businesses are doing fairly well.
So where does Cisco stand as an investment currently? Well, because Cisco pays a dividend and is buying back stock, as well as having revenue growth in the mid single digits, it is considered a value play currently. For those reasons, I like to compare it to other large cap tech names considered true value plays, Microsoft (NASDAQ:MSFT) and Intel (NASDAQ:INTC). The following table shows some key statistics for the three names, financially and value wise. The current yield is as of Friday's close. The first buyback category (12-month) shows the dollar amount of shares repurchased over the past 12 months for each name, ending at the latest quarter. For Microsoft and Cisco, those are fiscal year values. For Intel, it is the past four quarters, over two separate fiscal years. The second buyback category (remain) is the amount of dollars remaining on each company's current buyback plan.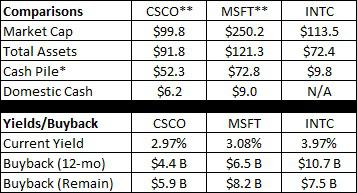 *Includes cash and equivalents, short and long-term investments.
**Domestic cash values only from cash and short-term investments. As of their latest quarter(s), Microsoft had $63 billion in cash and short-term investments, Cisco had $48.7 billion. Amount of long-term investments held off-seas not disclosed.
Cisco has the highest percentage of its cash pile in relation to market cap. While Cisco has the lowest dollar value amount of its buyback remaining, remember that Microsoft's market cap is 2.5 times that of Cisco's. Also, I think Intel's buyback will be slowing down for the short-term because of lingering growth issues. Since Cisco has promised to return at least 50% of free cash flow to shareholders, I believe that a new buyback program will be announced within the next 9 to 18 months. Investors have been critical of the buyback plan in recent years, but if you combine that with the near 3% dividend now, it makes Cisco an attractive value play.
So what are some other comparisons? Well, the following table shows the currently forecasted revenue and earnings growth for the three names for their current and next fiscal years. Cisco's current fiscal year ends in July 2013, Microsoft's in June 2013, and Intel in December 2012. The P/E values are based on those yearly estimates.

Cisco provides the second highest amount of growth, and trades at the lowest valuation. Is that fair? Well, Intel investors appear to be paying up for the larger dividend, near 4% as shown above, as well as the fact that Intel has bought back the most stock recently. Now, I would definitely say that Cisco is undervalued here compared to Intel. Even though Intel offers a higher dividend, the growth just isn't there. However, if I had to pick between Microsoft and Cisco, Microsoft gives an extra 11 basis points from its dividend plus a bit more of growth, comparatively speaking. I think that Microsoft is worth the slight premium it trades for.
So what are some issues with Cisco? Well, I did address a number of them in a recent article about the company. My first issue was with declining margins. Cisco expects fiscal Q1 non-GAAP gross margins to continue declining, and we've seen Cisco's margins come down in recent years. Also, if you look at the table above, Cisco's revenues are expected to grow at 12.4% over the next year, while earnings per share are expected to grow at 13.5%. However, if you factor in the expected buybacks, net margins will probably decline, as net income will not grow as fast as revenues. In fiscal Q4 of the prior fiscal year, net income actually declined.
At that point, I also stated that Cisco's valuation just didn't fit when compared against other names. However, since that point, valuations have come down slightly, and we also got a huge revenue warning from Intel. At that point, Cisco was my third choice among the three names I've analyzed so far here today. But currently, I think I'd rather own Cisco over Intel.
Cisco has come down almost a dollar since its post-earnings high, and that makes it an attractive value play at these levels. The increased dividend, ongoing buyback, and fair amount of growth make the valuation fit fairly well. Thanks to the Intel revenue warning, Cisco is now my #2 best value play among all large cap technology names. While I still would own Microsoft over Cisco if I had to choose just one, investors that can own two names should feel comfortable owning Cisco. The stock can definitely be bought here, but I always recommend buying on pullbacks, like the recent one that took Cisco down to the $18.30s. Anyone who thinks Cisco might miss on revenues when it reports next month might want to wait to enter until then, but if you believe Cisco will beat, you probably want to get in sooner rather than later.
Disclosure: I have no positions in any stocks mentioned, and no plans to initiate any positions within the next 72 hours. I wrote this article myself, and it expresses my own opinions. I am not receiving compensation for it (other than from Seeking Alpha). I have no business relationship with any company whose stock is mentioned in this article.