Interbrand (a global branding consultancy) recently released a report on the top global brands based on Interbrand's calculation of brand value. As you can imagine, the familiar suspects graced the list.
Below, I have isolated the top 10 global retailing brands, of which six are listed on a major US exchange. I first introduce the brands and their values, adding a quote on the brand from the Interbrand report. Next, I provide an overview of these companies to determine if any have potential as an investment.
"Stop right there," you might be saying right now. If these are all top-valued brands, wouldn't they all be great investments?
There are three contradictory ways to look at this:
1. Since brand can drive future sales growth, pricing power and profit margins, one could argue that a strong brand translates into solid future EPS growth that isn't reflected in the current share price.
2. A top-ranked brand may have been a rising star for several years. If this is so, then many analysts must have seen the rising brand, thus pricing any future benefit into the stock. Therefore, any benefit from a strong brand is already reflected in the share price.
3. A popular brand means a popular stock. As such, investors flock to the stock driving the price up beyond its fair value.
Below we will take a closer look to see if any of these top brands are worthy investments.
Note: this is not a solicitation to invest. Please talk to a financial adivisor before making any investment decisions.
Interbrand's Top 10 Global Retail Brands
(Source for data and quotes: Interbrand. Note on methodology: To create the list of top retailing brands, I started with Interbrand's entire list and manually stripped out the non-retailing brands - specifically, I stripped out companies that rely heavily on the services of independent retailers for product distribution.)
Name (Ticker): Brand Value
10) Zara (non-US listed): $9.5b
Zara's long-admired business model has kept customers happy and the company in top form, despite harsh global economic conditions.
9) eBay (NASDAQ:EBAY): $10.9b
In the past four years, under the leadership of John Donahoe, eBay has experienced a major turnaround.
8) IKEA (non-US listed): $12.8b
In the past year, IKEA kept close to customers, furthered green business practices, and remained competitive in spite of rising material costs.
7) Nike (NYSE:NKE): $15.1b
A global icon that transcends its category, Nike continually increases the power of its brand through innovation - its greatest strength.
6) H&M (non-US listed): $16.6b
The secret recipe for H&M continues to be partnering with big-name designers, celebrities, and high-profile supermodels, and this strategy clearly resonates with the aspirations of its fashion savvy, pop-culture-following target customers.
5) Amazon (NASDAQ:AMZN): $18.6b
Amazon aims to be a place where consumers can find anything they want to buy - online. It delivers on this aim by regularly expanding its products and services and, in doing so, has remained a leader in customer service.
4) Louis Vuitton (OTCPK:LVMUY): $23.6b
Louis Vuitton's continued success can be attributed to consistently upholding its core values and remaining loyal to its travel-centric heritage.
3) Disney (NYSE:DIS): $27.4b
The world of entertainment has been steadily transforming as audience behaviors evolve, content consumption habits change, and the old gives way to the new. If one brand, however, has demonstrated an ability to remain resilient over the years in the face of change, it is Disney.
2) McDonald's (NYSE:MCD): $40.0b
McDonald's, the leading global foodservice retailer, stands out because of its exceptional brand management, significant global presence, leadership in sustainable practices and admirable approach to consumer engagement.
1) Apple (NASDAQ:AAPL): $76.6b
While we may assume it's the products that define Apple, it's really a certain kind of thinking, a certain set of values, and an unmistakable human touch that pervades everything Apple does - which is why our connections to the brand transcend commerce.
Performance: Stock Price and Brand Value
The table below shows 1yr and year-to-date stock price performance and 1yr brand 'performance' for each of the US-listed companies listed above. It appears that the price performance has little to do with brand performance over the same time period. For example, while AAPL's price and brand performance appear aligned, DIS's price and brand performance do not. Also, AMZN's brand performance far-exceeded that of EBAY, but AMZN's stock price performance lagged behind.
Although this is a small sample, it appears that other factors play a much larger role in stock price performance.
| | | | |
| --- | --- | --- | --- |
| Ticker | 1yr Performance | YTD Performance | 1yr Change in Brand Value |
| AAPL | 77.04% | 65.35% | 129% |
| AMZN | 18.67% | 50.47% | 46% |
| DIS | 69.83% | 40.35% | -5% |
| EBAY | 62.10% | 63.17% | 12% |
| MCD | 9.31% | -7.19% | 13% |
| NKE | 10.77% | 0.53% | 4% |
Valuation
None of these stocks stand out as remarkably cheap. In fact, AMZN's valuations remind me of the dot-com bubble. Sure, earnings may be expected to grow going forward, but that doesn't mean investors should pay a premium price for the stock.
Although the stock has risen dramatically, the forward P/E for AAPL remains the most attractive. With forward P/E ratios ranging between 15 and 18, I would consider myself neutral on the values for the remaining stocks.
| | | | | | |
| --- | --- | --- | --- | --- | --- |
| Ticker | P/E | Forward P/E | P/S | P/B | P/Cash |
| AAPL | 15.7 | 12.51 | 4.2 | 5.59 | 22.6 |
| AMZN | 318 | 111.79 | 2.2 | 15.7 | 23.69 |
| DIS | 17.4 | 15.08 | 2.3 | 2.38 | 21.59 |
| EBAY | 17.4 | 18.19 | 4.9 | 3.37 | 11.12 |
| MCD | 17.1 | 15.27 | 3.3 | 6.54 | 36.95 |
| NKE | 20.9 | 16.2 | 1.8 | 4.33 | 13.32 |
Revenue Growth
As one might expect, revenues for most of these top retail brands have risen significantly over the past five years. In contrast, DIS's revenues have essentially flat-lined. This tells me that brand perception can be disassociated from the consumer's choice to buy more and/or pay more. People love Disney, but to what extent? And, the Disney brand - while strong - may be more related to childhood memories than recent purchase activity.
Despite the Disney anomaly, it seems reasonable to assume (all things equal) that a strong brand should translate into solid sales (unless company management completely messes up the opportunity).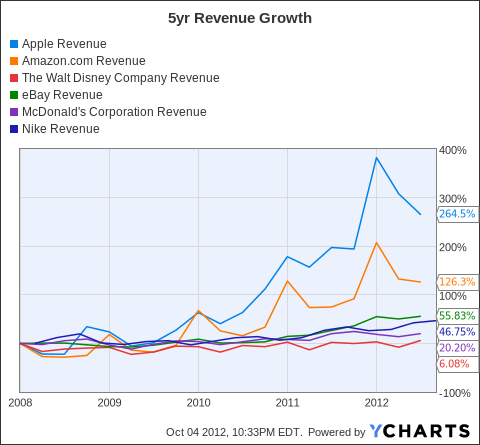 AAPL Revenue data by YCharts
Profitability
Most of these companies seem to have fairly solid profitability, but, again, there is an anomaly. AMZN, which we have already seen reflected in its sky-high P/E ratio, is barely squeezing out a return after all expenses are considered. Amazon management needs to figure out how to keep more of the revenue it has cultivated over the past five years.
| | | | |
| --- | --- | --- | --- |
| Ticker | Return on Assets | Return on Equity | Operating Margin |
| AAPL | 29.77% | 44.32% | 35.62% |
| AMZN | 1.68% | 4.94% | 1.17% |
| DIS | 8.24% | 14.00% | 21.59% |
| EBAY | 14.06% | 21.25% | 20.26% |
| MCD | 16.62% | 37.93% | 31.45% |
| NKE | 14.34% | 21.51% | 11.79% |
Looking at the change in EPS over the past 5 years (chart below), we can see that AMZN stands out as a big decliner. While the other stocks have had decent (extreme in the case of AAPL) EPS growth over the past five years, the range is quite wide. In this example, it remains inconclusive whether a strong brand can translate into EPS growth.
What purpose does brand value have if it doesn't translate into more money for shareholders? Perhaps a middle-of-the-road brand, a good product and a good sales/distribution force is all a company needs to be successful?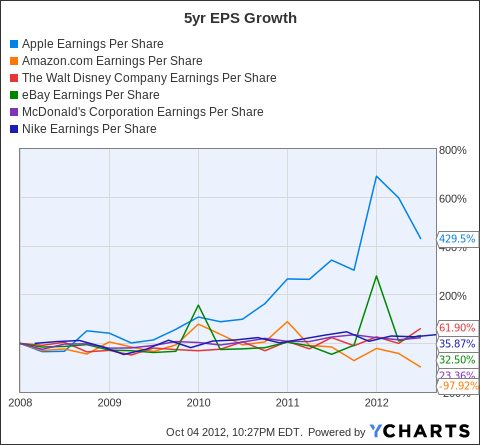 AAPL Earnings Per Share data by YCharts
So we've looked at the past. What about the future? Is this where having a top-ranked brand stands out?
AAPL and AMZN both have fantastic 5-year EPS projections. AAPL is on its way to taking over the entertainment world and AMZN is recovering from a bout of earnings flu. One might reasonably expect strong forward earnings growth from these companies.
So what about the rest? Lackluster, mediocre, uninspiring, muted. If these are top global brands worth billions of dollars, why aren't these companies all projected to grow like Apple? Compared to sector growth rates (second table below), these top brands appear to be middle-of-the-pack growers.
| | | |
| --- | --- | --- |
| Ticker | EPS growth next year | EPS growth next 5 years |
| AAPL | 20.15% | 21.67% |
| AMZN | 228.17% | 34.44% |
| DIS | 13.31% | 12.97% |
| EBAY | 16.24% | 13.21% |
| MCD | 9.96% | 9.48% |
| NKE | 14.29% | 10.33% |
| | |
| --- | --- |
| Name | EPS growth next 5 years |
| Basic Materials | 9.21% |
| Conglomerates | 14.53% |
| Consumer Goods | 12.50% |
| Financial | 9.48% |
| Healthcare | 9.18% |
| Industrial Goods | 12.57% |
| Services | 14.44% |
| Technology | 13.77% |
| Utilities | 4.89% |
Admittedly, with such a small sample size and data set, this is a very unscientific look at how brand prowess translates into investibility. Nevertheless, since these are the creme de la creme of brands, one would reasonably expect most of these companies to be on the same (or somewhat similar, at least) trajectory as Apple. No dice.
In my opinion, brand and investibility are mutually exclusive concepts with little interconnection. A good or improving brand doesn't necessarily mean a company is a good investment and vice versa.
So why do companies bother to value brands?
1) I think a brand can be seen as a table stake for most businesses. You need it to get to the table, but it doesn't ultimately win you the game.
2) Corporate management loves to be judged on a 'brand' because it often involves 'sexy' work (e.g. advertising) and fluffy work, by which one cannot objectively be judged. Knocking on doors to generate sales leads, on the other hand, is drudgery that many executives avoid dealing with - even if it has a more direct impact on the bottom line.
3) Consulting companies love making brands a bigger deal than they are in order to convince companies to splurge on consultants, advertising production and media placement. Brand is big business.
Just my cynical 2 cents.
So are any of these companies a good investment? I'm still holding on to my APPL shares, because I think they are a reasonable value. But I don't plan on chasing any of these other names based on their brand ranking.
Data Sources: Finviz, Interbrand.
Disclosure: I am long AAPL. I wrote this article myself, and it expresses my own opinions. I am not receiving compensation for it (other than from Seeking Alpha). I have no business relationship with any company whose stock is mentioned in this article.
Disclaimer: This is not advice. While the author makes every effort to provide high quality information, the information is not guaranteed to be accurate and should not be relied on. Investing involves risk and you could lose all your money. Consult a professional advisor before making any investing decisions.