My usual investment style is to find undervalued companies with good balance sheets, strong management, and a catalyst to push the shares higher. In general, I like to hold a security for at least a year to eighteen months in order to "give myself a chance to be right."
However, sometimes its OK to stake a short-term trade.
For me, one of these cases is Bed, Bath & Beyond, Inc. (NASDAQ:BBBY).
Bed, Bath & Beyond -- One Year Price and Volume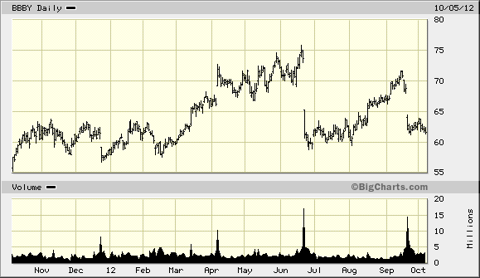 Courtesy of bigcharts.com
BBBY reported second quarter earnings on September 19, 2012. The company came in (apparently) at the low-end of their EPS guidance, and investors hammered the stock; sending it from a previous-day close of $70.77 to a closing low of $61.57 just three days later. This was a 14.4 percent drop. Since that time, the stock has flatlined. The shares closed at $61.60 on Friday.
A Trade Thesis
The market punished Bed, Bath & Beyond unnecessarily. If one considers management's expectation for diluted earnings and expenses in conjunction with the acquisition of Cost Plus World Market (a $459 million purchase of 259 retail sites specializing in casual home furnishing and consumables), the EPS was in-line. It was not low-end.
Furthermore, BBBY is a well-run retailer. They have maintained good growth metrics in 2012. The balance sheet is strong. The valuation metrics were reasonable before investors dumped shares, and look even better now.
The shares should bounce back after the holidays and after the subsequent earnings report.
NOTE: A similar trading pattern unfolded after the June 20 earnings report. The stock fell from $75 a share to less than $60 in a week before rebounding to $71 a share three months later.
The Trade Mechanics
Buy the January '13 40 long calls for $21.80 each. If the stock rebounds after the third quarter earnings report (due out just before Christmas), look to sell around the pre-second quarter price of $68 to $70 a share. A sell at $70 would represent a 37 percent gain in three months. The trader could augment the return if he/she sells covered calls against the long call position. I'm viewing the January '13 67.50 or 70 strikes. The could add an additional $1 to $1.50 to a successful trade. If the stock regained a share price of $68 to $70, the call options could boost the trade return to up to 42 percent.
Some Analysis is in Order Here!
Let's review management's statements and some valuation fundamentals to check the thesis, as well as outline some of the risks associated with this trade.
Management Statements Regarding 2Q EPS: In the quarter ended August 31, BBBY management had guided the Street to a diluted EPS between $0.97 and $1.03 a share. They reported $0.98 a share; at the low end of the range.
However, they also offered the following comments re the Cost Plus acquisition during the first quarter earnings conference call held in June:
"While our planning assumptions do not include the results of Cost Plus, Inc., in the event that the tender offer is completed as anticipated during the fiscal second quarter, we expect the inclusion of Cost Plus, Inc.'s results would impact our previously discussed modeling as follows.

One, in our fiscal second quarter, net earnings per diluted share, including transaction and integration costs, would decrease by several cents.

Two, in our second half of fiscal 2012, net earnings per diluted share, including integration costs, would increase and be slightly accretive."
A reasonable person might conclude that since the Cost Plus tender offer was completed successfully on June 29, "several cents" would indeed be shaved from the EPS in 2Q just as forecast by management. Just like they said it would. The difference between the second quarter EPS of $0.98 and $1.03 (the top end of the guidance) is five cents. Therefore, it might appear that the Street "miss," was not really much of a miss at all. It reflected the good news that the Cost Plus tender offer was successful.
I add that management also noted that the deal was expected to be "slightly accretive" in the second half of fiscal 2012.
That doesn't sound like a reason to dump the shares.
Balance Sheet: Bed, Bath & Beyond sports a good balance sheet. The company has no debt. The current ratio is over 3. Return-on-Assets, Return-on-Equity and Return-on-Investment figures are all sound and compare favorably with peers.
Management Effectiveness: BBBY appears to have competent management. They have beat Street EPS expectations every quarter since FY 2009 sans one. That lone "miss" was the most recent quarter in question whereas they were at the low end of their guidance: arguably because of a successful acquisition tender offer.
The company maintains gross margins of approximately 40 percent. While this is in-line with peers, the operating margin is over 16 percent. This indicates that management has been able get more profit to the bottom line by holding down operating costs (i.e., supplies, utilities, administration).
Here's a quick overview:
| | | |
| --- | --- | --- |
| | Gross Margin (TTM) | Operating Margin |
| Bed, Bath & Beyond | 41 | 16 |
| Kirkland's | 39 | 6 |
| Williams-Sonoma | 42 | 10 |
| Pier 1 Imports | 43 | 11 |
Valuation Metrics: Revenue comps (same store sales) have historically been within management's guidance. A key exception was the FY 2012 first quarter sag in both revenues and earnings. This was the source of downdraft in share price in June. However, full-year estimates remain intact.
The current ttm P/E ratio is 14.4X. Over the past ten years, BBBY has grown EPS at 15 percent per year. This would appear to command at least a 15X multiple. Indeed, the normalized P/E the market has placed upon the shares over the same ten-year period has been over 17X.
Current consensus estimates have forecast Bed, Bath & Beyond will continue to grow at the same 15 percent rate over the next five years.
If BBBY meets earnings expectations for the upcoming fiscal third quarter, it will equate to a trailing $4.37 EPS. Placing a 16X multiple on this suggests a $70 stock. Of course, forward guidance may augment or detract from the price / earnings multiple.
However, in any event, it does not appear to me that the wheels are coming off the company, nor has the market overheated the shares. Just seems like too big a drop in price for not good enough reasons.
Risks to the Trade Thesis
A factor causing some investor jitters are recent gross margins. BBBY gross margins have dropped from a bit over 40 percent to slightly under 40 percent over the past four quarters. A continuation of this trend will likely spook the market for BBBY shares further.
Macro concerns over the U.S. economy could also be a worry. Bed, Bath & Beyond is a specialty retailer. The company depends upon discretionary consumer dollars. Overall retail industry September sales were uninspiring. However, September is a swing month: back-to-school is over, and it's too early for holiday shopping.
A third worry could be integration risks for BBBY recent acquisitions. Company management has been aggressively pursuing growth through purchasing smaller retailers. In addition to the Cost Plus deal, BBBY also bought up private retailer Linen Holdings for $105 million in May 2012.
Bottom Line
If a trader believes that Bed, Bath & Beyond took a bum rap after their last earnings call, a long call or long call plus short call option strategy could turn into a strong speculative score based upon the premise that the company simply regain the ground it lost after the last earnings report. With an additional three months to digest the recent acquisitions, and management's history of beating Street expectations, such a trade might provide a little extra cash for the holidays.
Do your homework prior to making any trade, and good luck with all your investments.
Disclosure: I am long BBBY. I wrote this article myself, and it expresses my own opinions. I am not receiving compensation for it (other than from Seeking Alpha). I have no business relationship with any company whose stock is mentioned in this article.
Additional disclosure: I am long BBBY long calls.