American Express (NYSE:AXP) has long been the gold standard in credit cards and a favorite of Warren Buffett's, but is it a good value investment? If you judge this company by a glance at the fundamentals, the answer is yes. The latest figures give American Express a sales growth ratio of 7.6% and an income growth ratio of 20.8%. The company also had a forward P/E of $12.08.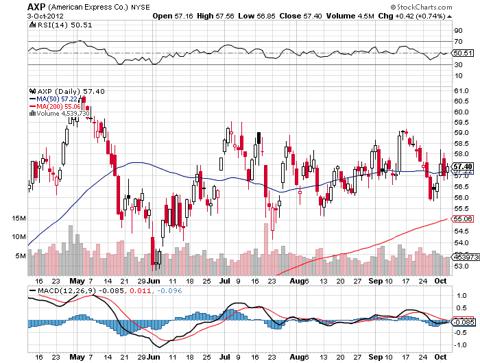 The only problem with this scenario is that there's another credit card company that offered an astounding income growth rate of 229.6% and a net profit margin of 30.92% for a share price of $39.70 on October 3rd. That company is Discover Financial Services (NYSE:DFS). Discover also boasts a lower debt-to-equity ratio of 2.13, compared to American Express's 3.09.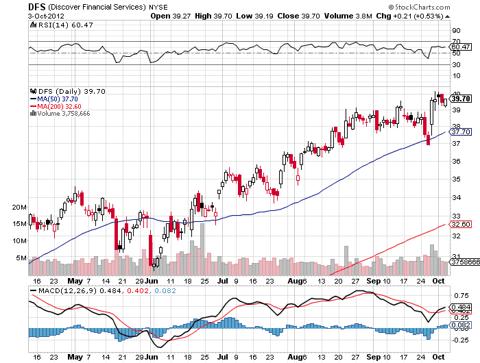 Yet American Express did have a few numbers that were better than those for Discover. It displayed a higher rate of sales growth than Discover in the last year with 7.6%, compared to Discover's paltry 3.2%. American Express also had a higher forward PE than Discover's 9.25. The interesting thing though was that the two company's earnings per share were pretty close; it was $4.26 for American Express and $4.35 for Discover.
So which lesser credit card company is the better buy? Both companies are certainly bargains when you compare them to Visa (NYSE:V) and Mastercard (NYSE:MA). Mastercard was trading at $473.76 a share at the end of business on October 3rd. Interestingly enough, MasterCard posted a $16.11 a share or a 3.52% gain for that day. Visa was trading at $138.52 a share and had just posted a $2.52 or a 1.85% gain on the same day.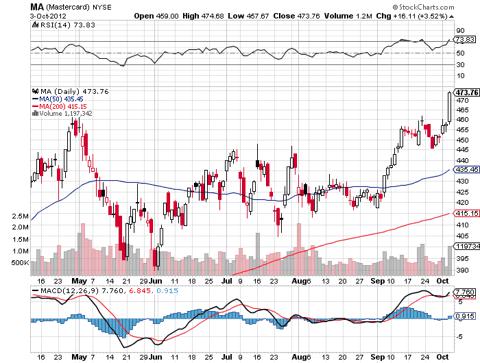 So there is a lot of money to be made in credit cards and their stocks. The bad economy doesn't seem to be holding credit issuers back. The industry is poised for growth, even if traditional plastic credit cards start disappearing as some pundits predict.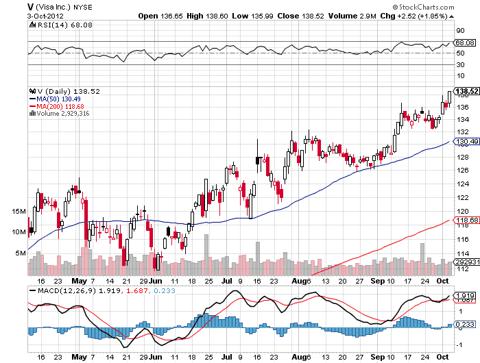 Growth Opportunities Abound for Credit Card Companies
Part of the reason for Discover's recent upswing has been its deal with PayPal. The provider just signed a deal with eBay (NASDAQ:EBAY) that will let people use funds from PayPal to make purchases through the Discover card. This is supposed to enable PayPal customers to pay at seven million retail locations in the U.S.
The big growth opportunities for American Express appear to be overseas. The company is now offering a prepaid travel card in India. The card can be preloaded with U.S. dollars, Euros, or Pound Sterling, and is sold at moneychangers throughout the subcontinent. American Express is also offering an American Express gold card in Canada through Scotiabank, or the Bank of Nova Scotia (NYSE:BNS). This makes Scotiabank the only major Canadian bank to over an American Express card in Canada.
Uncle Sam on Warpath against Big Credit
The credit card sector seems poised to grow, but there is a potential storm on the horizon in the form of regulation. Uncle Sam is cracking down on the credit card industry in the U.S. and making issuers pay some hefty penalties. American Express has agreed to pay $85 million back to 250,000 customers because of a misleading promotion for its Blue Sky travel card. The payment is the result of an action by President Obama's new regulatory bureaucracy, the Consumer Financial Protection Bureau, which teamed with other agencies to go after American Express.
The bureau has been going after credit companies as well. Last week, the same agency and the Federal Deposit Insurance Corporation (FDIC) ordered Discover to pay $200 million back to 3.5 million customers that bought credit protection services. Discover will also have to pay the government $14 million in civil penalties because of the settlement. Capital One Financial (NYSE:COF) was ordered to refund $150 million to customers in July in a similar settlement. The bureau hit Capital One with a fine, $60 million in that case.
These settlements are certainly big, but the credit card companies are certainly in a position to take these hits. American Express achieved worldwide billed business of $221.6 billion in the second quarter of 2012, a 7% increase over the same period in 2011. The company's sales are $33.17 billion and its income is $4.97 billion. The worldwide spending of its average customer increased by 5% between the second quarter of 2011 and second quarter of 2012, so it looks like American Express' bottom line will not be affected by that $65 million refund.
Discover, which has sales of $6.62 billion and an income of $2.29 billion, seems to be in a worse position to deal with the Consumer Financial Protection Bureau's new aggressive stance. It might not be able to afford that $200 million fine.
American Express is in a much better position to survive the new regulatory environment than Discover is. American Express has enough cash from its worldwide business to take hits from Uncle Sam, but Discover may not. Even though Discover is poised to grow, American Express looks to be the safer investment.
Disclosure: I have no positions in any stocks mentioned, and no plans to initiate any positions within the next 72 hours. I wrote this article myself, and it expresses my own opinions. I am not receiving compensation for it (other than from Seeking Alpha). I have no business relationship with any company whose stock is mentioned in this article.