Introduction
Bank of America (NYSE:BAC) represents a question mark in the minds of many investors. Is it extremely risky to bet on financial institutions that have been marred by unethical practices in the past? As the banking industry of the U.S. continues to recover from the 2008-2009 financial meltdown, I will take a look at the current prospects of BAC - the U.S.'s top employer at the start of 2012.
Company Profile
It is estimated that the company's 2008 acquisition of Countrywide has now cost BAC more than $40 billion in losses on real estate, legal costs and settlements. The Merrill Lynch acquisition removed any doubt regarding the company's weakened condition stemming from the financial crisis, as the purchase was soon discovered to be a dud. BAC is currently on a cost-cutting drive to find a frugal, yet profitable, strategy for its business. Accordingly, BAC will cut 16,000 jobs, reducing its work force by 30,000 by the end of 2013. The job cuts will eliminate the company's position as the U.S.'s largest employer. This step will also put BAC behind its main competitors - Citigroup (NYSE:C), Wells Fargo & Co (NYSE:WFC), and JPMorgan Chase & Co (NYSE:JPM).
Tracking Financials
Recently, Bank of America demonstrated its significant capacity to generate revenue from the company's current resources. For Q2 2012, BAC recorded revenue of about $22 billion, a 66% increase against revenue earned in Q2 2011. As the company is determined to control its skyrocketing costs, BAC succeeded in reducing costs by 25%. Furthermore, positive trends continued for EPS as well. While the company was enjoying large inflows of cash in 2011, the trend has changed for 2012. The company experienced negative net cash flows from operating and investing activities in Q1 2012, and managed operating activities to barely break into the positives with net cash flows of $2,753 million in Q2 2012.
Investors can expect negative cash flow to continue as BAC announced in September 2012 a $2.43 billion deal to settle accusations of misleading investors about the Merrill Lynch acquisition. Furthermore, the company's debt situation is not ideal as it has a debt/equity ratio of 1.4.
As of October 7, 2012, data from Morningstar indicate BAC's price-to-earnings ratio of 10.3, when compared to the industry average of 13.2. Its 52-week range spans from $4.92 to $10.10. The ttm ROE is 4.7, which is far below an industry average of 7.6. Its beta of 2.33 demonstrates just how volatile the financial services sector is. The company's three-year EPS growth was extremely negative (-73.5%). This indicates that Bank of America has been facing a threat of declining earnings potential.
Sadly, Bank of America currently provides a quarterly token dividend of $.01, similar to that of Citigroup. However, a negligible dividend payment was not BAC's fault. It is important to remember that in 2011 Bank of America asked the Federal Reserve for permission to increase its dividend, but received the Fed's refusal in return.
Stock Performance
With the market capitalization of $99.5 billion, BAC is a member of the 'big four' of the American banking sector, which control the majority of American deposits. Accordingly, BAC's closest competitors are Citigroup, Wells Fargo, and JPMorgan Chase.
Compared to the S&P 500 and the Dow Jones Industrial Average, BAC has been underperforming for almost the past four years.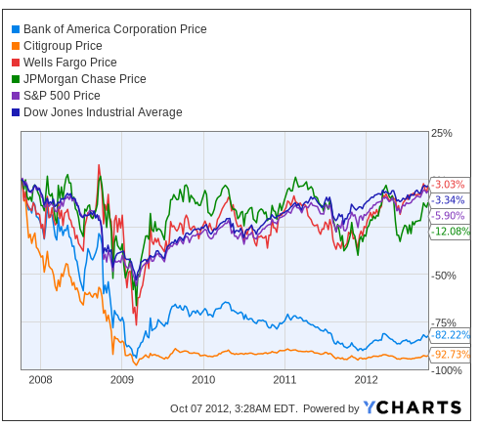 Two of the company's three rivals are faring much better on the stock market, with Citigroup being the only exception. While the stock showed signs of resurgence in 2009, and the first few days of October 2012, consistent underperformance has become a norm for BAC. Although it has not rebounded completely, BAC stock is up almost 60% from the same date last year. Additional comparable information on performance of 'big four' peers I have already submitted in my previous article.
What does the future hold?
BAC's main problem is that it is too big to be effectively managed after the crisis of 2008. As 16,000 jobs are expected to be eliminated by the end of this year, the company has announced that it would cut $3 billion in costs annually from commercial lending, investment banking and wealth management. The company's reasoning for these cuts was to increase profit. However, with investment being stalled in these areas, investors should not expect overnight improvements. Ratios may start becoming more attractive for the bank, but the potential for a promising future is still some way off. Additionally, Bank of America branches are being shut down in an attempt to cut costs, with greater emphasis being put on online banking for customers.
Although it is one of the largest financial institutions in the world, BAC is still exposed to risky home loans due to its mortgage business, i.e., the Countrywide Financial acquisition. Furthermore, the bank announced a $2.43 billion deal to settle accusations that it misled investors about the acquisition of Merrill Lynch. Expect profits to be further affected because of this payout, while at the same time, this agreement allows the bank an opportunity to break away from the shackles of its past. The settlement reduces the uncertainty and unknown risk, which can help attract investor confidence for the coming future.
Make or break for investors
Out of eight Wall Street analysts estimating the company, one indicates a "Buy" rating while all the rest - a "Hold" rating. Thus, Wall Street has primarily a neutral position on BAC's future.
Some analysts expect next year BAC to generate $0.91 per share against $0.01 per share in 2011. This expectation seems quite vital as the company's ttm EPS currently stands at $0.90. If Bank of America reaches the Fed's satisfaction on the company's earnings stability, BAC perhaps will get their permission to extend dividends by a few cents in 2013. However, there are negligible chances of getting dividends back to their pre-crisis levels. The discounted earnings plus equity model, developed by EFS Investment partners and applied to Bank of America, suggests that the company is currently trading at a solid discount. EFS's fair stock price valuation indicates that the BAC's stock currently has at least 50% upside potential to reach its fair value.
Making my position, I keep in my mind that the idea of selling Merrill Lynch and Countrywide has been making the rounds since last year. Looking at the weak BAC's economic outlook, this idea seems to be a smart move. This might help the company eliminate least efficient and lowest profit-making assets in order to raise its capital. However, with the company's decision to settle claims, selling Merrill Lynch no longer seems likely. In fact, BAC should be expected to consolidate the two acquisitions which have handicapped it until now. While BAC's size may provide it an opportunity to eventually make something out of its assets, the company is far too large to be effectively managed at this time. While Bank of America continues to make efforts to trim its size and eliminate non-productive assets, I don't anticipate a great leap in its performance in the near future.
Bottom Line
Since Bank of America has been following a consistent five-year trend of being an underperformer, it would be naive to expect great earnings of BAC's undervalued stock. However, it seems reasonable to hold onto BAC shares while expecting the Fed's approval to provide dividend increase in 2013.
Disclosure: I have no positions in any stocks mentioned, and no plans to initiate any positions within the next 72 hours. I wrote this article myself, and it expresses my own opinions. I am not receiving compensation for it (other than from Seeking Alpha). I have no business relationship with any company whose stock is mentioned in this article.