With a full year having gone by since Chimera Investment Corp. (NYSE:CIM) last managed to issue an earnings report, the market for Chimera's non-agency mortgage holdings has turned red hot. I have been a negative voice concerning the future prospects for Chimera, but the recent market news gives some hope for investors.
Recent news items include an article on Bloomberg: Subprime Gains 30% as Goldman, Cerberus Target Market and the Barron's blog reporting that Morgan Stanley had downgraded the agency only mortgage REITs and issued upgrades on hybrid mortgage REITs such as Invesco Mortgage Capital Inc. (NYSE:IVR).
Positive news in the housing market, low and falling yields on agency MBS, and a closed off pipeline for non-agency MBS has led to strong price increases for the less than AAA portion of the mortgage securities market. For the 2011 third quarter earnings report, Chimera stated that about one-half of the company's $9.6 billion MBS portfolio was non-agency paper.
Of course, Chimera Investment has not been an Invesco Mortgage Capital, which has seen its share price appreciate by over 50% and provide a 66% return to investors with dividends over the last 12 months. The Chimera share price is just 2% above where it was a year ago and investors in CIM have earned a 15% return in the 12 month period on the declining dividend payout.
Value of Subprime Mortgage Securities
The question concerning Chimera Investment is what the real value of the company's subprime mortgage portfolio is. In a recent press release, the company stated that results all the way back to 2008 will be restated when the company gets around to issuing its 2011 full year results. In the 2011 third quarter earnings release, the largest piece of non-agency MBS was categorized as subordinated debt. Another big chunk was $6 billion face value of interest only mortgages carried at 6 cents on the dollar. If the value of Chimera's subprime mortgage debt has in line with the 30% increase discussed in the Bloomberg article, the Chimera Investment book value could be significantly higher than previously thought, adding 40 to 50 cents per share to the book value.
Wipe-out or Big Surprise
I am not convinced that Chimera Investment will - at this point - ever get around to completing the SEC reporting requirements and the company may simply be liquidated or absorbed into Annaly Capital (NYSE:NLY), which owns the portfolio management company handling Chimera's investments. However, if after more than a year of waiting, the company can issue 2011 results in January of 2013 quickly followed up with some real end of 2012 numbers, a year of great results in the subprime and non-agency mortgage space may put some additional value into the Chimera portfolio. Those that have held their CIM shares through the year of communicating badly may get a big payback early in 2013.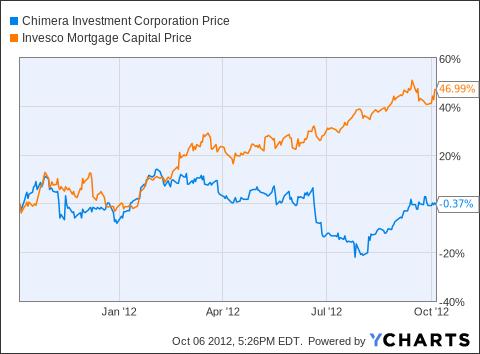 Disclosure: I have no positions in any stocks mentioned, and no plans to initiate any positions within the next 72 hours. I wrote this article myself, and it expresses my own opinions. I am not receiving compensation for it (other than from Seeking Alpha). I have no business relationship with any company whose stock is mentioned in this article.