Just two months ago, I wrote a Seeking Alpha article titled, "With Cytori Therapeutics, The Waiting is the Hardest Part." The focus of the article was two-fold. First, it focused on the frustration of Cytori (NASDAQ:CYTX) shareholders, who have been impatiently waiting for the promised partnership deals that would begin to unlock the value of Cytori's regenerative cell platform technology. Secondly, it focused on the recent statements of CEO Chris Calhoun that explained delays in reaching a long awaited transaction (from August 8th Shareholder Letter):
At the time of our last call, we disclosed that we were in multiple advanced partnering processes with two at a stage we described as 'very near term' to closure. Subsequently, both of these deals experienced delays that required additional time and effort by our team. Importantly, as of today we believe we have overcome the additional hurdles and that we are close to completion of both transactions. We remain highly confident on this important matter
On September 28th, Cytori management finally came through with its first promised transaction of 2012 and it delivered a bigger, better deal than most shareholders were expecting. In a transaction that was off the radar screens of most expectations, Cytori managed to obtain the financial backing of the federal government's Biomedical Advanced Research and Development Authority (BARDA), a division of the U.S. Department of Health and Human Services. The $106 million contract, subject to meeting certain milestones, is for the preclinical and clinical development of Cytori's cell therapy for the treatment of thermal burns combined with radiation injury. The ultimate objective of the program is to put the United States in a position to treat mass burn casualties, with an FDA approved device, in the event that the unthinkable happens and a nuclear device is deployed on U.S. soil.
The following chart summarizes the basic components of the contract; I've taken the liberty of renumbering the sections of the contract to make it easier to understand: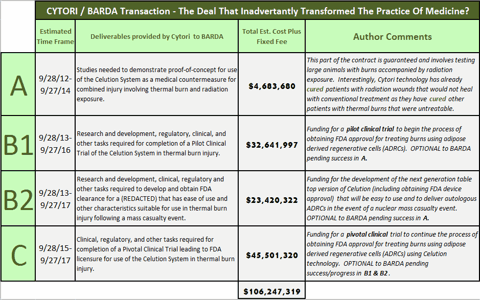 One day, historians may look back at this agreement and point to it as the forward thinking deal that inadvertently transformed the entire health care industry from a drug and surgery based system to a new treatment paradigm where the body's own regenerative cells, perfected by millions of years of evolution (or designed by a higher authority, if you are so inclined), were harnessed by science for the benefit of mankind. For now, though, I'll knock down the conversation to a more practical level and try to figure out what it really means for Cytori Therapeutics.
What is the Financial Impact?
While the table above reveals the total value of the contract, a contract that will push ahead Cytori's regenerative platform without dilution of stockholders equity, another important factor is how this transaction actually helps Cytori's cash flow. The contract is designed under a cost plus fixed fee arrangement. Part A involves showing a proof-of-concept that the use of ADRCs to treat large animals with combined thermal burns and radiation damage is effective and safe. The work under part A must be successful for the parts B1, B2 and eventually Part C to move forward at BARDA's discretion.
Related to Part A, Cytori earns a fee of 7½% of projected costs, or $326,768. This portion of the work will be outsourced to a third party and is considered a direct cost. The estimated fee, or positive cash flow, that Cytori earns on the rest of the contract (Parts B1, B2, & C) was redacted from the 8-K at Cytori's discretion, presumably for competitive purposes. However, as specified in the contract, Parts B1, B2 & C will include cost plus fees in the 51% range on non-direct G&A expenses:
ARTICLE G.7. INDIRECT COST RATES

The following rates will be utilized for billing purposes during both the base and option periods: Fringe benefits at 24%, and a general and administrative expense rate (G&A) of 50% for FY2012 and 51% for FY2013 through FY2016.
In trying to understand how this affects Cytori's net cash flow over the period of the contract, assumptions must be made as to what portion of the contract will earn the potential fee rates of 51%, 24% and the 7.5%, as specified above. The total value of the contract for Parts B1, B2 & C equals $101.5 million. Assuming 60% of the $101.5 million earns a fee of 51%, 35% earns 7.50% and the remaining 5% earns 24%, then the total potential fees earned from this transaction total roughly $24 million. These assumptions are simply educated guesses, and others may see it differently.
The cash flow is important, but the primary focus of BARDA should not be about earning a guesstimated $24 million fee, although it certainly helps Cytori's balance sheet concerns. The main benefit is non-dilutive financing of the entire cost of both the next version of the Celution and the company's first FDA approval for a particular indication. This should set the stage for the ultimate company goal, a future where one Celution ADRC processing unit can be the base station that will eventually treat multiple human afflictions in hospitals and clinics around the world using the razor / razor blade model.
However, there are some questions to be examined before one gets overly exuberant….
What are the odds that the entire BARDA Contract gets executed?
OK, I've dissected the dollar amounts of the contract, but what are the odds that BARDA takes this all the way to fruition? In my view, the odds are better than good. I won't use the phrase "slam dunk", for fear of being compared to former CIA head George Tenet. However, Cytori has shown tremendous success treating both radiation related wounds and burn wounds in humans and should have little problems treating them in combination on animals. In the most impressive example of efficacy for a radiation wound, a 90 year old Japanese woman (no misprint, a 90 year old woman) who had an open radiation wound for over 4 years related to radiotherapy for gynecologic malignancy, saw evidence of healing within two weeks and complete wound closure in 192 days! On the thermal burn side, there are many examples of great success using ADRCs, and here's one example of an actual success story.
How Does The BARDA Contract Help Cytori With the FDA?
Getting through the FDA process is both expensive, bureaucratic and time consuming. BARDA operates under the umbrella of the Department of Health and Human Services. The FDA operates under the same umbrella. It doesn't take a genius to figure out that it helps tremendously that the FDA's "sister" agency is pushing this program ahead for the sake of national security. Cytori gets to go along for the ride, and at the same time, pushes ahead on its heart disease related clinical trials which can only benefit from this relationship. In the longer term, as Cytori attempts to expand FDA approvals into other indications (sports medicine is just one example of many that comes to mind), going through this initial approval process with BARDA at their side should provide long-term benefits by making FDA comfortable with the entire ADRC Celution platform.
What is the Timing on the BARDA Contract?
The estimated time frames are listed in the table above as provided in the contract. However, consider Phase A, the base period. It took just two weeks for a 90 year old woman with a 4 year old radiation to show signs of healing. It took 192 days to completely close and heal the wound. Those who click on the link above and view the photo of the actual wound can see a very substantial opening. Aside from the time required to set up this pre-clinical trial, showing actual efficacy and safety should happen relatively quickly. The two year time frame envisioned in the base period of the contract seems overly conservative. As far as deploying Celutions across the country, BARDA has discretion to move forward on this prior to FDA approval if it feels it prudent in light of the progress made by Cytori and the perceived threat level.
How Secure Is The BARDA Funding?
Some may argue that there is no guarantee that the funding for the BARDA will be available over five year contract and, of course, they are correct. It's no secret that there will continue to be tremendous pressure to cut government costs regardless of who becomes our next president. However, national security is a top priority of both political parties and of any presidential administration. In the big picture, $106 million is small potatoes, and a small price to pay in order to be prepared against a catastrophic event that seems a little more likely with each passing year. No president or congress wants to be unprepared or responsible for a hurricane Katrina type fiasco on their watch.
What happens After the Milestones of the BARDA Contract are Met?
Well, that's when the fun starts for the Cytori shareholder. Who wouldn't love to have the richest government in the world as a customer? BARDA isn't entering into this transaction with Cytori for some kind of academic research project. BARDA's mission is to be prepared as a nation to deal with the aftermath of mass casualty nuclear event. The only way to achieve this goal is to make the Celution technology ubiquitous and to deploy a sufficient number of consumables to deal with a disaster in any part of the nation. The margins on these sales should be very healthy, and given that this transaction was executed by company as management, an expensive sales force should not need to be paid to fulfill these sales. The Cytori sales force will be able to focus on the sale of consumables related to other therapeutic indications that will eventually flow through the U.S. pipeline or on indications that are already approved in Europe.
What's Up Next?
It should be understood that the BARDA transaction does not bridge the financing gap required to strengthen the balance sheet quickly enough to deal with the debt on the balance sheet. At least one more partnership transaction with upfront money will be required to resolve this issue once and for all and to avoid a dilutive capital raise. Again, like everything else in life, there is no guarantee that the next partnership deal will happen in time to avoid a secondary offering. However, the BARDA transaction certainly gives the company a greater level of credibility and more leverage to close a deal on favorable terms.
One possible transaction to watch for could be a deal with Astellas Pharma Inc., a large Japanese pharmaceutical company whose two year option with Cytori for an ADRC therapy related to liver disease expires in just 2 months. Further evidence that a deal should get done also comes directly from CEO Chris Calhoun on the BARDA conference call:
This contract represents the first of what we expect to be multiple strategic transactions that we continue to advance to completion.
Good things come to those who wait.
Disclosure: I am long CYTX. Also long CYTXW and CYTX Calls. I wrote this article myself, and it expresses my own opinions. I am not receiving compensation for it (other than from Seeking Alpha). I have no business relationship with any company whose stock is mentioned in this article.
Additional disclosure: These are the personal views of Wall Street Titan and should not be relied upon for your investment decisions. All readers are encouraged to follow links in the article and do their own due diligence.