Business development company - BDC - Ares Capital Corp. (NASDAQ:ARCC) currently sports a slightly lower yield than several of its smaller, but possibly more popular BDC competitors. However, the dividend payout from Ares Capital may be more conservative and sustainable than the higher yielding competition.
Business development companies lend money and sometimes take equity positions in middle market companies. The customers/portfolio companies of a BDC do not have access to the more liquid capital raising venues of publicly traded stock or bonds. A BDC like Ares Capital funds its lending with a combination of equity and borrowed money from various sources including preferred stock, SBC loans, convertible and non-convertible notes and revolving bank facilities.
Ares Capital is the largest BDC, with a market cap of $3.8 billion and an investment portfolio of $5.5 billion. The portfolio includes loans to over 140 different companies. About 20% of the portfolio value consist of Ares Capital Share of the Senior Secured Loan Program which is co-invested with General Electric Capital Corporation and GE Global Sponsor Finance LLC. At the end of the 2012 second quarter, 77% of the portfolio was either 1st or 2nd lien senior debt or the Senior Secured Loan Program. 80% of the business pipeline is 1st lien senior debt.
Staying Investment and Rate Conservative
The second quarter earnings conference call made a pretty obvious point that the Ares Capital management continues to stay quite conservative in relation to interest rates. The company is funding most of its business with longer term notes, which provide fixed rates for years rather than using the available lower rate revolver facility. Also, the percentage of portfolio loans written with floating rates continues to increase, up to 71.6% of the portfolio compared to 57.5% a year earlier.
Although it seems very unlikely that short-term rates will increase in the next few years, if higher rates do happen, Ares Capital will see interest income increase and interest expense remain relatively flat. In the conference call it was noted that a significant portion of new business was from existing customers, a sign of added safety as the company works with well-known clients.
Dividend Stability
Since going public in 2004, the Ares Capital quarterly dividend has ranged from an initial 30 cents per share to a high of 42 cents. During the financial crisis/recession, the payout was cut to 35 cents and the most recent dividend of 38 cents was a penny higher than the 2012 Q1 distribution.
On the recent quarterly conference call, management noted that the company had carried over from 72 cents per share of undistributed earnings from 2011. A special dividend of 5 cents per share was paid in September out of the carryover. Management discussed a goal of covering the current dividend rate with core portfolio earnings and maintain a level of undistributed earnings to cover any short-term shortfall in earnings. As a result, investors should expect dividends to stay at the current level with the occasional special dividend providing small boosts to income.
Conclusion
Ares Capital Corp. provides investors with a 9% dividend yield which should be stable for the foreseeable future. Potential danger signs would be a tightening of net interest earnings or a decline in the book value. As long as the quarterly new business exceeds principal repayments and the book value continues its upward trend, ARCC will remain an attractive income investment.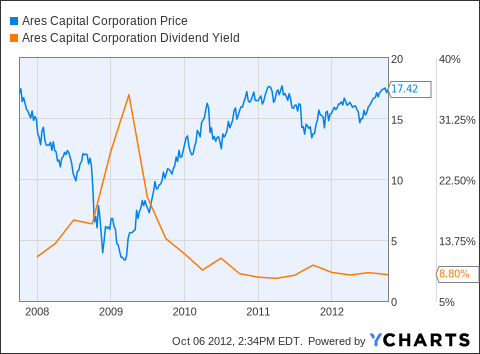 This article is part of a series covering BDCs. Read the previous article here: Safety Factors Concerning The Fifth Street Finance 10% Dividend
Disclosure: I have no positions in any stocks mentioned, and no plans to initiate any positions within the next 72 hours. I wrote this article myself, and it expresses my own opinions. I am not receiving compensation for it (other than from Seeking Alpha). I have no business relationship with any company whose stock is mentioned in this article.