Chevron Corporation (NYSE:CVX) is one of the world's largest oil companies. CVX operates with an Upstream and Downstream segment. The upstream segment is focused on exploration, production and transportation of oil and natural gas, while the Downstream segment focuses on refining crude oil into a variety of petroleum products ranging from jet fuel to gasoline to diesel. The Downstream segment also markets and trades these refined products. In addition, CVX has some mining operations. CVX has over 60,000 full time employees and is headquartered out of California.
CVX had about $253.7 billion in revenue in 2011, up 24% from 2010. However this growth is not projected to continue into 2012 and 2013 when analysts target about $252 billion and $262 billion respectively. CVX has a market capitalization of $230.6 billion and an enterprise value of $219.3 billion, shows almost no debt. CVX has about $10.2 billion in debt, but over $21 billion in cash and equivalents. CVX has a strong track record of paying dividends. For 2011, its payout ratio to net income was 23% and its payout to operating cash flow was 15%. While CVX primarily returns capital to shareholders through dividends, CVX did repurchase over $3 billion of shares in 2011, up substantially from the two previous years.
CVX's estimated forward dividend yield is 3.2% based upon a closing price of $117.50 and the author's projected annual dividend of $3.78. Over 10 years, the annual growth rate has been just over 9%. The following table shows the estimated forward quarterly dividends as well as the recent historical quarterly dividends.
| | | | |
| --- | --- | --- | --- |
| Type | Ex-Dividend Date | Quarterly Dividend ($ per share) | Change on prior year |
| Projected | 8/15/2013 | 0.990 | 10.0% |
| Projected | 5/16/2013 | 0.990 | 10.0% |
| Projected | 2/15/2013 | 0.900 | 11.1% |
| Projected | 11/16/2012 | 0.900 | 11.1% |
| Historical | 8/15/2012 | 0.900 | 15.4% |
| Historical | 5/16/2012 | 0.900 | 15.4% |
| Historical | 2/15/2012 | 0.810 | 12.5% |
| Historical | 11/16/2011 | 0.810 | 12.5% |
| Historical | 8/17/2011 | 0.780 | 8.3% |
| Historical | 5/17/2011 | 0.780 | 8.3% |
| Historical | 2/14/2011 | 0.720 | 5.9% |
| Historical | 11/16/2010 | 0.720 | 5.9% |
| Historical | 8/17/2010 | 0.720 | 5.9% |
| Historical | 5/17/2010 | 0.720 | 10.8% |
| Historical | 2/12/2010 | 0.680 | 4.6% |
| Historical | 11/16/2009 | 0.680 | 4.6% |
Source: Author estimates, Yahoo!Finance
One of the most interesting aspects of this table is that CVX, unlike many of its peers, including Exxon Mobil Corporation (NYSE:XOM), has not provided consistent annual dividend increases. CVX has raised the dividend after three or even two quarters. This type of policy, while apparently favorable to shareholders, creates some forecasting challenges. CVX's current yield is well within the historical range. The following graph shows the historical trailing twelve month yield and spread to the 10-year Treasury bond.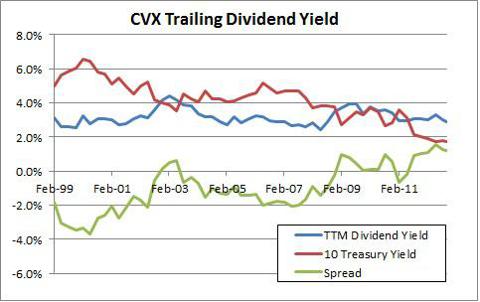 Created from data from Yahoo!Finance
Looking forward, one would expect CVX to continue its strong dividend growth. Even while, future EPS is expected to be relatively flat at $12.87 for 2012 and $12.52 for 2013 (furthermore, estimates have been slowly revised downward over the last quarter), the very low payout ratio will allow continued dividend growth. However, CVX does not have a formal dividend policy, rather it is at the discretion of the Board of Directors and subject to factors including "balancing cash flow, investment needs and the future financial strength of the corporation. In addition, the desires of stockholders for larger dividends and Chevron's goal to provide superior returns are considered." as per the CVX investor web site.
Furthermore, looking forward, even the low range of EPS at $7.82 for 2013, would provide more than 2x the forward dividend rate. This again reinforces the potential for growth. In contrast, the high end of earnings at $15.45 would have a small payout ratio of just 24%.
From a valuation perspective, CVX has a lower valuation multiples than XOM with a 9.4x forward P/E ratio compared to XOM's 11.4x. It is also substantially less on a price to book ratio with 1.8x compared to 2.6x for XOM. In comparison to ConocoPhillips (NYSE:COP), it has the lower P/E ratio compared to COP's 10.1x; however, it is has a higher price to book ratio at 1.8x to COP's 1.5x. CVX is pricier than Total SA (NYSE:TOT) which as a forward P/E ratio of 7.0x and a price to book of just 1.2x. The comparison to COP is not entirely fair since COP is purely an upstream business, having spun-off its downstream refining and marketing activities earlier this year. CVX does appear to be less promising than BP plc (NYSE:BP) due to BP's 7.5x forward P/E ratio, low 1.2x price to book, and attractive current dividend yield of 4.5%.
CVX could be an interesting opportunity for investors seeking dividends and growth at a reasonable price. However, it would be important to consider other opportunities as well.
Disclosure: I have no positions in any stocks mentioned, and no plans to initiate any positions within the next 72 hours. I wrote this article myself, and it expresses my own opinions. I am not receiving compensation for it (other than from Seeking Alpha). I have no business relationship with any company whose stock is mentioned in this article.
Disclaimer: This article is for informational and educational purposes only and shall not be construed to constitute investment advice. Nothing contained herein shall constitute a solicitation, recommendation or endorsement to buy or sell any security.