For most of this year, REIT stocks have been on a tear, and many of them have rallied to record highs, especially the larger dominating index fund REIT stocks. Of course, it is not surprising that the rally is led by the institutional buyers that have a much higher degree of analyst coverage and much lower risk tolerances.
Small-cap REITs have always been seen as more risky bets than large caps. They often do not have the diverse revenue streams or stable cash flows that allow them to weather difficult economic environments (like their larger-cap counterparts). Small cap stocks are also more susceptible to wide swings in price due to lower trading volumes. This greater volatility deters action and often invites selling.
The lack of Wall Street coverage and investor interest can also result in shares remaining undervalued - especially in down markets - for extended periods of time. By "flying under the radar," the small cap REITs offer better potential for growth over the long term. Due to the decreased institutional support, there's a better chance that small caps will result in an underestimation of a company's operational health and prospects.
The Power of Repeatable Dividends
Historically and for most investors, relying on steady dividends to provide a level and large-enough income has been challenging at best. For those investors seeking yield, the difficulty is in predicting the exact dividend policies companies will adopt in the coming years. And as more investors enter retirement and need to replace substantial proportions of their working-years income by using their investment portfolios, a reliable dividend-yield strategy is a must.
Because REITs distribute at least 90 percent of their taxable income to shareholders annually in the form of dividends, investors are becoming increasingly attracted to the notion of balancing a portfolio with steady and reliable dividend income. Accordingly, REITs provide investors with a powerfully unique income strategy in which the differentiated alternative is also the essence of the repeatable value proposition. Unlike most other fixed-income alternatives, REITs perform a valuable task by turning the sources of rental income into powerfully consistent and reliable dividends.
This attraction to dividends is one of the strongest sources of differentiation for REIT investors; however, for there is considerable potential in the explosive gains - especially the small cap REITs.
Several Small Cap REITs to Consider
The big-cap stocks get most of Wall Street's attention because that is where the lucrative investment banking business is. These, however, represent a very small minority of publicly traded stocks. The majority of stocks are found in the smaller classifications, and this is where the values are.
Even though Wall Street is more fixated on large cap REIT stocks, these bigger gorilla property owners like Simon Property Group (NYSE:SPG) and ProLogis (NYSE:PLD) are not necessarily less risky. Conversely, sometimes investors can find value in the smaller risk-aligned REITs that provide a value proposition with more room to run.
Small Cap REIT #1: Excel Trust
Excel Trust (NYSE:EXL) was organized on December 15, 2009 and completed its initial common stock offering on April 28, 2010. With initial proceeds of $194.6 million, Excel chartered its mid-market acquisition model with no legacy assets. Today Excel Trust has grown its shopping center platform to 25 properties and assets of around $821 million (as of Q2-12).
Although a new REIT, Excel Trust has considerable experience and a proven track record. Many of the senior associates at Excel Trust were assembled during the time in which the company's Chairman, Gary Sabin, launched Excel Realty Trust. Not to be confused with the original Excel Trust, Excel Realty Trust was Sabin's initial vehicle when he started his career (in 1978) and later formed a public non-traded REIT in 1989. Sabin's former company, Excel Realty Trust went public in 1993 and had several exceptional years where his company was a top REIT performer (1995 and 1997). After a series of mergers, most of the assets at Excel Realty Trust were rolled into Kimco Realty (NYSE:KIM) in 2004. The "new" Excel Trust has over three decades of shopping center investment experience, and his successful leadership is an essential element of the management team.
Excel has a market cap of $397 million and the stock closed last at $11.65 per share. The 52-week high was $13.15 on February 3rd (2012) and current dividend yield is 5.58 percent. Assets should top $1 billion this year (or in early 2012) and I expect more growth for this "excel-lent REIT that has returned over 24.36 percent (year-over-year).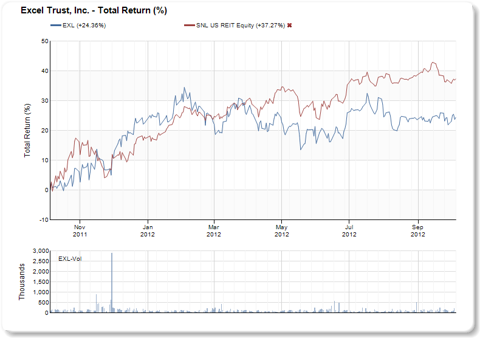 Click to enlarge
Small Cap REIT #2: Retail Opportunity Investment Corporation
Retail Opportunity Investment Trust (NASDAQ:ROIC) transformed to a REIT from a SPAC in late 2008. Since incorporation, the necessity-based shopping center REIT has acquired over $771 million in retail assets (as of Q2-12). With 38 shopping centers in three states (CA, WA, and OR), ROIC has built up an impressive portfolio of necessity-based retail properties, anchored by national and regional supermarkets.
ROIC is continuing to build shelf space as the experienced management team -led by veteran CEO Stuart Tanz - is gaining broad recognition for delivering shareholder value. Tanz is accustom to building shelf space as his previous company, Pan Pacific Retail Properties, Inc., grew from $447 million to over $4 billion while achieving total returns to shareholders of over 500 percent since the IPO. Tanz was former Chairman and CEO at PPRP where he was responsible for acquiring around $2 billion of retail assets (18 million square feet) from 1997 - 2006.
ROIC's value proposition is to acquire unique (not widely marketed) opportunities from distressed or under-capitalized shopping center owners. This focused strategy has enabled ROIC to capitalize on its extensive network of relationships with retailers, brokers, institutional owners, banks, private owners, and other real estate operators.
ROIC has a current market cap of $662 million and the stock price is $12.92. Over the last month, ROIC has turned a profit to the tune of $8.3 million. And remember, most of that money needs to be paid out to investors.
The company currently offers investors a respectable 4.33 percent dividend yield. But it's worth noting that this yield is already more than twice what it was offering just back in 2010. As assets continue to grow (and reach $1 billion later this year), so too should the yield. ROIC's year-over-year total return is 25.90 percent.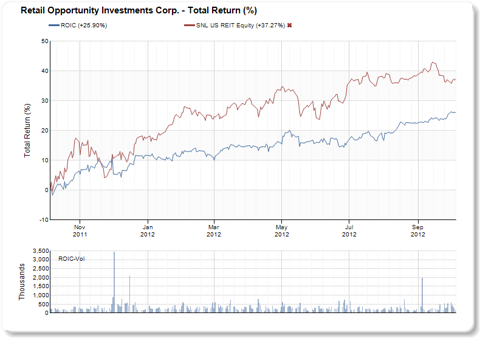 Click to enlarge
Small Cap REIT #3: CapLease, Inc.
Back in July (2012) I wrote an article (A REIT That Hits Singles But Delivers Home Runs) on CapLease Inc. (NYSE:LSE). At the time that I wrote the article, CapLease was trading at around $4.15 per share and the dividend yield was 6.4 percent. Over the past ninety days, CapLease's stock price has climbed to $5.37 per share a 52-week high.
CapLease's triple net platform includes 49 properties and the unique small cap REIT constantly emphasizes its ability to raise the dividend by utilizing its differentiated ability to amortize debt. Namely, the company pays down interest and principal on its loans, thereby reducing total debt on its properties, and allowing it to raise the dividend it pays to investors. In fact, the company followed through on this promise, recently raising the dividend 8 percent.
CapLease has maintained a consistent occupancy level (99.1% as of Q2-12) and the experienced management team has demonstrated skillful risk control fundamentals as it relates to retaining tenants (and values beyond the initial lease terms). As an example of CapLease's risk-control differentiation, the company's low FFO payout levels, compared with its peers, was 23.21 percent as of Q2-12 - one of the lowest in the sector.
CapLease has a market cap of $359 million with assets in excess of $1.66 billion. The current dividend yield is 5.21 percent and the year-over-year total return is an exceptional 64.11 percent.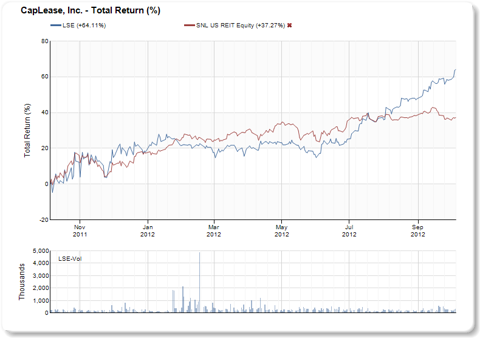 Click to enlarge
Small Cap REIT #4: Agree Realty
Founded in 1971 by Richard Agree, Chairman and CEO, and public since 1994, Agree Realty Corporation (NYSE:ADC) has been in operation for over 40 years (and has been public for 17 years). With a current market capitalization of around $303 million and assets of around $315 million, Agree Realty is considered a triple-net sector REIT with around 88 properties in 17 states.
Agree's developer-centric platform is strategically-aligned to provide yield-enhanced profitability and exceptionally indexed returns. Furthermore, since many properties are newly developed (or acquired) there are fewer legacy assets and consequently, these assets require less capital and increased profit margins.
Agree's dividend yield is 6.05% - one of the highest yields in the triple-net sector. The company's year-over-year total return performance is 25.12%.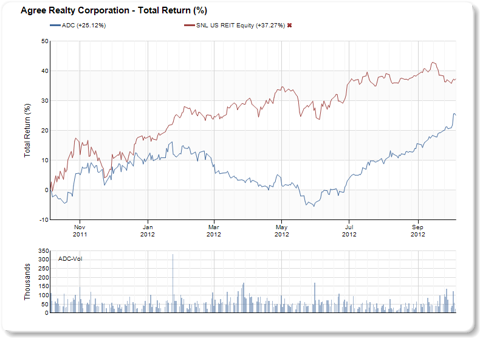 Click to enlarge
Small Cap REIT #5: AmREIT
On July 27th AmREIT, Inc. (NYSE:AMRE) listed 3,962,498 shares of its Class B common stock shares offered at $14.00 per share. As a 28-year old Houston-based company, AmREIT has focused its almost three decades of experience on maximizing the value of retail and mixed-use properties on behalf of shareholders, investors, and joint venture partners. Prior the recent NYSE listing, AmREIT was primarily engaged in raising equity via non-traded REIT offerings.
As a shopping center sector REIT, AmREIT's market strategy is to invest in areas that have high barriers to entry, attractive demographic characteristics, and that have both growth potential and mitigating factors during downturns. Using this formula, AmREIT has expanded its geographic footprint from the affluent submarkets of Houston, to Dallas, San Antonio, Austin, and most recently to Atlanta.
AmREIT owns 32 properties that include a mix of multi-tenant centers and single tenant properties. The REIT's portfolio is well-balanced as Kroger is the only tenant with exposure over 5 percent. Other leading grocery tenants include H-E-B and Publix.
AmREIT has assets of $331 million and debt of around $218.7 million (as of Q2-12). AmREIT's stock price is $15.68 and the current dividend yield on its common equity is 5.1 percent. Since going public (just over 60 days ago), AmREIT has returned 13.47 percent.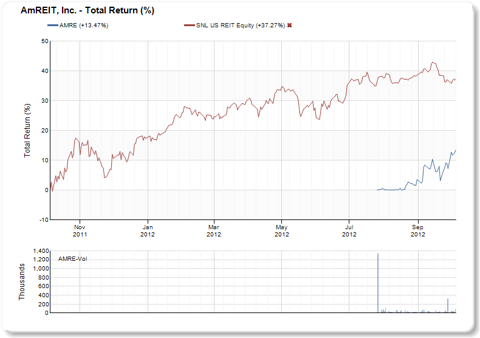 Click to enlarge
Small Cap REIT #6: American Realty Capital Properties
Just over a year since the IPO, American Realty Capital Properties (ARCP) is just two properties away from doubling its property count. In addition, the once highly concentrated bank landlord (with 62 bank branches) has grown into a $235.7 million REIT ($139 million market cap) with 124 properties.
ARCP buys older and shorter-term leased properties and since older (mature) properties trade higher up the risk curve, there is not as much demand and therefore cap rates are generally 200 basis points higher than the newer, longer-leased properties (generally 15 to 20 years).
ARCP recently announced (on September 30th) that its board of directors authorized and the company declared its fourth consecutive quarterly increase to the company's annual dividend. The company will increase its annual distribution per share by $0.005, from $0.890 to $0.895 per annum.
ARCP's dividend yield of 6.97 percent is the highest in the triple-net sector and one of the highest in the equity REIT sector. The company has assets of around $201 million and a market cap of $143 million. The company's year-over-year total return is 19.18 percent.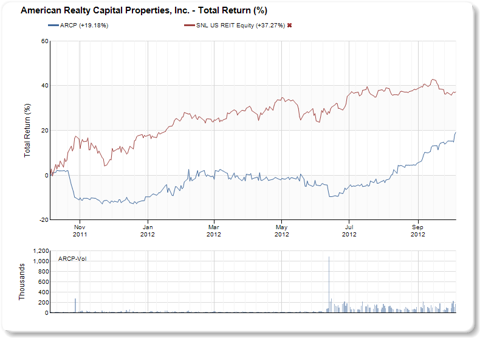 Click to enlarge
Small Cap REIT #7: STAG Industrial
STAG Industrial Inc. (NYSE:STAG) closed on its IPO in April 2011 when it generated around $205 million (in gross proceeds). The offering included 13,750,000 shares of common stock priced at $13 per share. Since then (18 months later), STAG has grown to a portfolio size (assets) of almost $710 million (as of Q2-12).
The Boston-based is in the industrial sector and the company has focused on secondary markets where many industrial users are attracted to lower occupancy costs. By owning "critical function" facilities, STAG has been able to attract many high-quality tenants and build a portfolio with attractive occupancy metrics.
Because of the risk profile associated with medium-term leased assets in secondary markets, STAG has been able to deliver a greater return (higher cap rate) threshold. STAG has a market cap of $583 million and the current share price is $17.02. STAG hit an all-time high last week (October 3rd) at $17.24. The current dividend yield is 6.35 percent and the year-over-year total return is up 75.38 percent.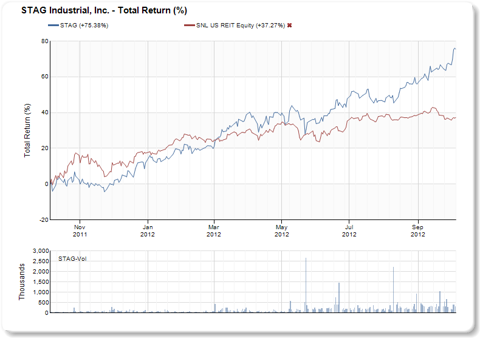 Click to enlarge
Small Cap REITs That Deliver Something Special
Warren Buffett has said that "your premium brand better deliver something good, or it's not going to get the business."
Today the big and mid cap REITs are getting the most attention as the premium brands are attracted to the indexed buyers. This strong overall performance, relative to the broad market, has resulted in equity REIT shares that are continuing to trade at valuation premiums, with the catalysts being relatively high yields, improving portfolio operating fundamentals, healthy capital structures, and the potential benefits as a hedge against, eventual higher interest rates and inflation.
Equity REITs continue to be more widely utilized by an increasingly broader investor base as part of an overall "growth and income" strategy, as opposed to income only. Accordingly, many equity REITs are trading at premium valuations and prudent investors should consider the smaller cap REITs that are often overlooked by the Wall Street analysts.
Ben Graham always tried to buy stocks that were trading at a discount to their Net Current Asset Value , oftentimes the ones being ignored by Wall Street and the investing public for no good reason in spite of stellar results year after year. In other words Graham would buy stocks that were undervalued and hold them until they became fully valued. As he wrote in The Intelligent Investor (in 1949):
The determining trait of the enterprising investor is his willingness to devote time and care to the selection of securities that are both sound and more attractive than the average. Over many decades, an enterprising investor of this sort could expect a worthwhile reward for his extra skill and effort in the form of a better average return than that realized by the passive investor.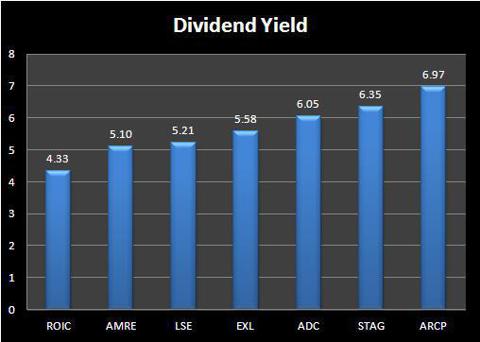 Click to enlarge
Source: SNL Financial
Disclosure: I have no positions in any stocks mentioned, and no plans to initiate any positions within the next 72 hours. I wrote this article myself, and it expresses my own opinions. I am not receiving compensation for it (other than from Seeking Alpha). I have no business relationship with any company whose stock is mentioned in this article.