Shares of Intellipharmaceutics International Inc. (NASDAQ:IPCI) have just risen above both the 50 and 200 day moving averages as investors take note, and positions, ahead of an important FDA catalyst.

There have been some false starts ahead of the firm's first, and long awaited, regulatory approval in the past, but as we told our premium subscribers last week, Brean Murray, Carret & Co.- the full-service, boutique investment bank dedicated to small cap and emerging growth companies recently issued a Buy Rating and a $7 Target Price for IntelliPharmaCeutics in anticipation of that first, key nod.
What's more, there could be several others right behind it.
In the note to clients, the Brean analyst Jonathan Aschoff said, "We see several near-term catalysts for Intellipharmaceutics, notably its second Phase 1 Rexista dataset, a potential Rexista partnership, and initiation of Phase 3 Rexista trials. Positive Phase 1 data for Rexista could lead to a partnership that generates a significant upfront payment. Also, Phase 3 initiation, expected in 1Q13, would clarify Rexista's potential market timing."
The fact is, the relatively undiscovered Canadian firm now has six ANDAs being reviewed by the FDA for approval, yet as recently as last month, shares had traded as low as $2.40. Prices for IPCI stock still find themselves -23.56 % From their 52-Wk High of $3.82.
Reported sales by others for branded and generic versions of the products in IPCI's pipeline are approximately $6.6 billion. The company develops both ANDA product candidates and new drugs through the New Drug Application (NDA) 505(b)(2) regulatory pathway and if they manage to finally get the go ahead, the important endorsement for their drug platform could see shares appreciate significantly in the months and years ahead.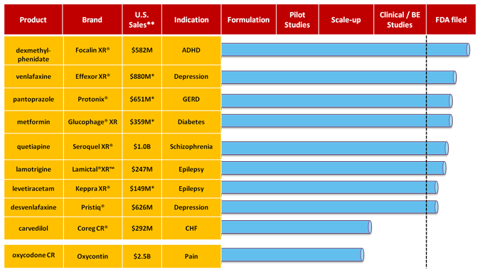 Shameze Rampertab, B.Sc. MBA, CA has been Chief Financial Officer and Vice President of Finance at IntelliPharmaCeutics International since November 29, 2010. He spent 14 years in capital markets serving the life sciences sector and has answered some of our questions about his firm.
BioMedReports: Is IPCI in discussions with the FDA on a regular basis, and if so what feedback are they providing regarding FocalinXR for attention deficit hyperactivity disorder (NASDAQ:ADHD)?
Shameze Rampertab, CFO of Intellipharmaceutics: The company is in discussions with the FDA on a regular and ongoing basis. We will only publicly announce updates if and when we are given final approval.
Q:Are you first to file on any of the dosage strengths of Focalin XR?
Rampertab: IPCI believes that it could be accorded first-to-file status on one of the doses.
Q: What competition do you expect from Teva, et al?
Rampertab: If Teva receives approval we expect competition; however Par has successfully competed in markets with Teva.
Q: What is the advantage to IPCI's extended release drugs against immediate release drugs-- Effexor, Protonix, Glucophage, Seroquel, Lamictal?
Rampertab: IPCI is developing generics to drugs which are already in an extended-release or delayed-release format by the innovator pharmaceutical company. The drugs you have identified meet this criterion.
Q: Regarding Rexista OxycodoneXR: At what point in the studies would the company consider licencing the drug to Big Pharma?
Rampertab: The company is always open to considering licensing opportunities in order to maximize shareholder value. As we make additional progress with Phase I data we will initiate licensing discussions.
Q: Have there been any discussions with the FDA about the possibility of fast tracking the drug?
Rampertab: We cannot comment on confidential discussions with the FDA. If a fast-track path is available and we decide to pursue, we would make a public announcement at that time.
Q: Under normal circumstances, when could you demonstrate proof of concept, which could lead to a Licensing agreement?
Rampertab: We have already completed proof of concept for our abuse-deterrent oxycodone CR, and have disclosed these results. If successful, Phase I data will drive improved economics for licensing.
Q: Are there any licensing agreements near completion with Big Pharma?
Rampertab: One of our near term goals is to establish additional development/marketing alliances for our ANDA portfolio. We cannot discuss timing and will make a public announcement if and when such a transaction has closed.
Q: Do you think IPCI can wait for an approval, before raising additional capital?
Rampertab: As of May 31st 2012, the company had $4.9 million in cash and cash equivalents. We believe there are a number of potential catalysts that may occur and will manage cash accordingly. We will raise capital when appropriate.
Q: Give us an overview of the catalysts and/or pipeline progress that has been made by the firm lately.
Rampertab: In September, we announced the filing of two additional ANDAs with the FDA. In May we announced that we held a pre-IND meeting with the FDA to discuss our Rexista oxycodone development plan. Other short term goals that we hope to accomplish include, obtaining FDA approval of our generic version of Focalin XR, establishing additional development/marketing alliances, and completing the manufacture of clinical batches of Rexista oxycodone CR and initiating Phase I studies using those batches.
Note: As of April 30, 2012, the firm reported a cash balance of $5.6 million, and while they may need to raise funds via a secondary offering or as part of a new partnering development, sources at the company have assured us that such a raise is not likely to occur until after the pending FDA decision.
The FDA does not provide PDUFA dates for drugs submitted through the 505(b)(2) regulatory pathway, but given the general timelines and hurdles that have been cleared for such decisions, analysts and iundustry observers feel that important FDA catalyst event is now imminent.
Disclosure: I am long IPCI. I wrote this article myself, and it expresses my own opinions. I am not receiving compensation for it. I have no business relationship with any company whose stock is mentioned in this article.