Alcoa (NYSE:AA) kicks off earnings season Tuesday, and historically has had the ability to set the tone for the earnings to come, making Alcoa a very widely watched announcement. Investors can take advantage of the volatility this situation creates by examining historic post-earnings trends in Alcoa to develop a favorable risk/reward trading strategy.
In the past year, Alcoa has met estimates twice, beaten once, and missed once. Let's compare the resulting stock price behavior as a result of these events.
One year ago, for the 3rd quarter of 2011, Alcoa missed expectations when they reported on October 11, 2011. Surprisingly, the stock barely budged, flat lining at around $10.00 for the next two weeks.
Click to enlarge
When fourth quarter earnings were reported on January 9th , the company met expectations, and the stock had a nice jump, from a close of $9.45 the day of the announcement, to a high of $9.85 the next day, a gain of 4.2%.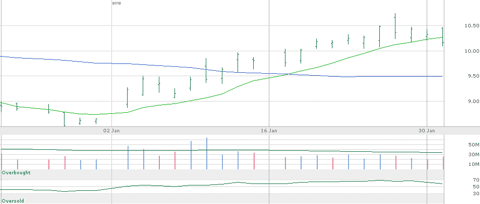 Click to enlarge
The first quarter of 2012 beat analysts' expectations when reported on April 10th of this year, and shares popped nicely, gapping up from $9.31 to $9.93 the next morning, a gain of 6.7% overnight.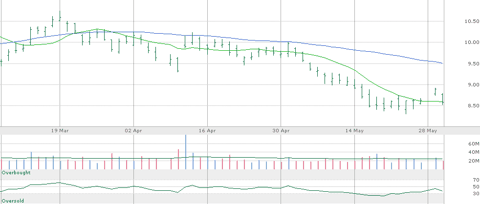 Click to enlarge
Most recently, the company reported 2nd quarter earnings on July 9th. Earnings met the expectations of analysts but the company's outlook disappointed the markets, and the stock dropped from $8.76 to $8.40, a loss of 4.1%.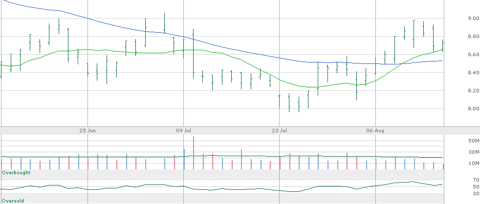 Click to enlarge
So, it seems that market reaction to Alcoa has slightly favored the upside, and has averaged a 3.75% move in the day following the earnings announcement. Using this information, I want to make an options trade that creates the most favorable risk/reward ratio possible. To be safe, I want to account for a possible 5% move in either direction. Based on Friday's closing price, that means that I should assume that Alcoa could drop as low as $8.63 or pop as high as $9.54 after announcing.
Because I feel that the upside is slightly favored, I want to create a low-risk but slightly bullish trade. I would do this by selling the November $9 put. It is worth noting that the puts are currently trading at 37 cents, but a slight pop should be expected towards the closing bell Tuesday, as the market becomes more and more interested in Alcoa. Assuming we sell for the current price of 37 cents, one of two things can happen. If Alcoa does not move much, or moves to the upside, we would cover as volatility drops after the announcement, or hold until expiration in about 6 weeks for maximum profit. This would represent a 4.1% gain in only 6 weeks.
On the other hand, if Alcoa were to go down, the stock would be put to you at $9.00. However, you have already collected $0.37 in options premium, so that would make your cost basis $8.63, which is the downside protection we were looking for. This would be a great price to get into a stock that has an average price target of $10.66 from the analysts following the company.
Disclosure: I have no positions in any stocks mentioned, but may initiate a long position in AA over the next 72 hours. I wrote this article myself, and it expresses my own opinions. I am not receiving compensation for it (other than from Seeking Alpha). I have no business relationship with any company whose stock is mentioned in this article.