Financial stocks used to make up a good portion of a dividend investors' core portfolio. Unfortunately, during the financial crisis most financial equities were force to have massive dividend cuts and income investors have been slow to come back to the sector. This provides for some opportunities in this overlooked income area. One stock I like here is Blackrock (NYSE:BLK). It has a juicy dividend yield and has consistently raised its payout even through the crisis. It is also starting to get some positive attention from analysts.
Recent positive events for Blackrock:
Citigroup upgraded the stock to a "buy" on valuation. It also moved its price target on the stock from $190 to $220.
TheStreet also just reiterated its Buy rating on the stock. They have a $212 price target on BLK.
RBC Capital Markets also initiated the shares as an "outperform" in late July.
Consensus earnings estimates have moved up nicely for FY2012 and FY2013 over the last month.
BlackRock is one of the largest investment managers in the world. The firm provides its myriad services to institutional, intermediary, and individual investors.
5 additional reasons BLK is a solid pick up for income investors at $187 a share:
BLK yields 3.2%. It has increased dividend payouts at an average 20% annual clip over the past five years. It was one of the few financial firms to not cut its dividend during the financial crisis.
The company has beat earnings estimates for six straight quarters and sells at 12.7 times forward earnings, a discount to its five year average (18.7).
The stock is selling near the bottom of its five year valuation range based on P/E, P/B, P/CF and P/S.
The company has more than doubled its operating cash flow over the past three years. It also has averaged more than 20% annual revenue growth over the past five years.
After moving off technical support levels in late July, the stock has showed positive momentum and just cross its 200 day moving average (See Chart).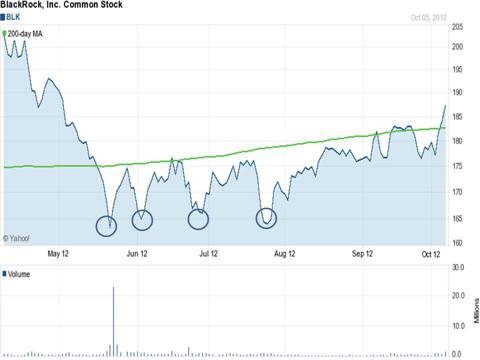 Disclosure: I have no positions in any stocks mentioned, but may initiate a long position in BLK over the next 72 hours. I wrote this article myself, and it expresses my own opinions. I am not receiving compensation for it (other than from Seeking Alpha). I have no business relationship with any company whose stock is mentioned in this article.