American Water Works Co., Inc. (NYSE:AWK) reported earnings on Monday and the report was well received by investors.  The stock rallied to close at $20.77 and has spent the week trading just below the IPO price of $21.50.  Revenues for the second quarter came in at $589.4 million which is up 5.4% over last year.  Interestingly, the volume of water sold actually decreased by 2.7% but the average prices per gallon made for a gain in revenue.  Flooding in the Midwest caused a reasonable decline in demand and analysts noted that additional rainfall in the early parts of the third quarter could continue to dampen volume rates.
Net income came in at 28 cents per share compared to 31 cents last year.  The difference was primarily due to higher expenses as the company attempts to upgrade infrastructures within the different municipalities in which it operates.  Zachstocks covered AWK soon after the IPO and explained the concerns over these expensive projects.  The additional expenses were primarily to benefit the company's regulated business which can lead to uncertainty regarding future earnings.  With regulated business, the company must request permission to raise rates on water in order to pay for its investment.  There is no guarantee that the company will receive the particular rate increases it is requesting.  Municipalities could grant smaller increases or no additional price improvements at all.
Despite the uncertainty surrounding the stock, most analysts paint a fairly positive picture.  Merrill Lynch believes the company can achieve an attractive return on the infrastructure investments as it believes management will be successful in lobbying for higher rates.  During the second quarter, American Water Works was granted the equivalent of $19.2 million in annualized revenue as a result of rate changes.  It has requested an additional $39.7 million from municipalities in the states of Pennsylvania, Arizona, West Virginia, and New Mexico. 
However, before sipping the Kool-Aid Merrill is offering, one must keep in mind that the underwriter has a vested interest in staying in AWK's good graces.  While analysts are required by law to disclose conflicts of interest and to do their best to offer objective opinions, there is certainly an incentive for Merrill to give a positive report.
Underwriters like Merrill stand to benefit handsomely over the next 18 months from additional security offerings from AWK.  Currently, the German parent company RWE holds 61% of AWK shares.  RWE has stated its intention to liquidate its position as soon as such a transaction can be attractively priced, and it is actually required to divest its position no later than April of 2010.  This pending stock sale should weigh on the price of AWK and likely cause it to trade lower.  Any announcement by RWE in regards to its divestiture would likely cause a sharp drop.
A stock trading below its IPO price usually attracts more sellers.  This is because investors who bought on the actual IPO transaction are now sitting on a loss.  As more investors become frustrated with their position, look for the stock to absorb more selling pressure. 
I would anticipate the current price offers an attractive short entry price.  With $4.7 billion in long-term debt and an additional $2 billion in "total regulatory & other long-term liabilities," the company must operate at maximum efficiency to maintain profitability.  Any disappointments on the political fronts (rate decisions by municipalities) or in regards to the RWE transaction could cause lower prices.  Treat this stock carefully.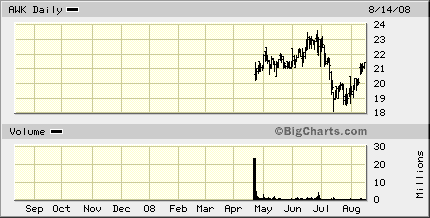 FD: Author has a short position in AWK.