Bank of America (NYSE:BAC) announced the redemption of nine trust preferred stocks (TRUPS) last Thursday, October 4, 2012 valued at $5.133 billion. Just as interesting as the TRUPS that BAC included in this redemption are the TRUPS that were skipped over.
Three of the redeemed TRUPS are not publicly traded, so it is the remaining six that are of interest to us. Those holding shares of these six BAC TRUPS will receive $25 per share plus any accrued dividends for the partial final quarter on November 5, 2012.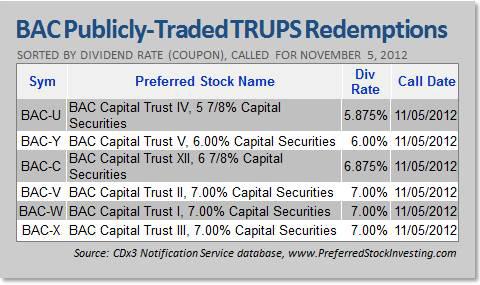 Most of the preferred stock investors who purchased shares of these six TRUPS were able to do so for a market price below the $25 par value of these securities. Over the last five years, the market price of these securities has spent the majority of the time trading well below $25 per share as this BAC-W price chart illustrates.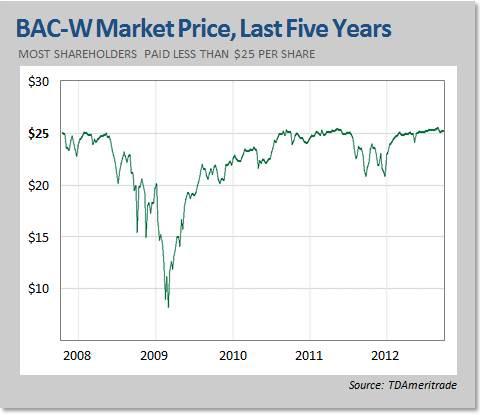 By purchasing their shares below these securities' $25 par value, many who own shares of the BAC TRUPS being redeemed are going to realize a very nice capital gain, on top of the regular dividends that they have been receiving, on November 5, 2012.
9 Down, 57 to Go
During the reign of former CEO Ken Lewis, BAC executed an aggressive strategy of growth through acquisition. With several of these acquisitions, the bank either issued preferred stock shares in private placement deals or it inherited the acquired company's publicly traded preferred stocks and the obligations that came with them.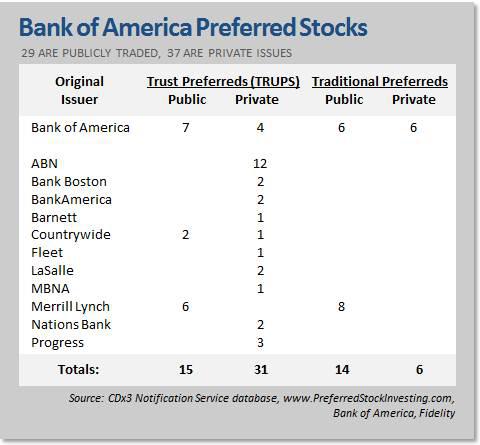 In total, BAC has a whopping 66 preferred stock issues listed on their website as outstanding (including the nine now being called), most of which are not publicly traded. The nine redemptions announced on October 4 will still leave the bank with 57 outstanding preferred stock issues.
Citi (NYSE:C), by contrast, lists 18 outstanding preferred stock issues on their website including one issue that is not publicly traded.
Why These Six?
A provision within section 171 of the 2010 Wall Street Reform Act goes into effect on January 1, 2013 that changes the formula for Tier 1 Capital, a key measure of bank reserves closely watched by regulators. Effective January 1, 2013, big banks (assets greater than $5 billion) will no longer be able to count the value of their outstanding TRUPS shares in their Tier 1 Capital calculation. Consequently, banks have been redeeming their TRUPS over the last couple of years in advance of the new math.
With the new regulations about to kick in, it is not surprising that all nine of the preferred stock issues that BAC is redeeming are TRUPS. But it is less obvious how the bank went about selecting these specific six publicly traded issues. Normally, a company looking to redeem outstanding preferred stock shares will sort the list by dividend rate (coupon) and start at the top with those that have the highest dividend cost.
But that is not what happened here. There are two aspects of the TRUPS chosen by BAC that are inconsistent with the "most expensive get called first" rule.
First, in its October 4 announcement, BAC obviously avoided redeeming any TRUPS that were not originally issued by Bank of America. For example, the bank could have saved more dividend expense by redeeming MER-P, originally issued by Merrill Lynch at 7.375%. But it chose to redeem six TRUPS that were originally issued by Bank of America, all of which deliver less cost savings to the bank than redeeming MER-P would have. Limiting these redemptions to TRUPS originally issued by Bank of America obviously took a higher priority than cost savings.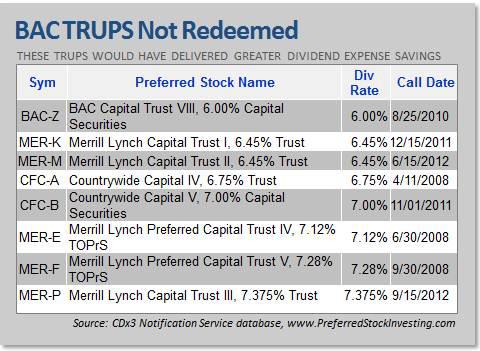 Second, what about BAC-Z, a 6.0% BAC TRUPS issued by the bank on August 18, 2005? Why did BAC choose to redeem its BAC-U shares, which costs it 5.875%, instead of BAC-Z which costs it 6.0%?
This is probably a case where dollar amounts became more important than percentages. It would seem that BAC had a fixed amount of cash available to do these redemptions (about $5 billion). As BAC worked its way down the BAC-issued TRUPS list, starting with the most expensive issues, it got through BAC-V at 6.0% and realized that it was about out of cash.
BAC-Z has 21.2 million shares outstanding so calling it would cost the bank another $530 million. BAC-U, with its 5.875% rate, on the other hand, only has 15 million outstanding shares and would therefore only cost the bank $375 million to call. Even though there was more dividend savings to be had by redeeming BAC-Z, BAC-U appears to have gotten the nod since redeeming it was within reach of the available cash.
But regardless of how BAC came up with this list, congratulations are due to preferred stock investors who purchased shares of the now redeemed six TRUPS over the last few years. In most cases, you purchased your shares below $25 and will now realize a nice capital gain. Seeing past the bank's many challenges, you took a chance at redemption (so to speak) and came out on the winning side of the deal. Be thinking about what to do with your newly found gains when your brokerage cash account sees a very well deserved bump on November 5.
Disclosure: I have no positions in any stocks mentioned, and no plans to initiate any positions within the next 72 hours. I wrote this article myself, and it expresses my own opinions. I am not receiving compensation for it (other than from Seeking Alpha). I have no business relationship with any company whose stock is mentioned in this article.
Additional disclosure: Preferred stocks identified within this article are for illustration purposes only, and are not to be taken as recommendations.