By Ishtiaq Ahmed
Molycorp, Inc. (MCP) is a development-stage mining company that engages in the production and sale of rare earth oxides. The products of the company include metals, oxides, magnets for various inputs and alloys. Molycorp mainly owns and runs the Molycorp Mountain Pass facility, an open-pit mine containing rare earth deposits located in San Bernardino County, California. MCP also plans to sell rare earth oxides and rare metals in Europe, and rare earth alloys in the United States.
Stock Performance and basic ratios:
Prices of MCP have plunged over the summer. In fact, prices per share fell from $35 in May to below $10 by the end of August. At the moment, the stock is trading at about $11 and the company has a market capitalization of $1.3 billion. The stock has an alarmingly high beta of 3.81. The company has an attractive forward P/E of 11.83. The 52 week high-low range for the stock is $9.40 and $$42.90. On average, 7.5 million MCP shares are traded every day.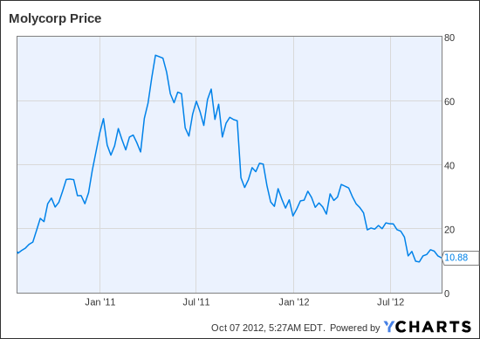 New Financing:
Molycorp was very aggressive in developing its operations in Mountain Pass, and spent substantial funds along the way. The overhauling of operations in Mountain Pass will cost $900 million. As a result, the company went to the market to raise funds worth almost $500 million to finance its operations and capital expenditures. However, the financing package resulted in heavy dilution for the current shareholders. The company issued 12 million at $10 per share, raising $120 million. It also issued senior convertible bonds with a $12 conversion price due in 2017.
Potential Problems:
At the moment, the firm faces a lot of challenges. For instance, if CAPEX costs do not stick to firm and conservative budget limits, then the company can have trouble in paying down its large amounts of debt. Additionally, if the firm is not able to achieve synergies from its recent acquisitions, it won't be able to generate any shareholder value from these recent moves. However, the firm also has some advantages and most important is the low cost structure of the company. Recently, the company announced that it will reach its target production level of 19,500 tons by the end of this year. The company plans to take production to 40,000 tons by mid 2013.
Industry Overview:
China is the biggest player in the industry based on production and contributes a large chunk of the world rare earth materials production. However, the country has imposed a severe quota on exports to give its manufacturers an advantage. In the previous two years, when the prices were sky high, this quota enabled China to supply the materials to its manufacturers at lower prices.
Recently, China has set a new quota for rare earths exports of just under 31,000 tons a year. Although, it is extremely unlikely that China will use its entire quota of exports. Only last year, China exported less than 19,000 tons even though the quota was slightly more than 31,000 tons. Along with Molycorp, Rare Element Resources (NYSEMKT:REE), Avalon Rare Metals Inc. (NYSEMKT:AVL) and Lynas Corporation Ltd. (OTCPK:LYSCF) are also important market participants. A hike in rare earth prices during the past year helped these companies reap substantial benefits.
Future Prospects:
There is a significant potential in the sector, and the demand for the products keep rising. At the moment, the demand for high-tech products that require rare earth elements is on the rise. Rare earth elements are an important component of smart phones, batteries in hybrid cars and also LED screens.
I believe the industry has the highest growth potential in defense sector applications. For any country, it is important to be self-sufficient in defense applications. The preference of U.S. to be self-sufficient bodes well for Molycorp. As a result, the company will have a long term customer for its products. This case may also help the company go through regulatory issues smoothly.
Summary:
At the moment, the company is going through a tough time due to the decrease in product prices. However, all is not lost for Molycorp. There is still significant potential in the industry. The rare earth products are essential to many industrial applications. I believe a lot of things will have to go according to plan for MCP to achieve previous year levels. The company will have to achieve synergies from the acquisitions, new and improved production levels, controlled capital expenditures to get back on track. In addition, the prices of the product will need to recover significantly. There is strong long term potential in stock; however, MCP may have some troubles in the short term. Investors of MCP will have to be patient to reap benefits.
Disclosure: I have no positions in any stocks mentioned, and no plans to initiate any positions within the next 72 hours.
Business relationship disclosure: EfsInvestment is a team of analysts. This article was written by Ishtiaq Ahmed, one of our writers. We did not receive compensation for this article (other than from Seeking Alpha), and we have no business relationship with any company whose stock is mentioned in this article.