We are bullish on Linn Energy (LINE) due to its impressive financial performance, with a significant increase of 31% in its operating income over the last quarter, higher dividend yield of 6.9%, strong payout ratio of 60.5% and a recent raise in its future outlook. The company revised its third quarter outlook, and increased its EBITDA guidance from $1.35 billion to $1.365 billion for the fiscal year 2012. It also anticipated that the total production for the year would be between 660-685 million cubic feet equivalent per day.
Linn Energy has become attractive to investors due to its ability to hedge all of its oil and gas production resources at favorable prices until 2016 and 2017, respectively. The company reserves have grown significantly at CAGR of 65% in the last seven years, and we expect this growth will continue in the coming years. Therefore, we advise investors to take a long position in the stock.
Company Overview
Linn Energy is an independent oil and gas company engaged in the production, development and exploration of oil, NGL and natural gas. It is currently operating in the United States, mainly in the areas of Permian basis, California, Mid-Continent, Williston and Michigan. The company was incorporated in 2003, and is based in Houston, Texas. It is one of the top United States oil and gas companies, with around 5.1 Tcfe of recorded reserves. Its reserves have increased by 50% over the last one year and grew by a compound annual growth rate of ~65%, in the period 2006 to 2012.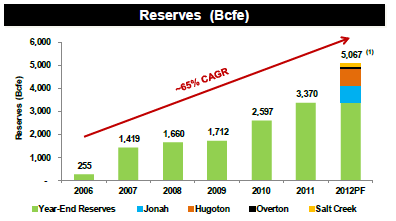 Source: Company Website
Shift from Granite Wash to Hogshooter
The company has decided to allocate 50% of its total spending to 65 Granite Wash horizontal drilling projects in the fiscal year 2012. However, due to the decline in natural gas prices, it has transferred all eight of its operating rigs for drilling in the oil producing Hogshooter-zone. We believe this shift would enable the company to increase its cash flows in the second half of the year.
The company anticipated the future oil demand, and the horizontal drilling of nine new projects at Hogshooter would further enhance its production volume. These new projects aim to bring the average production capacity to 3.4 million cubic feet equivalent of natural gas per day, 1,983 barrels of oil per day and 534 barrels per day of natural gas liquids per well. Currently, it has completed drilling of 12 Hogshooter wells, with average production of around 3.4 million cubic feet equivalent of natural gas per day, 2,110 barrels of oil per day and 528 barrels per day of natural gas liquids per well.
Dividends
The company is paying a dividend yield of 6.9%, significantly higher than the industry average of 2.15%. Its strong payout ratio of 60.5% is higher than the industry average of 16%. The company is committed to add value for its shareholder, as it has anticipated that its payout coverage ratio would be around 1.25x in the next quarter. In its earnings release of the second quarter it announced that the company payout will grow around 5% in 2012.
Protection through Hedging
Linn Energy has hedged all of its oil and gas production to protect itself from the price uncertainty in the sector. In our opinion, it's a good move by the company to make its cash flow more predictable.

Source: Company Website
LINE has hedged its oil and gas reserves until 2016 and 2017 at attractive prices, as shown in the tables below.
Natural Gas Hedge positions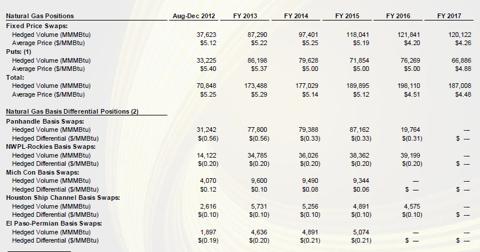 Source: Company Website
Oil Hedge positions

Source: Company Website
Financial Performance
One important reason behind the improvement in the company's financial performance over the last quarter is the increased efficiency in its operations. For its Granite Wash project, it has reduced the production cycle time from 93 days to 79 days. Moreover, it introduced a water management system to help the company recycle the water used during production. Therefore, with these projects' combined efficiencies, the company was able to reduce its operating cost and post high profit margins.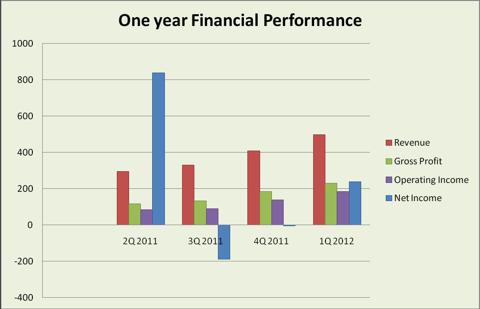 Price Appreciation
As the graph shows below, LINE is the only stock amongst its peers in the industry to show an upside of ~8% in the last three months. Going forward, LINE expects that its integration work in the fields of Jonah will start in November. We believe that the start of its operations in Jonah still has to be reflected in its stock price. The transfer of its operations towards Hogshooter and its improved operational efficiencies will enable the stock to show a significant upside in the coming period.

Valuations
The stock is currently trading at a forward price to earnings of 26.5x, at premium when compared to its competitors Anadarko Petroleum Corporation (NYSE:APC)'s, Forest Oil Corporation (NYSE:FST)'s and Pioneer Natural Resources Co. (NYSE:PXD)'s forward price to earnings of 16.2x, 17.2x and 19.08x, respectively. It is trading at high valuations of price to sales of 6.2x, EV/ Revenue of 10.7x and EV/EBITDA of 8.1x however, looking forward, we believe that the company's growth and operational efficiencies make these valuations justified.
Direct Competitor Comparison

 
 

Linn Energy, LLC

Anadarko Petroleum Corporation

Forest Oil Corporation

Pioneer Natural Resources Co.

Tengasco (NYSEMKT:TGC)

P/S (NYSE:TTM):

6.2x

2.58x

1.54x

4.81x

2.31x

Forward P/E

26.5x

16.23x

17.22x

19.08x

NA

EV/Revenue

10.7x

3.4x

4.53x

5.92x

3.08x

EV/EBITDA

8.1x

5.9x

5.19x

6.84x

6.08x
Disclosure: I have no positions in any stocks mentioned, and no plans to initiate any positions within the next 72 hours.
Business relationship disclosure: The article has been written by Qineqt's Energy Analyst. Qineqt is not receiving compensation for it (other than from Seeking Alpha). Qineqt has no business relationship with any company whose stock is mentioned in this article.