Like many companies in this economy, telecom giant Verizon (NYSE:VZ) is expanding its sales even as its income continues to fall. Verizon's sales growth is up by 4% this year, but its income growth fell by 5.7%. That indicates that new sales are not making up for losses in income elsewhere.
So why is Verizon's income falling as sales increase? The answer may have to do with debt. Like a lot of telecoms, Verizon has had to take on a lot of debt to give customers the services they want. As of December 31, 2011, the company had $53.489 billion in long-term debt. It also has a debt equity ratio of 1.41, although that ratio has been falling for the past few years, as you can see.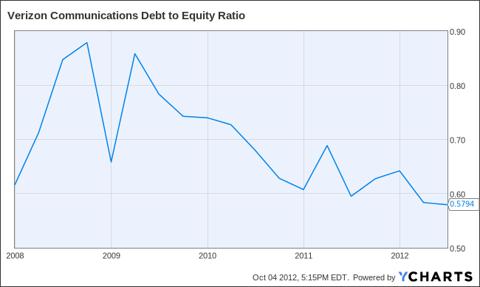 Verizon does seem to be putting the money it is borrowing to good use. Recent press releases indicate that the company is teaming up with cable companies, such as Cox Communications and Time Warner Cable (TWC), to offer bundles of video, phone Internet, and wireless services. The only problem is that Verizon and its partners have to use expensive giveaways, such as $400 Visa prepaid debit cards, to attract new customers. So it's easy to see how sales can be rising while income is falling at Verizon; the company has to give cash away to attract customers.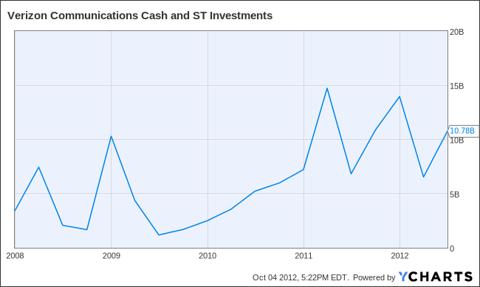 As you can see, Verizon's stockpile of cash and ST investments has been falling in the last year, although the company still has around $10 billion in the bank. The question value investors have to ask is: How long can that cash remain in the bank if Verizon has to keep giving money away to attract new customers? At what point will the telecom have to limit spending, and can it attract new customers without buying them?
It is also easy to see why smaller telecoms, like T-Mobile USA and MetroPCS (PCS), are merging. They simply don't have the cash to compete with larger players like Verizon, AT&T (NYSE:T), and Sprint Nextel (NYSE:S). It is getting more expensive for them to stay competitive. They have to give away cash and upgrade networks to accommodate new devices, such as the iPhone. T-Mobile's parent, Deutsche Telekom (NYSE:DTE), decided to merge it with MetroPCS in order to keep it competitive.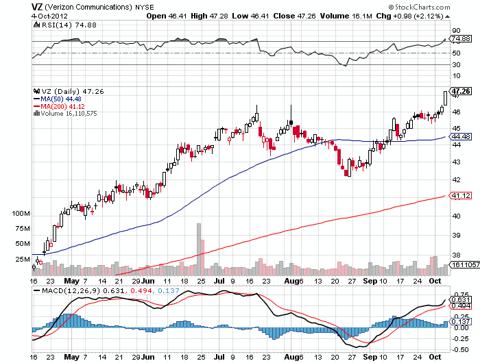 Can Verizon preserve its share value and stay competitive in an increasingly cutthroat telecom market? That answer may rest on the economy as much as anything else. Some recent news stories indicate that cash-strapped consumers are dumping discretionary luxuries like cell phones and cable. The number cutting back is small, but in such a tight market, it will be felt.
Consumers are also switching to cheaper alternatives, such as prepaid cell phone service and free WiFi. UBS AG estimates that the number of prepaid users has grown by 11%, to around 74 million. The increase in prepaid customers may explain why Verizon is experiencing increased sales but lower revenue. When people switch to a prepaid phone, it means a sale but less long-term revenue in the form of monthly payments.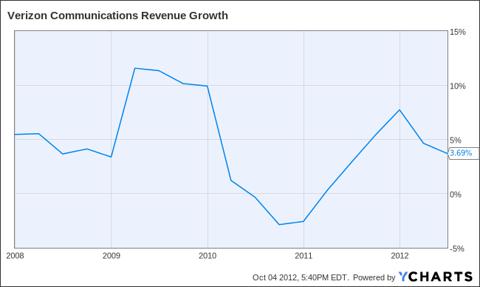 This may also explain why the company's revenues are currently falling, which indicates that less cash is coming in. The reason cash may not be coming in is that fewer people are paying cellphone bills. This reverses a trend of rising revenues since 2010.
At what point will Verizon have to start bleeding cash in order to stay in business? That is hard to say, but that point might be soon because of these revenue figures. The scary thing for telecom investors though is that Verizon appears to be doing better than the rest of industry. As you can see, Verizon's revenue growth is actually high compared to AT&T, which has almost no revenue growth.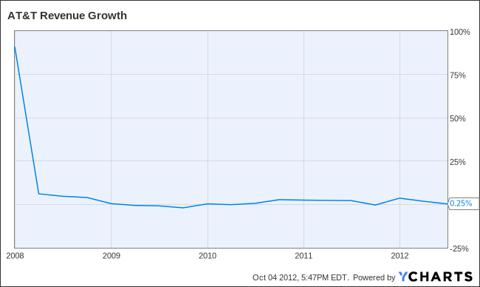 Telecom is one sector that value investors might want to stay away from. Even successful telecoms like Verizon are having a hard time just keeping revenues coming in. That situation is not going to change anytime soon and it might get worse before it gets better.
This makes Verizon look overpriced; the company is not in a position to generate additional revenues. Instead it looks like Verizon is going to have to spend what money it has just to maintain its current position. Obviously that is not a value stock.
Disclosure: I have no positions in any stocks mentioned, and no plans to initiate any positions within the next 72 hours. I wrote this article myself, and it expresses my own opinions. I am not receiving compensation for it (other than from Seeking Alpha). I have no business relationship with any company whose stock is mentioned in this article.