Despite the weak U.S. recovery and a global economic slow-down, Dunkin' Brands (NASDAQ:DNKN) delivered strong results for Q2 2012. The company generated $37.3 million in free cash flow in Q2 2012, and ended the quarter with $218.7 million in cash. Comparing Q2 2012 financial results with Q1 2012, revenue increased by 9.8%; adjusted operating income increased by 14%; and adjusted net income increased by 63%. Diluted EPS for Q2 2012 were $0.33, a 32% increase from $0.25 for Q2 2011. The company exhibited solid performance in all four segments in H1 2012. The chart below shows that all segments had positive comparable and system-wide sales growth in both Q1 2012 and Q2 2012.

Source: Dunkin' Brands's Q1 and Q2 2012 Earnings Releases
We like the long-term prospects of Dunkin' Brands. Dunkin' Brands is compensated as a percent of franchisee top-line and it bears basically no store operating costs itself. With only 36 company- owned points of distribution out of a total of 17,016 as of June 30, 2012, the company is less affected by store level costs and profitability and fluctuations in commodity costs than many other QSR operators.
In Q2 2012, Dunkin' Brands closed its ice cream manufacturing plant in Peterborough, Ontario, Canada, and entered a contract with Dean Foods (NYSE:DF) for future ice cream production. This initiative is aligned with the company's asset-light model, and the management expects annual savings of $4 million to $5 million beginning in 2013.
Dunkin' Brands continues its strong unit growth globally. The company added 140 net new restaurants in Q2 2012, passing the 17,000 restaurant milestone; and it expects to add 600 to 700 new units in FY 2012, including 260 to 280 Dunkin' U.S. restaurants.
Although the majority of Dunkin' Brands' revenue and net income comes from the U.S. market (shown in the chart below), the company has strong presence in several foreign markets. As of June 30, 2012, Dunkin' Donuts International had 3,090 points of distribution, and Baskin-Robbins International had 4,354 points of distribution. We like the company's current international allocations and its future growth potential. No individual foreign country accounted for more than 10% of the company's total revenues for FY2011. And with European exposure of less than 1% of the company's total EBITDA, the company is not directly affected by the ongoing eurozone recession. Furthermore, this lack of presence in eurozone presents tremendous long-term opportunities.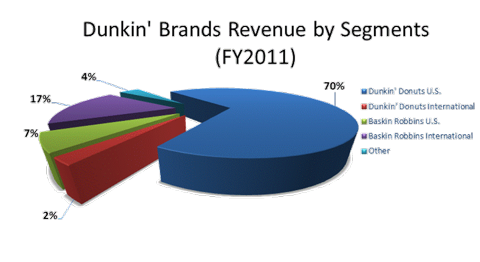 Source: Dunkin' Brands 2011 Annual Report
With Dunkin' U.S. accounting for 70% of company-wide revenue and 81% of company-wide operating income, it is no surprise that management's main focus is to sustain domestic growth and seek new opportunities.
Dunkin' U.S. is divided into four geographical regions: core, established, emerging, and west. The brand has significant penetration in the northeastern part of the country as well as Florida (core and established). Moving westward from core and the established regions, Dunkin' U.S. has very little to no penetration in emerging and west regions.

Source: Dunkin' Brands Investor Presentation Q2 2012
Seeing the huge potential in moving westward, management has outlined a long-term goal of more than doubling the number of Dunkin' U.S. units, with the vast majority of the potential growth coming from emerging and west regions. The chart below shows management's long-term unit growth expectation for the four regions: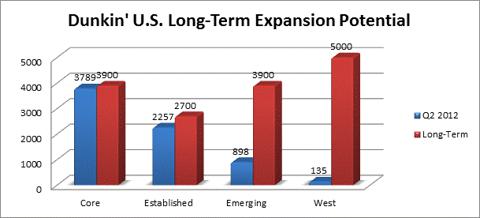 Source: Dunkin' Brands Investor Presentation Q2 2012
Even with high growth potentials and low initial investment needed, Dunkin' U.S. continues its contiguous approach which it expands gradually to new markets that are adjacent to its existing base. This conservative strategy yields very little risk, and it has worked well historically for the company. In Q2 2012, Dunkin' U.S. opened 71 gross restaurants, of which 33% were in core region, 25% were in the established region, 33% in the emerging region, and 9% in west region. We're seeing an increased rate of unit growth in emerging and west regions, and we expect the growth to accelerate in the future.
Furthermore, several new initiatives are being implemented in H2 2012 to boost sales and set the stage for an improving unit growth outlook for Dunkin' U.S.
The company entered a

multi-year

product and marketing agreement with The Coca-Cola Company, which will makes Coke products available in all Dunkin' Donuts and Baskin-Robbins restaurants in the U.S. by August 2012. We expect this agreement to drive comparable sales.
Dunkin' Brands plans to sell Dunkin' K-Cups in Baskin-Robbins restaurants in California starting H2 2012. This is a low-capital and low-risk strategy to create brand awareness since Dunkin' Donuts does not currently operate in California, and the initiative could pave the way for future developments.
Dunkin' Donuts launched its mobile app in Q3 2012. The app would not only improve restaurant throughput, it would also serve as a great marketing tool for the company.
Dunkin' U.S. continues its transition to flat distribution pricing to reduce costs in emerging and west region. The management expects franchisees in west region to save 2% in cost of goods sold by the end of 2012. This initiative further incentivizes franchisees in the fastest growing regions.
Dunkin Brands has experienced a pullback in share price recently. However, we believe the correction presents a buying opportunity. Certainly there are potential headwinds that could hurt Dunkin' Brands' short-term earnings growth, such as the normalization of favorable weather for ice cream sales experienced in Q4 2011 and Q1 2012, high competition in the west region as Dunkin' U.S. accelerates its westward expansion, and a possible macroeconomic slowdown. However, we believe that with Dunkin' Brands' asset-light business model, new initiatives, low-risk expansion strategy, and tremendous growth opportunities both domestically and internationally make the company a great candidate for long-term investment.
Disclosure: I have no positions in any stocks mentioned, and no plans to initiate any positions within the next 72 hours. I wrote this article myself, and it expresses my own opinions. I am not receiving compensation for it (other than from Seeking Alpha). I have no business relationship with any company whose stock is mentioned in this article.
Additional disclosure: This article was written by an analyst at Saibus Research. Saibus Research has not received compensation directly or indirectly for expressing the recommendation in this article. We have no business relationship with any company whose stock is mentioned in this article. Under no circumstances must this report be considered an offer to buy, sell, subscribe for or trade securities or other instruments.