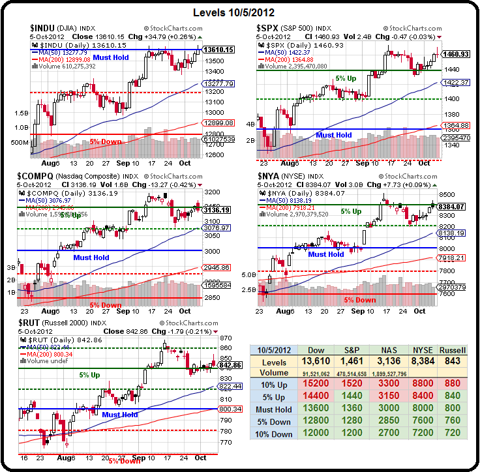 They say that breaking up is hard to do
Now I know, I know that it's true
Don't say that this is the end
Come on baby, let's start a new
'Cause breaking up is hard to do
As you can see from the Big Chart - we're at a pretty crucial inflection point.
We still have all the nonsense in Europe casting a pall over the global markets with an EU meeting in Athens meeting heavy protests amid doubts that Greece will miss the next round of targets required to get another tranche of financing - so we're right back to where we started on that one.
Spain's a total mess, with the government there bailing out Catalonia even as Catalonians march for independence from Spain and the Canary Islands need a bailout as well and now Venice wants to break away from Italy (or sink away) and the UK doesn't want to participate in the EU budget as the IMF cuts UK growth forecasts back to a recession as part of a general downgrade of the global economy while the World Bank does the same to Europe and throws in a gloomy forecast for Asia just to hammer the point home and JPM declares a 0.8% contraction for Japan in Q4 as a result of the ongoing dispute with China.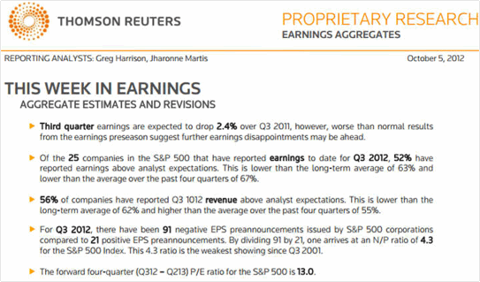 Good golly what a global mess!
Of course, as you can see from the Thomson/Reuters note, our own Q3 picture is looking more mixed than disastrous and expectations are already pretty rotten with 4.3 negative earnings pre-announcements for every one positive guidance - that's the worst since Q3 2001, when 9/11 gave us all a nasty downside surprise.
No one terrorized us in Q3 2012 but people sure are terrified and that's why I've been getting a little more bullish on the markets - at this point, expectations for Q3 earnings are pretty darned low - it's going to be tough for US companies to disappoint further.
Today will be a bit of a watch and wait day - as will the whole week, for the most part. Our Big Chart levels will give us a very quick heads up if we begin to fail to hold supports and we've got a healthy 2.5% drop we can play for (we already grabbed some DIA puts on Friday to cover the weekend) if those 5% lines all fail but the S&P is looking strong so far and we're not really going to lose faith until it does.
Be careful out there.
Disclosure: I am long AAPL, AGQ, GLD, XLF, FAS, BBBY, SVU, QQQ, BTU, X, CHK, HPQ, AA. I wrote this article myself, and it expresses my own opinions. I am not receiving compensation for it. I have no business relationship with any company whose stock is mentioned in this article.
Additional disclosure: Positions as indicated but subject to change (fairly even mix of bull and bear positions - see previous posts).