By now it's no secret that stock prices aren't taking their cues from economic fundamentals or earnings estimates. Rather, equity markets (and credit markets for that matter) have become puppets of the world's central bankers, rising and falling in response to expectations about the course of future monetary policy.
Note as well that according to Nanex, High Frequency Trading algorithms now account for 99.9% of quotes and 70% of executed trades. Finally, consider that retail investors have pulled some $211.243 billion out of U.S. stock mutual funds since May of 2011 according to ICI data: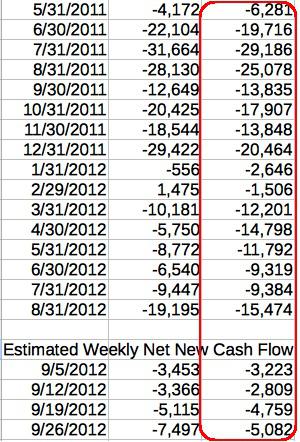 Source: ICI
Given this, one wonders if there is any part of the stock market that still represents real, rational human responses to economic realities and corporate earnings. Indeed, for the past 3 years, the correlation between stock prices and inflation expectations has been far stronger than the relationship between equity prices and forward EPS estimates.
That said, the end of the third quarter is upon us, and just in case there are any human beings out there who actually intend to base their investment decisions on corporate earnings, it is worth noting that the outlook is bleak. Analysts' estimates have plunged recently with the Street now calling for S&P 500 earnings to fall by 2.7% during the third quarter. This is an alarming about-face considering that as recently as June, these same analysts expected earnings to grow by 2% during the period.
If earnings do indeed decline, it will be the first quarter of negative earnings growth in nearly three years. If pre-announcements are any indication, investors shouldn't expect many pleasant surprises. Negative pre-announcements outnumber positive pre-announcements more than 4 to 1 for the current quarter, the highest ratio since the financial crisis: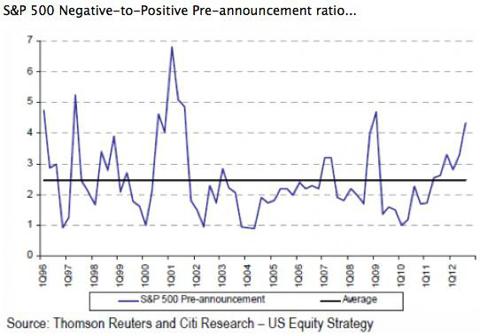 Source: Reuters, Citi
Furthermore, as ZeroHedge notes, downward revisions have outnumbered upward revisions for nearly 6 months: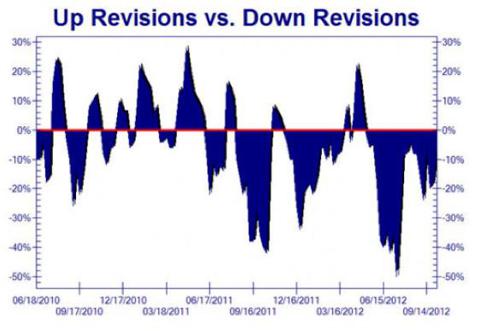 Source: Citi via ZeroHedge
Investors may still catch a break, however, as optimism tied to the Fed's asset purchases may yet be enough to trump an abysmal earnings season. From a Prudential Financial equity strategist quoted by the Financial Times:
"If we see that the markets do not correct even after earnings disappoint and guidance gets worse, then it will be clear that fundamentals have given way to the Fed."
I contend that you cannot suppress reality forever -- even if you buy $85 billion in securities on a monthly basis for an indefinite period. Earnings are falling, the economic recovery has flatlined, and the fiscal cliff looms large on the horizon. I recommend shorting the S&P 500 (NYSEARCA:SPY) and going long volatility (NYSEARCA:VXX).
Disclosure: I have no positions in any stocks mentioned, and no plans to initiate any positions within the next 72 hours. I wrote this article myself, and it expresses my own opinions. I am not receiving compensation for it (other than from Seeking Alpha). I have no business relationship with any company whose stock is mentioned in this article.