Introduction
What a difference a couple months makes. Back in July, our largest single holding, Silver Wheaton Corporation (NYSE:SLW) was flirting with the $25.00 level, then a strong rally propelled it as high as $40.00 before easing back a tad.
The breakout of silver prices has been long awaited as the consolidation period appeared to drag on and on, testing the patience of many investors. If you are new to the silver space you should be aware that volatility comes with the territory and as such you will need a cast iron stomach as this white knuckle ride of a silver bull market develops. However, the central bankers have now showed their hand in that their solution to the economic problems that plague sovereign nations is to continue to print money until all is resolved. This remedy does not have a happy ending as history has proved so many times in the past. No fiat currency has ever survived so the long game will result with the implementation of a completely new monetary system. In the meantime we can only hope to protect ourselves from the fallout of such folly by channeling our resources into some form of hard assets; gold and silver are top of our list, but each to their own.
Latest Comments from SLW
Today we were in touch with Rory Quinn, Manager, Investor Relations, for SLW regarding the possibilities of more acquisitions as a fair amount of time had lapsed on the deal making front prior to the Hudbay agreement being announced. This is his response:
Silver Wheaton (SLW: NYSE & TSX) was recently recognized as #1 (out of 100) in "Fortune's Fastest-Growing Companies" magazine, September 24th issue.
The recent transaction with Hudbay Minerals (NYSE:HBM), closed September 28th, 2012, contributes to an industry leading growth profile allowing Silver Wheaton to grow from 28 million equivalent silver ounces forecast in 2012, to 48 million equivalent silver ounces forecast in 2016. The company is as busy as it has ever been on the business development side of the business (reviewing projects and potential transactions), and it has plenty of capacity to pursue other transactions now and in the future ($1.1B cash balance as of 06/30/2012, minus $500M paid to Hudbay and a $138M payment to Barrick. Plus a quarter's worth of cash generation [example: $172M in Q2 2012, $168M in Q2 2011] and a $400M undrawn credit facility).
Silver Wheaton investors benefit from exposure to silver, yield (through its dividend policy), access to some of the best mines in the world at a fixed cost per ounce of silver, growth from the company doing further transactions, exposure to the existing growth profile through 2016, and organic exploration growth at its partners' mines. In those ways, an investment in Silver Wheaton offers much more than an ETF does, and the implied administrative cost of Silver Wheaton's G&A works out to about 18 basis points (0.18%), compared to anywhere from a 30 to 56 basis points administration cost for popular silver ETF products.
All the best Bob,
Rory
So there you have it straight from the horse's mouth, so to speak. We would draw your attention to the words; The company is as busy as it has ever been on the business development side of the business; this bodes well for growth and as such we look forward to more good news form the company in the near future.
Background to Silver Wheaton
Silver stream or silver purchase agreements allow Silver Wheaton to purchase, in exchange for an up-front payment, the by-product silver production of a mine that it does not own or operate. Since approximately 70% of all silver production occurs as a by-product of base or precious metals production, there are numerous potential opportunities for further growth with this business model.
The operating costs that Silver Wheaton pays for future silver production are pre-determined in the agreements, at approximately $4 per ounce, with a small inflationary adjustment. This amount offsets our partners' typical cost to produce an ounce of silver. Fixed costs reduce our shareholders' downside risk while at the same time providing the upside of leverage to increases in the price of silver. As well, other than the initial upfront cash payment, Silver Wheaton does not contribute to future capital expenditures or exploration costs invested by the mine; yet we benefit from the production and exploration growth that result from these expenditures. This business model often translates into significant value creation for Silver Wheaton shareholders.
Silver Wheaton was recently named Fortune magazine's fastest growing company after it managed to grow profit by 340% in three years.
Silver Wheaton pursues acquisitions that are accretive to shareholders and low-risk in terms of asset quality and political jurisdiction. To this end, the company currently has fifteen silver purchase agreements and three precious metal purchase agreements with thirteen mining partners around the globe. These agreements cover seventeen operating mines and four development stage projects, and are set out in the table below.
The chart below clearly shows just how volatile the silver market can be, however, it is good see that SLW has rallied back from its recent lows with some gusto.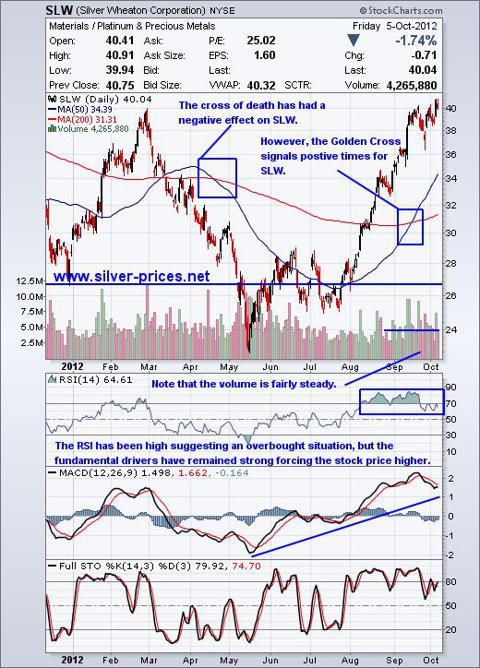 Analyst opinions
This is the Smart Consensus Peer Ratings 05 October 2012, showing 4 Buys and 6 Holds.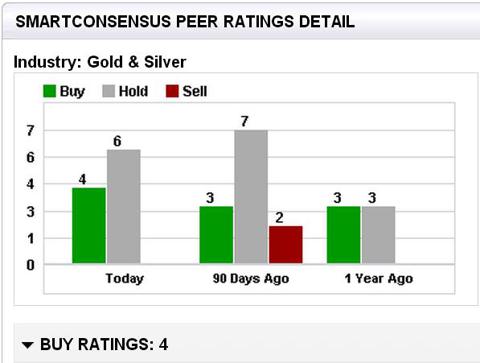 When comparing SLW with Silver ETFs, the chart below identifies the advantages of holding SLW over a silver ETF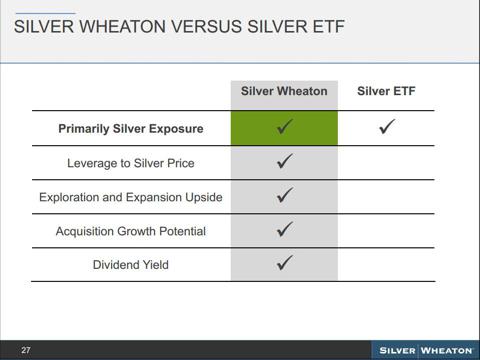 Trading Ideas
For a long idea, we suggest accumulating this stock for the long term as and when you can. The fortunes of SLW are predicated on the performance of silver prices heading to higher ground. We are quietly confident that both gold and silver prices will return to challenge and overcome their all-time highs in the very near future. The old adage of buy the dips applies, however, the upcoming dips may well be of the shallow variety, so by all means try and secure a bargain but not at the expense of missing out altogether.
Financials
Silver Wheaton Corporation has a market capitalization of $14.17B, an EPS of $1.60, a 52 week low of $22.94 and a high of $40.41, average volume of shares traded is around 5.00Mln, so the liquidity is good, with 353.87 million shares outstanding. Current stock price is $40.04.
Silver Wheaton Corporation trades on both the NYSE and the TSX under the symbol of SLW.
Also look for third quarter results which will be released on Monday, November 5, 2012, before the market opens.
Finally, we expect silver prices to finish this year strongly propelling this stock to much higher ground and keeping it on track to hit the $100.00 price target that we have placed upon it, within 12 months or so.
Disclosure: I am long SLW. I wrote this article myself, and it expresses my own opinions. I am not receiving compensation for it. I have no business relationship with any company whose stock is mentioned in this article.
Disclaimer: We make no guarantee or warranty on the accuracy or completeness of the data provided. Nothing contained herein is intended or shall be deemed to be investment advice, implied or otherwise. This letter represents our views and replicates trades that we are making but nothing more than that. Always consult your registered adviser to assist you with your investments. We accept no liability for any loss arising from the use of the data contained on this letter. Options contain a high level or risk that may result in the loss of part or all invested capital and therefore are suitable for experienced and professional investors and traders only. Past performance is not a guide nor guarantee of future success.