On Friday, shares of cigarette maker Philip Morris (NYSE:PM) hit another new high of $94.13 before pulling back into the close. Including dividends, shares are up just under 50% in the past year. For a company that's known for being a value stock, Philip Morris shares have grown fairly well. The company recently raised its dividend nicely, sending shares higher. However, this latest rally has pushed shares up a bit much in my opinion. At this point, I would sell Philip Morris shares and reacquire them on the next pullback. We've seen several pullbacks lately and I think another one is coming soon.
It's been a full month since I analyzed Philip Morris completely, and I'll use a comparison to that point to show why shares are a bit stretched at this point. The first comparison I always use is a two-year revenue and earnings growth table. As always, these are the currently expected growth forecasts from analysts. For consistency, I'm using the same four competitors from my prior article: Lorillard (NYSE:LO), Altria (NYSE:MO), Reynolds American (NYSE:RAI), and British American Tobacco (NYSEMKT:BTI).

Here are the changes for each name since my last article:
Philip Morris: Two-year revenue total growth increased from 7.4% to 7.5%. 2012 EPS growth increased from 6.1% to 6.4%. Two-year EPS growth total increased from 18.0% to 18.2%.
Lorillard: 2012 revenue growth decreased from 4.7% to 4.5%. Two-year revenue growth total decreased from 10.3% to 10.1%. 2012 EPS growth reduced from 8.8% to 8.6%. 2013 EPS growth increased from 9.7% to 9.9%. Two-year EPS total increased from 19.3% to 19.4%.
Reynolds: 2012 revenue decline improved from 1.6% to 1.3%. 2013 revenue increase was taken down from 0.9% to 0.8%. Two-year total decline went from -0.8% to -0.4%.
British American: 2012 revenue forecast increased from -0.6% to 1.0%. 2013 revenue growth was taken down from 3.6% to 3.4%. Two-year revenue growth total increased from 3.0% to 4.5%. 2012 EPS growth increased from 6.4% to 7.4%. 2013 EPS growth reduced from 7.7% to 7.3%. Two-year EPS growth total increased from 14.6% to 15.2%.
Philip Morris' growth forecast has come up slightly, making it a stronger second to Lorillard, which has seen its numbers come down slightly. The other three names remain a bit behind when it comes to their growth forecasts.
The problem is that Philip Morris' valuation has really become stretched, especially thanks to the recent rally. The following table shows the price/sales and price/earnings values for each name back then (my previous article from early September) and now.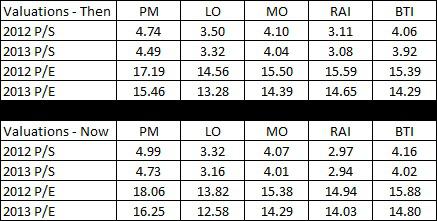 I understand that Philip Morris has raised its dividend since then. However, we were expecting that dividend raise. Since early September, only Philip Morris and British American Tobacco have seen their price/sales and price/earnings ratios increase. Philip Morris' ratios have risen more in numerical and percentage terms.
Philip Morris was already trading at a premium to the sector, but that premium has increased even more. The following table shows the valuation premium the company is trading at for each category against the average of the other four names, then and now.

That premium has really jumped, and I don't think the added dividend justifies it. Philip Morris does offer the second-highest growth in this space, but names like Altria, Lorillard, and Reynolds American all also yield more than 5% on an annual basis. Philip Morris, even with the dividend increase, only yields 3.6% currently. Philip Morris does not justify the premium at these levels.
In terms of the analyst community, they tend to agree with my current stance. The following table shows the average rating (1 = strong buy, 5 = sell), the average price target, and the corresponding upside from Friday's close to the average target.

In my last update, Philip Morris was in second place overall in terms of rating. Now it is tied with Altria for second, as the rating on Altria has improved since then. Also, Philip Morris is now the only name trading above the average target. In early September, Philip Morris had 3% of upside to the target and Reynolds American was the only name trading above the target. That's not the case anymore.
Philip Morris is a bit overvalued at this point, and the stock seems ready for a pullback. The question is: How much will it decline? And where should you target your next entry? Since it broke $90 originally earlier this year, there have been six full pullbacks of at least $4. The following table shows the dates and sizes of each.

While past performance is not always repeated, this stock does tend to hit a new high and then pull back a little. The average pullback, if you exclude the rather large second one, is $4.98, or an average of 5.46%. If we see an average-size pullback, that puts the stock back down to a range of approximately $88.75 to $89.25.
Philip Morris shares have rallied strongly lately, and that makes them a bit overheated at this point. I'm not arguing that you should go out and short a name like this, because it can still go higher and you'd be on the hook for dividend payments. But I wouldn't be against long-term investors taking some profits here and buying shares back at a lower level. I'm still a long-term fan of Philip Morris, and it is a great stock to own. But I can't recommend buying something at $94 when it is a bit overvalued to the industry and likely due for a pullback to $90 or so.
Disclosure: I have no positions in any stocks mentioned, and no plans to initiate any positions within the next 72 hours. I wrote this article myself, and it expresses my own opinions. I am not receiving compensation for it (other than from Seeking Alpha). I have no business relationship with any company whose stock is mentioned in this article.