This Mission Viejo, CA company operates 54 skilled nursing facilities and 7 assisted living facilities in California, Arizona, Texas, Utah, and Idaho. One thing is for sure about our population: it is aging and it will continue to age as we continue to find drugs that help us live longer and healthier lives. 
Proof that The Ensign Group (NASDAQ:ENSG) is doing well early on is its recent growth the past three quarters in EPS, with 20%, 55%, and 19% growth. That, combined with revenue growth the past eight quarters of 20%, 15%, 18%, 17%, 13% 12%, 16%, and 15%, shows that this company is clicking on all cylinders. Future estimates for the company are great with YOY ESP gains of 35% and 20% expected in 2008 and 2009 respectively. 
Recently, earnings guidance was raised and that has been a recent pattern that could continue into the future. Especially when the company has a 23% return on equity and a strong cash flow of $1.31 per share. The company only has 47% of debt to shareholder equity, which is not much to worry about when you have this kind of growth. 
The current p/e ratio of 14 is near the 5-yr high of the range of 8-16, but when you have a five year EPS growth rate of 35%, you can be forgiving.  
Other high quality stocks in the medical-nursing homes group that are doing well include Kindred (NYSE:KND), Skilled (NYSE:SKH), Sun (NASDAQ:SUNH), New Hope (NYSEMKT:NHC), and Res-Care (RSCR). So this group is starting to see money come in after a period of consolidation and low volume pullbacks. 
Investor's Business Daily confirms the strength in this stock with an EPS rating of 91, an RS rating of 97, a poor group RS rating of 58 (but it has been increasing), an SMR rating of B, an Acc/Dis rating of A+, a Composite rating of 95, a Timeliness rating of B, and a Sponsorship rating of D, and an Earnings Stability of 19. 
I think it is also very important to note that management owns 60%, clearly showing that they are vested in the growth that has and will continue to come out of this stock. Mutual fund growth has also grown from 5 funds to 15 funds over the past two quarters, showing that the big boys are gaining an interest in this stock's growth and story. 
Too bad that right now the stock is too risky up here at 16.70. If the stock can pullback, on low volume, to the 50 day moving average or the 14 area, I would love to get long this leading young gun.  
A beautiful chart with great fundamentals is very hard to find in a difficult market (since January 8, 2008 to August 13, 2008 the Nasdaq has moved -0.41%) that is completely trendless. Look no further than ENSG.
click to enlarge image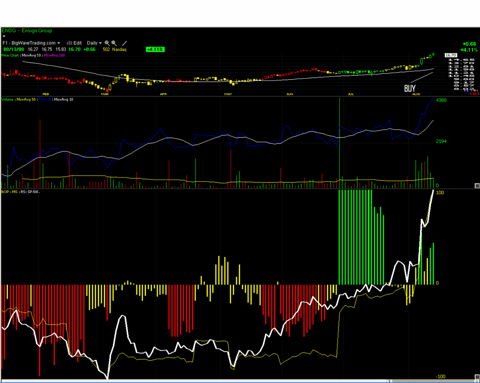 Disclosure: At the time of publication, the author did not have a position in Ensign Group (ENSG)