AMCOL International Corp. (NYSE:ACO) has a long history of regularly paying and increasing dividends. The stock currently yields 2.3%, and hit its 52-week high of $36.28 on Sept. 19. With positive surprises in three out of the last four quarters, this Zacks No. 2 Rank (Buy) industrial minerals provider looks like an attractive possibility for investors seeking both growth and income.
Dividend
AMCOL International has been regularly paying dividends and increasing the quarterly rates at intervals since 1937. The five-year average dividend yield for the company stands at 2.6%, while the stock currently yields a solid 2.3% based on annual dividend rate of 80 cents per share.
It recently increased its quarterly dividend rate by 11.1% to 20 cents from 18 cents. In 2011, the company paid roughly $22.8 million as dividends.
Other Catalysts
In the second-quarter report announced July 27, the company put together a solid 14% earnings surprise. Earnings per share of 65 cents topped the Zacks Consensus Estimate of 57 cents, while improving from last year's 42 cents.
Revenue grew 6.1% to $257.5 million on the back of solid performances in the Minerals & Materials and Oilfield Services segments. Operating margin was recorded at 10.6%, against 8.8% in the year-earlier quarter.
ACO is scheduled to report again on Oct. 26.
Earnings Momentum Moves Higher
Over the past 90 days, the Zacks Consensus Estimate for 2012 advanced 2.9% to $2.16 per share. Meanwhile, the Zacks Consensus Estimate for 2013 remained at $2.26. These estimates represent year-over-year growth of 18.7% for 2012 and 4.5% for 2013.
Valuation
AMCOL International is currently trading at a forward P/E of 15.8 times compared with 19.8 times for the peer group. The company's ROE stands at 16.3%, vs. with the peer group average of 9.1%.
As can be observed from the price and consensus chart below; prospects appear bright as the Zacks Consensus Estimates are trending higher for upcoming years.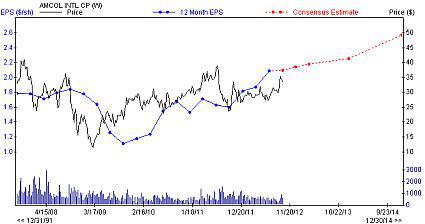 The dividend increase, solid quarterly results, and bright prospects bode well for AMCOL International and make it an attractive investment option.
AMCOL International Corp., founded in 1927, is headquartered in Hoffman Estates, Ill. The company is worth $1.09 billion and produces minerals and various products and services for industrial and consumer markets. It has clients in the Americas, Europe, the Middle East, Africa, and Asia-Pacific.