Wall Street has an uncanny habit of shooting first and asking questions later when it comes to individual stocks. The latest company to fall into the cross hairs is RF Micro Devices (RFMD). The stock's recent sell off and lack of participation in the overall market rally reminds me of when RFMD had a production gaffe in 1997 - 1998. Back then, the stock sold off for a few days only to recover and trade many points higher in a very short period. Today, the stock is suffering from Samsung's lawsuit loss to Apple (NASDAQ:AAPL), negative iPhone5 sales estimates for the first weekend and from Apple's flawed mapping application. In all, I believe that RFMD is being shot first and I'm answering questions right here at these prices.
RFMD is rumored to be a supplier to the new iPhone 5 for about $0.80 - $1.00 in parts. This is a huge win for any company. While Apple is notoriously hard on suppliers, it also doesn't pick a supplier lightly, so if it's true that RFMD is in the iPhone 5, then its chips will probably be built into Apple's new products such as the next generation iPad and the rumored iPad mini.
The recent reiteration of a Buy recommendation along with an $8 price target by Cantor Fitzgerald analyst Dale Pfau speaks volumes as, in my opinion, he was the best analyst to follow RFMD back in 1997 when it became a NASDAQ star. In his reiteration, he put the Apple win and the estimate of $0.80 - $1.00 in writing. This is a strong vote of confidence in my book.
The company landed the Samsung Galaxy phone platform along with other platforms at Samsung. Samsung is selling its phones very successfully and should provide upside beats to RFMD results.
RFMD has transitioned its product portfolio from a commoditized type product to a smart chip or a system on chip. In essence, the company is now addressing many of the facets of how a power amplifier interacts within a smartphone.
New products are leading to an expansion of margins. The Samsung wins and hopefully the Apple win(s) will increase volumes which will fortify the margin expansion.
RFMD has paid down debt considerably over the past 3 years to the tune of $350 million. In fact, I believe the company with ~$107 million in debt will be debt free by June 2013 while maintaining over $250 million in cash (~$1 per share in cash).
RFMD continues to be opportunistic in share repurchasing. A strong cash flow quarter will allow the company to make a significant move at these prices.
Do not rule out consolidation in the whole industry or RFMD on its own. A Broadcom (BRCM) takeout of RFMD would make a lot of sense at this juncture. I see a company being able to save $100 million in expenses by acquiring RFMD here. A takeover of $7 - $8 per share or 15 times $0.50 numbers post cost reductions could happen at any time.
Chart: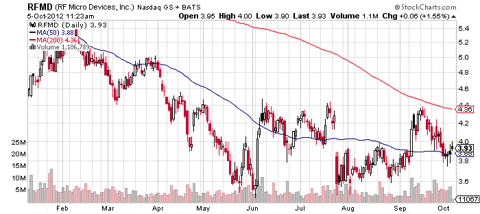 In looking at the daily chart we can see that RFMD made a double bottom around $3.50 bouncing off this level in June and again in August. Since this bottom in August, we have seen a series of higher highs and higher bottoms. The most recent bottom was at $3.75 and the next up move should take us through the 200 day moving average at $4.36 and set up a run to $7 on a continuation of higher highs and higher lows.
I believe that Wall Street has been trigger happy in its dealing with RFMD. However, the shots have been fired and RFMD is still standing. Now as RFMD answers questions with its earnings and news I believe we will see it move higher in the coming weeks and months as solid numbers wake up investors to the stock. RFMD is in its most competitive position in at least 5-6 years in respect to its top two competitors Skyworks Solutions (NASDAQ:SWKS) and TriQuint Semiconductors (TQNT). The company is also in its best financial condition in many years and this could lead to a large buy back, or an outright take out by (BRCM) or (SKWS). Investors should consider averaging into the stock going into the earnings call.
Disclosure: I have no positions in any stocks mentioned, and no plans to initiate any positions within the next 72 hours. I wrote this article myself, and it expresses my own opinions. I am not receiving compensation for it. I have no business relationship with any company whose stock is mentioned in this article.