Navistar (NYSE:NAV) has been quiet for some time now after the eventful month of August, when it finally entered into a partnership with Cummins (NYSE:CMI) for EPA-compliant engines for its Class 8 trucks. It also managed to raise $1 billion from a consortium of banks that helped improve its liquidity position. However, an SEC inquiry into NAV's accounts sent off alarms amongst investors, as they were reminded of the consequences of the last SEC probe that led to the stock being delisted, fines and the auditors being fired. If that was not enough, in a few days after the August 2 announcement, CEO Dan Ustian was ousted by the board, as he was believed to be the main culprit behind the disastrous engine strategy that not only dented NAV's market share, but also eroded its profits, as NAV had to pay massive Non-conformance Penalties (NCP) in lieu of selling non-compliant engines. NAV was fortunate when regulators allowed the company to sell non-compliant engines by charging an NCP of just $3,775, which was much lower than what the market had anticipated.
The new CEO, Lewis Campbell, who is the former CEO of Textron (NYSE:TXT), believes that it is the cost part of the equation that needs to be adjusted, and has therefore announced restructuring plans that will save $150-175 million. The plan was announced at the third quarter's earnings release, where NAV missed earning estimates, but managed to top revenue estimates.
NAV's Highlights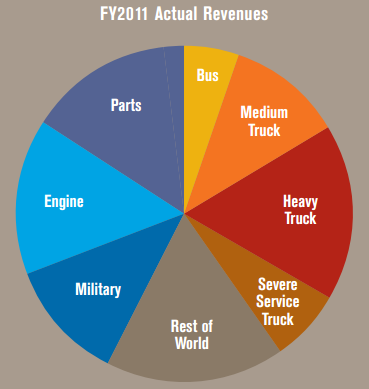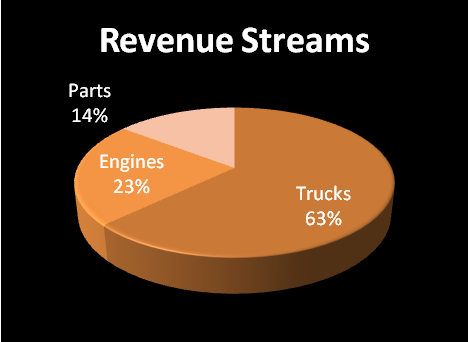 The charts show from where and in what proportions NAV generates its revenues. Trucks, by far, remain the major source of income. Historical data shows us that the sales of trucks and engines have been on a decline i.e. growth rates have been negative. Only the parts business has been growing; that too at a declining rate. The following graph gives a summary: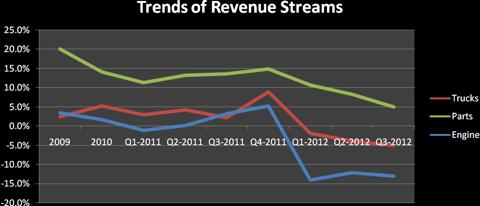 Click to enlarge

Click to enlarge
Trucks September Class 8 orders
A substantial amount of truck revenue for NAV comes from the sales of its Class 8 trucks. Currently, the sales contribute 49% of truck segment revenues, which means almost 28% of total revenues for the company. According to ACT Research, orders were 15,600 units in September, down 5% MoM and 34% YoY. This will have a sizeable impact on NAV's earnings. The orders were below expectations and would have been much lower, had it not been for the opening of NAV's order book for CMI 15-L engine, which are in high demand in the market. 300 CMI 15-L engines are expected to arrive in November, which will be installed in NAV's ProStar+ model; this model is expected to be rolled out in December. More engines are expected to arrive later on as production of the ProStar+ model is ramped up.
Truck demand is a pure play on freight tonnage to be transported in the economy. The August stats showed that the Cass Freight Index was down by 1.1%; a good indicator of freight transportation demand in the economy. However, some positive factors are also in play, which indicate that truck sales might rise in future. The new orders component of the ISM Manufacturing Index is up 2.3% YoY in September. Also, the average fleet age of U.S. trucks on the road is at an all time high of 8 years. Therefore, some pent up demand is forecasted in the near future.
Trucks revenues can be broken into revenues from sales of school buses, class 6 and 7 medium trucks and Class 8 heavy and severe trucks. There are some trucks that are sold under the defense heading, which we will cover under military sales below.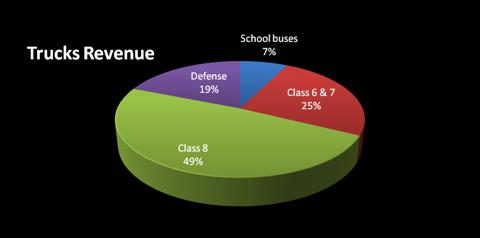 Click to enlarge
The school bus sub-segment is expected to bring growth in the next couple of years. This is because of NAV's JV with Anhui Jianghuai Automobile Co in China, where the Chinese government intends to spend $73 million in order to upgrade school buses.
NAV is a leading vendor of Class 6 and 7 trucks, which come within the medium duty bracket. However, because of a small market for these type of trucks, the overall revenues generated from this type is lesser than for Class 8 trucks. The growth for this sub-segment is expected to soften given the tough macro conditions.
The sell-side expects the overall NAV truck revenues to fall by 7% for this year. However, this number might be revised favorably given the fact that NAV has decided to get its 13-L engines to be treated with urea-based solutions from CMI, which will help NAV win EPA compliance. Trucks fitted with compliant engines will help NAV regain its market share, which it lost to competitors like Paccar (NASDAQ:PCAR), the truck manufacturer. Also, this will save NAV the amount of NCPs, as well as the discounts that NAV had to offer to entice customers to buy non-compliant product, thereby giving a strong boost to margins. The only concern remains that CMI SCR (Selective Catalytic Reduction) engines will cost NAV more than their own non-compliant EGR (Exhaustive Gas Recirculation) engines, and therefore will erode NAV's profitability or market share in case NAV decides to pass on the cost to the final customer.
Engines
Much of the stock turnaround story relies on whether NAV will be able to turnaround the U.S. engine losses.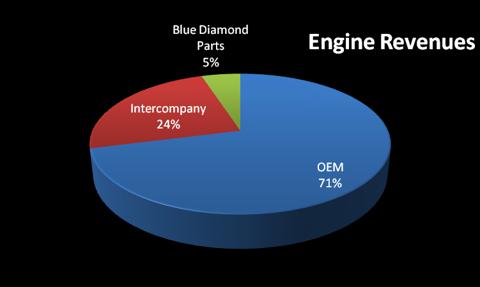 Click to enlarge
*Intercompany: The engines used by NAV in its own trucks
U.S. losses have for long been less than offset by the profits gained by supplying diesel engines to OEMs like Ford (NYSE:F) and MWM (a Brazilian engine OEM). NAV fetches 39% of its engine revenues from Ford and 32% from MWM.
The Engine segment is expected to make negative EBITDA (-9%) for this year. The reason is obvious given the disastrous engine strategy of Dan Ustian, the former CEO of NAV. Given that now NAV has announced its sourcing agreement with CMI, the losses are expected to fall and the EBITDA is expected to become positive by 2014. The Blue Diamond Parts project and OEM sub-segments are expected to reap profits for the next 2-3 years, as a continuation of their solid performance since 2009.
The most important and relevant question regarding the engine segment is whether NAV will be able to deliver profitable Class 8 engines where it faces tough competition from the market. In a press release on Friday, NAV announced that it was ready to deliver the revamped line of engines ahead of schedule. The engines will now be delivered in March rather than April. Campbell also announced that the company will not be developing its own 15-L engines, and will rely upon engines from CMI. This will also help engineers focus on the 11-L and 13-L engines; NAV's primary products for heavy duty trucks.
Parts Segment & Defense Business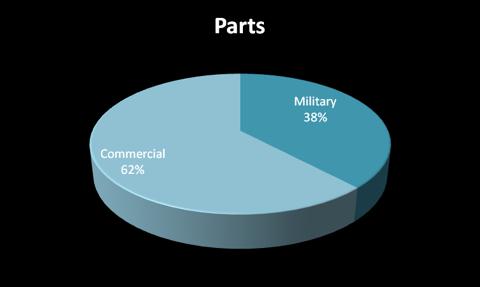 Click to enlarge
NAV provides parts for military as well as commercial trucks.
The defense business, which includes both the trucks and the parts supplied to military, yielded $253 million in revenues for the third quarter, which makes it around 7% of overall revenues. NAV has decided to retain all of its military business in the new restructuring plan.
NAV recently lost a defense contract to build a combat vehicle "Humvee". The $4 billion Joint Light Tactical Vehicle (JLTV) contract was awarded to Lockheed Martin (NYSE:LMT), Oshkosh (NYSE:OSK) and AM General. BAE Systems (BAE) and General Dynamics (NYSE:GD) were the other contenders. NAV, to the disappointment of investors, revoked its protest on the JLTV after losing it to the other contenders.
Despite falling revenues in the defense business, the management is still positive and thinks it is still a key player in this segment.
Restructuring Plan
The most important announcement was regarding NAV cutting down on most of its international operations. This was met with positive reviews from analysts, as it makes a lot of business sense that a company should first solidify its local operations, and then go big. The plan will lead to a reduction of $260 million of revenues, but will generate $50 million in savings.
NAV is also reviewing its 19 North American plants. The company has already decided to get rid of 800 workers through lay-offs and buyouts, which will lead to a reduction of 28% in engineering costs.
Valuations and Conclusion
Following shows the historic margins for the company's three core segments, and the expected margins in the next two years.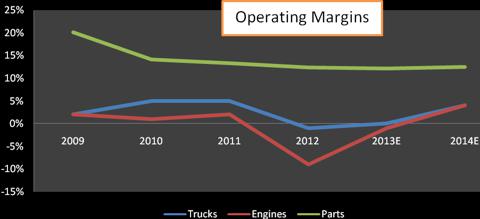 Click to enlarge
The stock is down 44% YTD due to the massive losses it has incurred after Ustian's engine policy failed miserably. The low valuations attracted activist investors like Car Icahn and Mark Rachesky, which forced NAV to take a poison pill.
Cash reserves still remain a problem, even after the company secured $1 billion from big banks like JP Morgan (NYSE:JPM) and Goldman Sachs (NYSE:GS). Though the rate at which its cash is burning has slowed down (from -$156 million in the second quarter to -$54 million in the third), there remain concerns that the restructuring program will lead to an increase in the cash burn rate. More cash will be used up in the buyouts and R&D costs for engine manufacturing. Approximately $400 million of cash burn is expected in the fourth quarter.
The target price through the DCF model comes out to be $27. This means that at forecasted EPS of $3 for 2014, the stock is trading at a forward P/E of 9x. Though, due to high warranty costs, no meaningful profits are projected for this year end, and the benefits of restructuring will materialize in the second half of FY2013, but the management is going in the right direction, and the future looks bright for the company. At a 5-year historical P/E of 15x and EPS of $3 in 2014, the stock is expected to trade at $45, which means more than a 100% upside. Important catalysts include:
Result of clash between Carl Icahn and NAV board.
NAV's final decision from the court regarding the NCPs, the result of the SEC inquiry (though Campbell has announced that NAV does not expect a negative outcome of this inquiry).
Important milestones achieved in the restructuring process.
Disclosure: I have no positions in any stocks mentioned, and no plans to initiate any positions within the next 72 hours.
Business relationship disclosure: The article has been written by Qineqt's Industrials Analyst. Qineqt is not receiving compensation for it (other than from Seeking Alpha). Qineqt has no business relationship with any company whose stock is mentioned in this article.