With First Solar (NASDAQ:FSLR) down as much as 11% on Friday, now is the time to buy it. Yes, you read it right. First Solar has already incorporated the reliability issue that surfaced on Friday in their financial guidance for 2012.
The solar industry continues to experience a challenging environment, marked by intense pricing competition and bankruptcies of many solar companies (especially module manufacturers), with many solar companies generating little or no operating income.
In the past few years, solar stock prices have declined 80%-90%, including those of the big companies, largely due to the Chinese companies, which have taken huge debts to expand and have flooded the market with solar equipment, leading to a steep fall in prices. Demand was also hit when Europe scrapped subsidies aimed at encouraging consumers to switch to solar power. The billions of dollars in direct and indirect subsidies and bailout packages have not been able to save over a dozen companies, which filed for bankruptcies in the past year, including once market leaders such as Q-Cells.
So far, Chinese companies, which are the main reason of the supply (supply almost double that of demand) and demand imbalance in the industry have been able to avoid bankruptcies, but a recent development indicates this might be about to change. China Development Bank Corp. plans to renew pledge of support for 12 solar companies, indicating the government's intention to speed up consolidation.
| | | | | | |
| --- | --- | --- | --- | --- | --- |
| Comp Sheet | First Solar (FSLR) | Suntech Power (NYSE:STP) | Yingli Green Energy (NYSE:YGE) | Trina Solar (NYSE:TSL) | JA Solar (NASDAQ:JASO) |
| Total Cash | 743.69M | 473.70M | 891.93M | 660.34M | 591.66M |
| Total Debt | 519.27M | 2.26B | 2.72B | 1.3B | 1.06B |
| Total D/E % | 15.45 | 281.82 | 268.15 | 127.13 | 114.83 |
| Debt/EBITDA | 0.92 | -19.35 | -26.50 | -11.46 | -33.87 |
Source: Yahoo Finance
As you can see from the table, FSLR has a much better debt situation than all of its competitors. Its D/E ratio is only 15.45% as compared to 281.82% for STP, 268.15% for YGE, 127.13% for TSL, and 114.83% for JASO. FSLR's projected CFO given below also places it in a much better position than its competitors.
| | | | | | |
| --- | --- | --- | --- | --- | --- |
| CFO ($millions) | FSLR | STP | YGE | TSL | JASO |
| 2013E | 1335.00 | N/A | 41.00 | 66.00 | -105.00 |
Source: GS and Barclays
First Solar, the world's largest thin-film PV solar module manufacturer and one of the world's largest PV solar module manufacturers, is the only profitable panel-maker among the 10 biggest in the world, and is also the only one expected to report positive earnings in the next year as well. It uses cadmium telluride (CdTe) as a semiconductor to produce panels that are less expensive than those manufactured from crystalline silicon.
| | | | | | |
| --- | --- | --- | --- | --- | --- |
| | FSLR | STP | YGE | TSL | JASO |
| EPS Estimate Y13 | 4.06 | (1.44) | (1.02) | (0.66) | (0.49) |
Source: Yahoo Finance
First Solar's revenue increased by as much as 80% in the second quarter, and though there was a decline in gross profit margin, it was still head and shoulders above the competitors.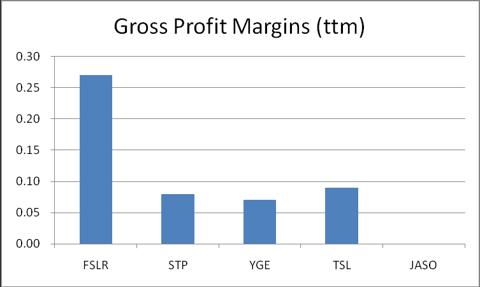 Strategy Shift
Even in these challenging times, First Solar, which manufactures and sells solar modules with an advanced thin-film semiconductor technology, and designs, constructs, and sells photovoltaic (PV) solar power systems, and considered by many as the blue chip solar stock, has found the best way to make money in these tough times by selling whole power plants to companies like Berkshire Hathaway Inc (NYSE:BRK.A) and NextEra Energy Inc. (NYSE:NEE). After a 47% decline in prices in the past year, First Solar has realized that building plants and selling solar power is a better way to make money than competing with its Chinese competitors.
New Markets
The expected increase in demand from NextEra, the installation of four solar plants in Mexico, and increasing exposure in emerging markets like India and Australia, will help First Solar sustain its high revenue growth, which is expected to be 3.55B for 2013. The company was recently awarded 159MW in power projects with AGL Energy under Australia's Solar Flagships Program. Australia is a growing market for solar energy, and according to demand forecasts by Goldman Sachs, Australia will represent 3% of total global demand in 2013, showing an increase of 50% from 2012. First Solar is going to significantly benefit from its presence in Australia. First Solar's revenue is projected to increase to $3.7 billion in 2013, showing an increase of 37% from 2011.
According to a new research published by Solarbuzz, PV demand from Asia Pacific is expected to grow by 80% YoY during the second half of 2012. This represents a transition phase in the PV Industry. Strong growth in Asia Pacific and other emerging PV markets such as India also places First Solar in a strong position, which is already pursuing utility customers in Australia, India, Africa and the Middle East, where there is plenty of sunlight. First Solar is already on the right track. It has appointed Bruce Young as the managing director of the company in China. The company has been looking for opportunities to expand in the Chinese market. First Solar also plans to develop solar farms in India, as chronic outages drive demand for electricity derived from sun power.
According to the recently issued global solar demand forecasts by Goldman Sachs, Chinese demand is expected to be 23% of the total global demand, showing an increase from 2012, whilst demand in Germany will decline to 11% in 2013 from 20% in 2012. The other three top markets are expected to be the U.S. with 14% of global demand, Italy with 7% and Japan with 15%.
Japan
Japan may be the next new frontier for First Solar. According to Bloomberg's New Energy Finance report, with $9 billion, Japan was the sixth biggest investor in renewable energy in 2011, but that could change after the recent feed-in-tariff program announcement by the Japanese government. Japan could overtake Germany and Italy, and become the world's second-biggest market for solar power, and may spur at least $9.6 billion in new installations with 3.2GW of capacity.
Conclusion
| | | | | | |
| --- | --- | --- | --- | --- | --- |
| Comp Sheet | FSLR | STP | YGE | TSL | JASO |
| FW P/E | 5.60 | N/A | N/A | N/A | N/A |
| PEG Ratio (5 yr expected) | 0.20 | (0.03) | (0.07) | (0.03) | 0.06 |
| EV/Revenue (NYSE:X) | 0.56 | 0.73 | 1.01 | 0.61 | 0.51 |
| EV/EBITDA | 3.08 | (16.78) | (20.48) | (8.65) | (20.29) |
Source: Yahoo Finance
FSLR is trading at a forward P/E of 5.6x, EV/Revenue of .56x, and an EV/EBITDA of 3.08x. With an EV/Revenue of 0.56, FSLR is trading at a discount as compared to its competitors.
Regardless of the economic crisis in Europe and European governments cutting subsidies for the Solar Industry, the global demand for solar energy is poised to increase in the second half of 2012 and the coming years. The demand is especially going to increase in Asian markets, such as Japan, India, Australia and China, and since FSLR is growing its exposure in these markets, it is the right time to invest in First Solar.
Disclosure: I have no positions in any stocks mentioned, and no plans to initiate any positions within the next 72 hours.
Business relationship disclosure: The article has been written by Qineqt's Alternative Energy Analyst. Qineqt is not receiving compensation for it (other than from Seeking Alpha). Qineqt has no business relationship with any company whose stock is mentioned in this article.