Recently the Wall Street Journal published an article entitled "The Economy Stole My Retirement." The subcaption reads "Nest Eggs In Peril For Millions Of Entrepreneurs in Their 60s And 70s Who Can't Sell Their Companies." Following this gloomy path, Bloomberg reported last week "M&A Slumps to Lowest Level Since Financial Crisis's Nadir." A hat tip to John Mason who pointed this out when he recently decried the weakness in M&A so far in 2012.
The state of the M&A markets, particularly the lower end of the market as it most directly impacts private business owners, is of significant importance to the equity markets. Bull markets in public equity typically coincide with M&A booms. Some of that is coincident behavior; a rising tide lifts all ships. A sometimes overlooked factor is the importance of M&A as a generator of market liquidity. After pension contributions and dividends, business sales could easily be the third largest source of new investment capital for the equity markets and it is certainly in the top five. When an entrepreneur sells his business, the money has to go somewhere and typically a meaningful portion goes into the stock market. Even the current highly depressed M&A market is a $2 trillion annual source of liquidity. In a boom year like 2007 that number could be $5 trillion.
A major factor in creating an M&A boom is the psychology of entrepreneurs Over the years we have met many business owners who just assumed that if they waited long enough a perfect buyer would come along, offer them a great price for their business and pave the way for a timely and comfortable retirement. According to the Wall Street Journal article "Boomer entrepreneurs grew up believing in the American dream that you start a business and eventually sell it for a good return or pass it on to your kids." Today most business owners seem to assume that if they just wait a while longer things should get better. This has negative implications not only for the M&A market, but for the equity markets as well.
Things may be about to change. After three+ years of economic recovery, we are at a point in the financial cycle that may provide many Baby Boomer business owners with the best opportunity they are likely to see for selling their businesses at a good valuation. For good companies in many industries, earnings have in fact recovered significantly. In favored sectors such as aerospace manufacturing and various technology disciplines, buyers are willing to pay multiples for top performers that compare favorably with those of the mid 2000s when large middle market firms routinely saw offers in high single-digit or even double digit multiples of EBITDA.
Memories are short. We've been in the M&A business for the past 30 years. M&A valuations are highly cyclical and for much of that time even the best private companies rarely sold for more than four or five times EBITDA.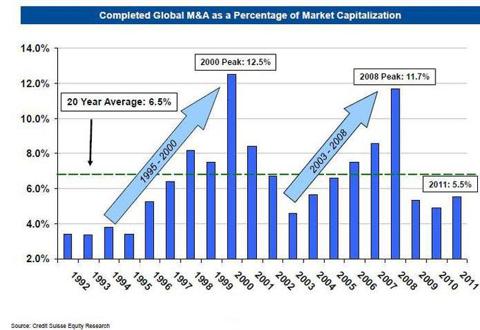 Click to enlarge
(Click to enlarge)
Low interest rates and the lack of good investment alternatives have driven the M&A market to historically high valuation levels in the 2000s with valuations of 5.5-6.5x the norm and larger companies trading for higher, sometimes far higher, multiples.
There are many reasons for business owners to believe that future conditions may not always be so favorable. We have seen some signs that owners understand these factors and are beginning to consider the possibility of sale. Many Baby Boomer business owners are now in their late 50s or early 60s. In many cases they do not have the luxury of wading through another seven or eight-year cycle in hopes that things get better. They are faced with some pretty strong headwinds should they continue to defer sale:
Since World War II the average economic recovery in the US has lasted 63 months. The current recovery began 39 months ago. Thus we likely have 12-24 months at most before the economy again slips into recession. We're in the most anemic business recovery of the post-war era. What does that portend for the next recession?
Capital gains taxes are set to increase January 1, 2013. Many observers expect the Bush era tax cuts be extended for 6 months while Congress hashes out some form of fiscal compromise. This would provide a nine-month window in which business owners can sell at the current low capital gains tax rates. Miss that window and you may have missed it for a lifetime.
Interest rates are at the lowest levels ever seen by most Americans. Business valuations carry an inverse relationship to interest rates. When rates rise valuations normally decline.
Many industries are in the midst of radical technological change. Companies that do not have the wherewithal to adopt new cost-saving technologies will most likely be left behind. Its far better to sell when profits still exist than to wait in hope of a better tomorrow.
There are signs that the demand side of the M&A market may cooperate in providing the owners a window for sale. Pitchbook maintains some of the best data on Private Equity. They have just published two reports demonstrating that the near future could very healthy period for business sales. The first report shows purchase multiples for a large number of private equity deals closed in the second quarter of 2012.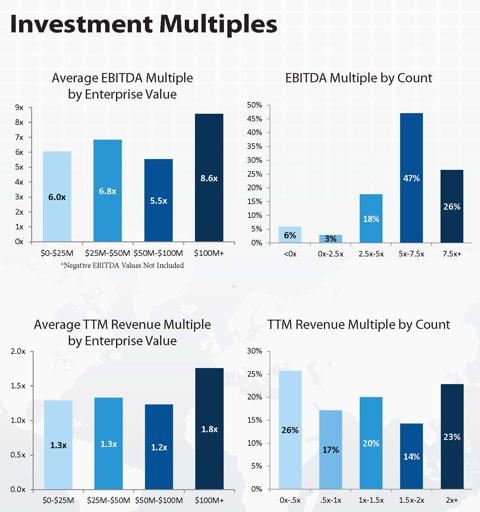 Click to enlarge
(Click to enlarge)
Per Pitchbook key findings from the survey include:
The average EBITDA multiple for all deals (excluding negative values) is 7.0x
The average TTM revenue multiple for all deals is 1.4x
Firms used an average of 42% equity, 34% senior debt, and 24% non-senior debt in deals
The average time to close a deal was just under 5 months (19.2 weeks) Per the data above, for sound middle market companies the M&A market is back to the strong purchases of the mid-2000s. While we are not yet back to the over the top valuations for big companies of 2006-2007, a middle market company with EBITDA of $5 million+ should find a very receptive market from a valuation perspective.
The last time I wrote an article on this subject was 2005. You can download it at by clicking on this link. In that article I indicated that 2005 might prove to be a watershed year for business owners who were considering sale. The valuations described in that article are eerily similar to the Pitchbook numbers for 2012. We were a bit early in our 2005 prediction; high valuations continued for a couple more years, but the mid-2000s proved to be a uniquely favorable period for middle market business sales.
Most likely the party will continue for a while as it did in the mid 2000s. Per the second Pitchbook report on Private Equity Fundraising efforts, there as signs that fundraising activity has begun to pick up. This time around it does not appear that the mega funds that drove some of the crazy public company deals that closed just prior to the crash. Per Pitchbook "While average fund sizes have been on the rise, most observers doubt that we will see a return to the pre-crisis era characterized by mega-funds with more than $5 billion. Instead, it is expected that firms will redouble their efforts on vehicles with $1 billion to $5 billion, which will concentrate their investments on the upper middle market instead of mega-deals." Based on our past experience, this bodes well for the lower tiers of the middle market as well.
These trends could bode well for the M&A market to again become a meaningful source of new capital for the equity markets worldwide. Renewed strength in M&A would have highly positive implications for the equity markets as a whole. Investors will be well served to follow trends in M&A over the coming months, as the direction of the M&A market may provide an important indicator of future direction of the equity markets.
To gauge the momentum in this sector, investors may want to follow two of the purest play publicly traded investment banking firms, Evercore Partners, Inc. (NYSE:EVR) and Greenhill & Co., Inc. (NYSE:GHL). Since hitting a low of $31.77 on June 5, Greenhill shares have experienced an extraordinary run and are now trading above $52 per share for a gain of approximately 65%. Evercore has experienced a similar, though not quite so spectacular run. After hitting a low of $20.57 on August 25, EVR is currently trading above $27 for an approximate 32% gain.
Disclosure: I have no positions in any stocks mentioned, and no plans to initiate any positions within the next 72 hours. I wrote this article myself, and it expresses my own opinions. I am not receiving compensation for it. I have no business relationship with any company whose stock is mentioned in this article.