There have been many positive articles written about AFLAC (NYSE:AFL) in the past year. However, not much has been written about the company's positive fundamentals. The company has a strong balance sheet that has been steadily improving over the last eight years. There has been solid revenue and earnings growth. Each year the company generated a solid amount of free cash flow. And 2011 was an extraordinarily good free cash flow year.
For those of you who passed on AFLAC due to concerns over Europe, AFLAC deserves a second look. A number of readers have pointed out that AFLAC has European debt in its investment portfolio. The latest annual report does address this issue. In it, management breaks out its exposure to Peripheral European countries. The peripheral countries of interest are Portugal, Ireland, Greece, Italy, and Spain. The exposure to this region amounted to 6.8% of AFLAC's investment portfolio. Over the last three years this exposure was cut roughly in half. It also appears that only about a third of these investments are in sovereigns and financial institutions. The conservative management intends to further decrease exposure to this area and make no new investments in peripheral Europe.
Given these concerns, investors are right to analyze the balance sheet. From the chart below, it's clear that the company has a long history of strengthening its balance sheet. Net assets, or shareholder equity, has increased significantly in the last two years. This gives AFLAC a nice cushion against a possible write-down from European assets.
Click to enlarge images.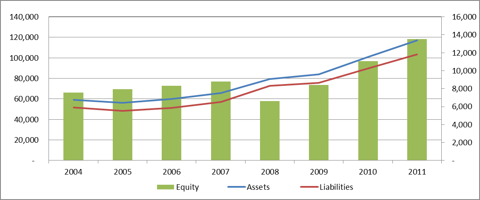 AFLAC has been improving the income statement as well. The growth rate in revenues and earnings appears strong. Historically, revenues were trending higher by approximately 7%. The company is recovering nicely after its drop in earnings from 2010's high earnings. Analyst estimates for this and next year are for this rate to continue increasing. Earnings growth has matched the increases in revenue.
AFLAC's stock price has not performed as well over the long term. AFLAC is off its all-time high in 2008 of a mid-$60s stock price. This may present a buying opportunity. If AFLAC is able to meet analyst projections over the coming year, now might be a good opportunity for long-term investors to purchase shares.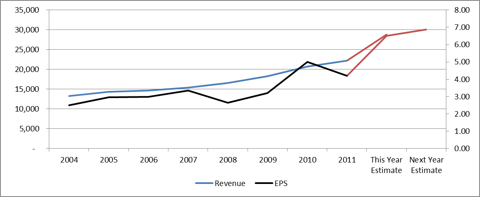 Looking at the company's cash flow position indicates why the fundamentals are improving so nicely. The company is generating an enormous amount of free cash flow. On a yield basis (dividing by market capitalization), AFLAC is one of the strongest cash flow generators in the S&P 500.
As other authors have pointed out, AFLAC has been able to steadily increase its dividend. AFLAC's payout ratio is only 28%. This rosy outlook is bolstered by the company's free cash flow position. In 2011, the company generated almost $10.3 billion in free cash flow. Even though AFLAC increased its dividend year after year, it only spent $552 million in 2011 paying dividends. Only about $280 million was spent buying back stock in 2011. This leaves plenty of cash flow for buying back stock and further improving the balance sheet. From the chart below, 2011 was a terrific year. And the free cash flow position has improved in recent years.

From a long-term perspective, the fundamentals of AFLAC are strong and improving. This stock could be a nice addition to your portfolio.
Disclosure: I am long AFL. I wrote this article myself, and it expresses my own opinions. I am not receiving compensation for it (other than from Seeking Alpha). I have no business relationship with any company whose stock is mentioned in this article.