Big energy's push for increased production in all corners of the world might be starting to run out of gas, literally. The latest company to stumble is ConocoPhillips (NYSE:COP), which has been abandoning ambitious projects overseas. The company has reportedly decided to pull out of the Kashagan Oil Field in the Northern Caspian Sea, which is estimated to contain between nine and 16 million barrels of oil.
The reason for the pullout appears to be a reshuffling of the North Caspian Operating Company (NASDAQ:NCOC), the consortium that operates the oil field for the government of Kazakhstan, the former Soviet Republic that controls the field. The Kazak government reportedly wants a bigger stake in the field for its national oil company, KazMunaiGas. The other members of the consortium include Exxon Mobil (NYSE:XOM), Royal Dutch Shell (NYSE:RDS.A), Eni from Italy (ENI), and France's Total SA (NYSE:TOT). So far there has been no confirmation of the pullout, but the move seems to be in keeping with ConocoPhillips' new strategy of smaller is better. ConocoPhillips has sold its stake in the Russian oil company, LUKOIL (LKOH), and has let its option to take over 70% of three concessions in Poland's Baltic basin natural gas field lapse.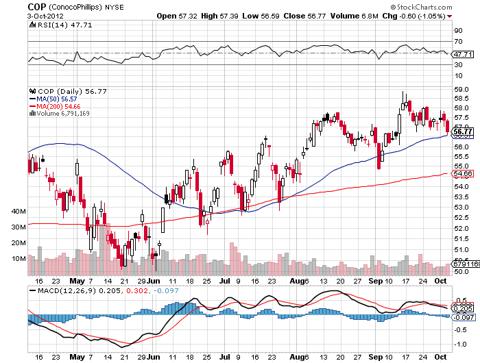 Lots of Cash
So what does the market think of this new strategy, and is it good for value investors? Judging by the charts, the market doesn't like ConocoPhillips' new direction, but value investors might because the company seems to be increasing its cash. As of June 30, 2012, ConocoPhillips had $6.04 billion in the bank, which was down from $10.26 billion in March. Yet media reports indicate that the company might have more than $20 billion in the bank by the end of the year.
That will mean its cash pile might be higher than Exxon Mobil's, which was reportedly $18.02 billion and approaching that of Chevron Corporation (NYSE:CVX), which was $21.46 billion in June. So ConocoPhillips' management is making some of the moves that value investors like. It is cutting back on questionable growth and moving out of risky markets while moving to accumulate additional cash.
ConocoPhillips also boasts some pretty good fundamentals. In the last year it displayed sales growth of 26.5% and income growth of 9.5% even at a time when it was shedding assets. This made for a net profit margin of 10.55% and a juicy earnings per share of $8.55. So the fundamental numbers are pretty good even though the stock press is a little lower. There's also a dividend rate of $2.64 and a yield of $4.60. The company has been able to keep growing income and sales while shedding assets-not bad for an oil company.
Interesting Assets Including Alberta Oil Sands
ConocoPhillips also has some nice assets, such as its stake in the Canadian oil sands. Conoco currently owns one million acres in the Athabasca region of Alberta, which contains an estimated 15 billion net barrels of oil. That makes Conoco one of the largest players in the Canadian oil sandbox. Conoco already has two major projects in the oil sands and the resources to develop more.
One of these projects, the Surmont, which is half owned by Total E&P Canada Limited, has the potential to produce 110,000 barrels of oil a day if everything works out as planned. Conoco is currently producing 67,000 barrels of oil a day at the other project, the FCCL Partnership. Its partner there is Cenovus Energy (NYSE:CVE), which owns 50%.
ConocoPhillips has some other interesting assets, including a 1.1 million net acre position in the Permian Basin and 1.7 BOE in the San Juan Basin. Conoco also has large holdings in the Deep Gas Shale gas basin in Alberta. Overseas developments include the Gumusut Deepwater field off of Malaysia where production is supposed to begin this year.
ConocoPhillips also operates major liquid natural gas projects in Australia and the North Field in Qatar. It is also developing a large seam coal gas project, the Australia Pacific LNG in Queensland. Its partner in the Australia Pacific project is the China Petrochemical Corporation AKA Sinopac (2890 in Taiwan).
ConocoPhillips Looks Underpriced
It looks like ConocoPhillips is underpriced at the moment. The company has a lot of tremendous assets, including a lot of good LNG holdings and the cash to develop them. It also has a good business strategy of selling off riskier assets and concentrating on energy sources in politically stable areas, such as the Alberta oil sands. ConocoPhillips is a steal at around $57.58, but I doubt it will stay that way for long.
Disclosure: I have no positions in any stocks mentioned, and no plans to initiate any positions within the next 72 hours. I wrote this article myself, and it expresses my own opinions. I am not receiving compensation for it (other than from Seeking Alpha). I have no business relationship with any company whose stock is mentioned in this article.