Shares of Priceline.com (NASDAQ:PCLN) fell significantly after the company announced its second quarter earnings and have underperformed the Nasdaq composite index significantly since our Priceline article on April 27, 2012 (see graph below). In addition, the company's third quarter guidance disappointed many investors. This article will discuss several positive developments since the end of last quarter, which may contribute to a strong third quarter earnings announcement. Priceline is expected to report 3rd quarter results on November 5, 2012.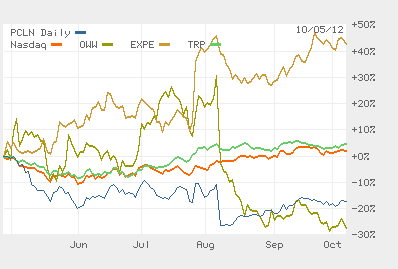 Growth Problems
Priceline.com reported Q2 '12 revenues of $1.3 billion, a 20.3% increase compared to the same period last year. This growth rate was less than the company has recorded in the past. In addition, Priceline estimated that its 3rd quarter revenues will increase by 10-18%. For comparison, the company reported 28.3% revenue growth in the first quarter compared to the first quarter of 2011, and its guidance for second quarter revenue growth was 26-31%. Investors were disappointed with the second quarter because a) Priceline revenue growth was below its own estimate; b) third quarter revenue growth estimates were lower than the second quarter rate; and c) the estimate range was much wider, indicating a volatile environment that is difficult to forecast.
For a growth company that does not pay dividends, even a small deviation from growth rates could have an impact on the share price. However, in Priceline's case, the lower growth rate, while disappointing, did not affect Priceline's profitability as the company earned $7.85 per share in the second quarter. This is favorable to its own forecast of $7.20 to $7.40 and also 61% higher from the second quarter of 2011 earnings of $5.49 per share. Priceline issued guidance of earnings per share of $11.10 to $12.10 for the third quarter, compared to a third quarter 2011 earnings per share of $9.95 and a third quarter 2010 earnings per share of $5.33. While the growth rate is slowing, the company is still growing its earnings at a double-digit rate.
If we compare Priceline.com's growth rate to one of its major competitors, Expedia (NASDAQ:EXPE), Priceline's growth is superior even though it is slowing down. For example, in the second quarter of 2012, Expedia reported revenue and earnings growth of 13.8% and 20.6%, respectively. In contrast to Priceline, this was actually higher from the company's Q1 2012 revenue growth rate of 12.2%, compared to Q1 2011. This lower volatility is due to the fact that Expedia generated 57.8% of its revenues from the United States in 2011, compared to about 40% for Priceline. Overall, Priceline still has top and bottom lines growth rates that are better than Expedia's and is also more diversified geographically.
From a valuation standpoint, Priceline has a lower valuation based on its anticipated growth rate. According to Capital IQ, Priceline has a price to earnings to growth (PEG) ratio of 1 compared to 1.6 for Expedia. Priceline's balance sheet is also rock-solid with a long-term debt to equity ratio of 0.3 compared to 0.8 for the average company in the S&P 500 and 0.6 for Expedia. Finally, from a profitability standpoint, Priceline (25.6% net income margin) by far surpasses Expedia (10.4% net income margin).
New Developments
During the past quarter, a few new developments should contribute to a strong third quarter performance and some of them will have longer-term impact. First, the U.S. dollar declined 2.2% compared to the euro in the third quarter. When the company announced its third quarter guidance on August 7, 2012, the dollar had appreciated by about 1.5% for the quarter. Also, the dollar declined against other major developed countries' currencies during the third quarter. Thus, a significant currency boost by a weaker dollar in the third quarter should be expected.
Second, Priceline announced an alliance with China's Ctrip.com (NASDAQ:CTRP) where Priceline's Booking.com hotels will be available to Chinese customers in China. Ctrip has more than doubled its revenues in the past three fiscal years and is the leading travel firm in China. This partnership will have a significant long-term impact as Chinese are becoming wealthier and travel more overseas. Without a doubt, Chinese tourists will become even more important participants in the global leisure industry and Priceline is positioning itself to benefit from this trend.
Third and last, in the third quarter, Priceline significantly improved its mobile phone offerings, which was mentioned as a reason for a slowdown in growth in previous quarters. First, on September 13, 2012, Priceline.com said that it has tripled its tonight-only deals by adding three and four star hotels in 150 destinations in the United States to its Negotiator application for iOS and Android mobile platforms. Six days later, it issued a press release that its Express Deals no-bidding is available for iOS and Android as part of the Negotiator application. These new developments in the mobile channel should benefit Priceline in the long-term as consumers are increasingly using mobile devices for purchases.
Conclusion
The Negotiator is back and with him, hopefully, a better stock performance for investors. A lower top line growth for Priceline is a negative but should not have an effect on the long-term prospects for the company. Priceline continues to be one of the most profitable and fastest growing global travel companies. A declining U.S. dollar in the third quarter will provide a boost to its results in the third quarter. Longer-term, the company's partnership with Ctrip.com and its continued investment in mobile will provide additional outlets for growth. Priceline stock may be down but it is not out. A relatively strong finish for 2012 could be in the making.
Disclosure: I have no positions in any stocks mentioned, and no plans to initiate any positions within the next 72 hours. I wrote this article myself, and it expresses my own opinions. I am not receiving compensation for it (other than from Seeking Alpha). I have no business relationship with any company whose stock is mentioned in this article.