By: Brendan Gilmartin
Wells Fargo (WFC) is slated to report 3Q 2012 earnings before the closing bell on Friday, October 12. The results are typically released at 8:00 a.m. EST and will follow with a conference call to follow at 10:00 a.m. Note that the results from Wells Fargo come an hour after rival JP Morgan Chase (JPM) delivers results.

For the 3Qperiod, the Street is looking for earnings of $0.87 per share (Source:

Yahoo

Finance). The range is $0.80 to $0.94. On a historical basis, earnings have tended to closely track consensus estimates. Over the past three years, earnings missed consensus forecasts on only one occasion.
Revenues are seen rising 9.10% y/y to $21.42 bln, with some estimates running as high as $22.0 bln.
Recent News
10/06: Wally Weitz of the Weitz Partners Value Fund tells Barron's Wells Fargo is not as intriguing following the recent advance.
10/06: Credit Suisse likes Wells Fargo, according to a post in Barron's, pointing out that last quarter it had the second biggest mortgage pipeline in its history.
10/02, According to a report on Barron's, Credit Suisse expects the big banks to deliver solid third quarter earnings, including Wells Fargo. The firm cited loan growth and asset quality as drivers for the group.
09/28: Citigroup reiterated a Neutral rating on Wells Fargo and raised the price target from $34.00 to $35.00, according to a post on Benzinga.com. The firm sees Wells Fargo delivering EPS of $0.89, thanks in part to improved mortgage banking revenues and expense controls. Citigroup also raised estimates for FY2013.
09/17: Stifel Nicolaus downgraded Wells Fargo from Buy to Hold, following the recent run-up, according to a post on Benzinga.com. The firm is also lowering earnings estimates for 2012

and

2013, based on net interest margin compression.
09/04: Credit Suisse reportedly believes Wells Fargo is among the best-positioned big banks to deploy capital and

buy back

shares this year and into 2013, according to a report on Barron's.
07/24: Wells Fargo announced a quarterly common stock dividend of $0.22 per share.

Technical Review
Wells Fargo shares have been on an impressive run since early June, climbing more than 20% and touching a 52-week high of $36.60 on September 14. That is the first resistance area to watch in the event of a strong release. Conversely, support resides at the 20-Day SMA near $35.00, followed by the 50-Day SMA near $34.50. A break below $34.00 could set up a re-test of the 200-Day SMA near $32.25. (Chart courtesy of StockCharts.com)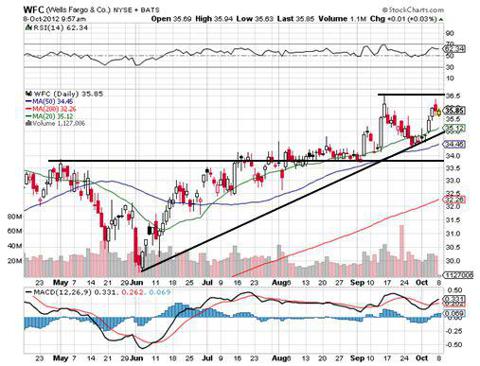 Click to enlarge
Summary
Wells Fargo shares have been on an impressive run, thanks to increased mortgage lending, evidence of a recovery in the housing market, a strengthening capital position, asset quality, and expense controls. Wells Fargo is also returning cash to shareholders through an attractive dividend payout (2.46%) and plans to repurchase shares once it receives the nod of approval from the Fed. Despite this positive backdrop, however, shares are now trading at 11.8x trailing earnings - a noticeable premium to larger rivals Citigroup (C) (10.1x), Bank of America (BAC) (10.1x) and JP Morgan Chase (9.7x). Furthermore, the interest rate backdrop is seen compressing net interest margins well into 2013, while many analysts believe upside is limited in the wake of the recent run-up, with an average target price of $38.99 (Source: Yahoo Finance) - not far from current levels.
DISCLAIMER: By using this report, you acknowledge that Selerity, Inc. is in no way liable for losses or gains arising out of commentary, analysis, and or data in this report. Your investment decisions and recommendations are made entirely at your discretion. Selerity does not own securities in companies that they write about, is not an investment adviser, and the content contained herein is not an endorsement to buy or sell any securities. No content published as part of this report constitutes a recommendation that any particular investment, security, portfolio of securities, transaction or investment strategy is suitable for any specific person.
Disclosure: I have no positions in any stocks mentioned, and no plans to initiate any positions within the next 72 hours. I wrote this article myself, and it expresses my own opinions. I am not receiving compensation for it (other than from Seeking Alpha). I have no business relationship with any company whose stock is mentioned in this article.